State of Graphic Design post Pandemic
The post-pandemic volatility has hastened social and technological progress, with short-form videos overtaking static broadcasts. And, in our increasingly interconnected world, inclusive graphics are more crucial than ever before.
With more people than ever living their lives mostly (if not entirely) online, styles and methods appearing on social media will eventually affect graphic design. These futuristic notions, along with a renewed desire to break out from our cocoons, call for design boundaries to be pushed. The advancements in graphics have become a hot cultural topic and are expected to seep into visual media with distorted typography, avatars, and dark mode designs, all traceable back to the concept of this immersive virtual environment.
All of the aforementioned have altered how brands and organisations visually communicate with their auidence. Furthermore, the most recent graphic design trends are influenced by macro-trends in culture, society, and other design industries such as fashion, photography, and web design. In 2023, graphic design will play a crucial role in visualising these macro-trends, with the post-pandemic world providing a blank slate for innovation.
Looking ahead, six essential graphic design trends that will have a significant impact on graphics, illustration, web design, and branding may be predicted. These graphic design trends are expected to spread across the board in the following months. Pushing the boundaries to satisfy our desire for a whole new experience is seeing graphic design make use of Artificial Intelligence (AI), Augmented Reality (AR), psychedelic design, motion graphics and animation, bold abstract art and shapes, and experimental typography. Scroll down to read more about each design trend, as well as tips and techniques for implementing these fascinating new graphic design trends
Use of AI in Graphic Design
The use of Artificial Intelligence has been the most controversial topic recently as the world watched AI generating images using a few words in just a few seconds. The creative world has been shaken up in recent months as a mixture of enthusiasm and dread took hold.
Midjourney, DALL-E 2, and, eventually, Lensa have all shaken up the creative world in recent months. A mixture of excitement and anxiety took over; while some people began experimenting with various images, some artists began to bring ethical considerations into the conversation.
AI Art software leverages massive image collections to learn how to create new graphics from prompts. Many of these database photos are taken from artworks created by genuine human artists, and their use has not been previously permitted by them.
Artists are reacting strongly to AI Art because their work is supposedly exploited by paid AI software, and they receive no compensation. Artstation, one of the most renowned digital art platforms, has seen artists organise and demand that AI Art be removed from it.
Aside from the ethical debate and concern about what will happen to the Art and Illustration industries shortly, it is evident that AI Art is a big trend that is making image generation much faster and accessible to non-artists in ways never seen before. There are numerous opportunities to investigate, but much debate remains on how to employ AI properly and ethically. So, let us keep an eye on this trend in 2023 and see how it develops
Graphic Designing with the help of Augmented Reality
In recent years Augmented Reality (AR) has made its way into our every day – albeit in small, relatively ubiquitous ways through filters on social apps. However, its presence in graphic design is still relatively quiet. Although many creatives are integrating technology into their work, and some brands are utilising it to enhance their voices, it is not entirely commonplace. Ultimately, this just means it looks like there are a lot of different ways AR could go in terms of future graphic cultures.
AR has enormous potential to revolutionise the way we tell stories and interact with our surroundings. And this potential piques the interest of companies and graphic designers of all kinds. For example, Zach Lieberman, a creative coder, has built the Weird Type App. Users can use the software to manipulate moving typography in space. While Augmented Reality has not yet entered the mainstream of graphic design, it is nevertheless seen as the industry's next big thing.
Society is becoming more and more familiar with AR, which Instagram/Snapchat is responsible for by having taken AR to the masses with face filters. Because AR allows for animated content, we no longer need to think of it as a static piece. The third dimension is the second item. We now have a variety of 3D typefaces that are models produced from a 2D design. The motive is to figure out ways of applying AR to our everyday life that is not pure entertainment, or it will be just a fad that will go away when people get bored. We do not need to replace paper with screens if we can just augment the printed artifacts using this technology.
Furthermore, graphic designers often ponder whether they must opt for Virtual Reality (VR) or Augmented Reality (AR) in this space. The reason many choose AR is simply that it is more accessible to the general population. In order to work with VR, dedicated hardware is required. In contrast, AR can be accessed using almost any smartphone, which a majority of the population carries around in their pockets daily.
Nowadays, there are many tools at our disposal, including Lens Studio (Snapchat), Spark AR (Instagram/Facebook), and Adobe Aero. These tools are aimed at not only developers but also designers. These highly efficient tools make way for a very intuitive creation process where looking at the code is not a critical prerequisite. Using such tools also eliminates the need to develop a custom app and publish and update for maintenance/compatibility. Lastly, another perk is that they have minimal operational cost, which is a bonus for many designers, developers, and businesses getting started
Graphic Design with Psychedelic Design
Abstract psychedelia is a graphic design method spawned by drug usage and social unrest that may be traced back to the hippie days of the 1960s. Artists saw the art form as analogous to opening individual brains, therefore its departure from traditional art. This is also why most images generated during that time period reeked of disarray.
Some designers believe abstract psychedelia will make a comeback this year. In graphic design, it will be expressed by intricate abstractions and copious amounts of colour. On the other hand, the employment of grotesque and perplexing pictures will be stabilised by symmetry, providing a vision of order in the middle of chaos.
More brands are embracing inclusive design approaches to demonstrate to viewers from all walks of life that they are noticed. Those who have truly advanced images will go beyond ethnically diversified iconography and pride month promotions. Indeed, the coming year will witness more gender-varied imagery, indigenous representation, and disability-friendly accessible designs.
So, set yourself apart this year, next year, and beyond by prioritising inclusive visuals. Your viewers will undoubtedly admire your dedication to diversity. Surrealist and maximalist aesthetics have taken hold, reflecting our ambition to break free from all post-pandemic constraints. Consider large-scale psychedelic pictures with reality-bending components. Visual storytelling will reach new heights in 2023, from Coca-graphics Cola's to Adobe's social feed, because minimalism and realism are not going to cut it.
Expect more journeys down memory lane in the coming months, from this summer's viral craze of sharing Little Miss doodles on social media to the retro aesthetics already gracing products and more. So, add some nostalgia to your upcoming designs by drawing inspiration from the past because everyone enjoys a good opportunity to reminisce
Graphic Designing with the help of Motion Graphics & Animation
Over the last few years, video content has been popping up everywhere lately and is only increasing in popularity, and this is largely due to the disruptive influence of social media platforms like Tik Tok, Instagram, and YouTube. We can expect more and more brands to create animated content and increase engagement through movement and interactivity, replacing static posts and banners for reels and other short-form video content. Graphic designers have followed companies to the site in the hopes of capitalising on its enormous, highly engaged user base. We will see a lot more of this interactive trend in future projects, from social feeds to UX designs, such as the Apple Music product page.
Furthermore, viewers are bound to overlook unique videos that provide both fun and knowledge. For these reasons, including motion graphics and text in video production may not be so far-fetched. Many businesses, in fact, have begun to follow the trend by loading their social media profiles with text-heavy videos. User content, product explainers, and even routine announcements are examples of such projects.
What is great about making text-heavy videos is that businesses can keep their brand consistent by using their own colours, voice, and fonts, enabling them to stick to a single brand style wherever they focus their marketing efforts. Moreover, because there are few to no video shoots, turnaround times for such videos are far shorter, not to mention they are less expensive than traditional ones. If you are having trouble making new movies from the start, you can use this technique to repurpose old ones. In 2023, top brands could expect to continue creating identity through mobility. And take note: now is the ideal time to replace static photos with short-form video content
Use of Bold Abstract Art & Shapes
​Geometric shapes were popular a few years ago as marketers sought to wrap their information in images that add interest without being distracting. One of the most striking pieces of news is that big shapes are coming back in 2023. The only difference is that harsh angles and hard edges have been replaced by more abstract, rounder shapes.
As previously said, rigid, grid-based designs are losing favour in the current world. Websites such as Canva and Squarespace have provided a dependable platform for designers to convey their ideas through grid-based templates. However, things have changed, and designers today seek to create products that are dominated by authentic touches.
The desire for items that are alive and unique has tipped the scales in favour of asymmetrical layouts. Many designers have fallen in love with asymmetrical layouts because they give things more fluid movement. Asymmetric layouts elicit reactions from viewers when employed in design compositions. They capture the attention of the viewers and pique their curiosity when they explore the design image or page.
Philip VanDusen's amorphic puddle-like shapes, dubbed "Blob," are gaining popularity as an important aesthetic element inside a layout. It can be used as a colour field to organise and harmonise the layout or to mask a photo or graphic creatively. So, join the ranks of Trello, Slack, and HubSpot by increasing the visual appeal of your designs. All you have to do is use bright colours and freeform organic shapes, and this easy-to-implement trend will take care of the rest
Combining Graphic Designing with Experimental Typography
Long typefaces and fonts have long been the norm in graphic design. Indeed, brands such as Adidas and Samsung have employed these designs to a significant extent in a variety of marketing initiatives. You may have observed that bold typefaces are used as secondary design elements in traditional Adidas and Samsung designs. However, the use of bold fonts and typefaces in graphic design is evolving. We have seen visuals this year that use bold typefaces as the focal point for other design elements. Furthermore, the shift has resulted from the knowledge that when bold fonts are employed as major elements in designs, they swiftly catch the viewer's attention.
As a result, large fonts and typefaces are becoming more popular in social media visuals, posters, and flyers. In some intriguing circumstances, graphic designers use solely bold fonts with no supporting graphics. Furthermore, some designers use bold fonts and backgrounds with vibrant colour backdrops. 3D assets, too, pop with the eye and are ideal for capturing attention and providing a more immersive experience for the audience, from 3D typography to product mock-ups, logos, characters, brand mascots, and even virtual environments.
3D software such as Blender, Cinema 4D, 3Ds Max, and Maya have recently evolved to the point that many designers can take their initial steps into the 3D world with little work and high-quality renders. In addition to the aforementioned experimental styles, distorted typography, whether it is letters knotted into knots or glitch-fashioned fonts, adds an unusual twist to graphic design. This graphic design style is linked to the Metaverse styling movement, allowing designers to make their text feel digitised and a little dystopian.
For an unusual typographic effect, melt your letters or allow characters to mysteriously evaporate into a gradient. For a Mad Max effect, pair your writing with surreal-coloured images or AI-glitched backgrounds.
Moreover, curvy, fluid serifs have dominated rebranding in recent years, lending authority and endurance to identities. However, with the market already serif-saturated, a shift is on the horizon. Sans serifs are simpler and cleaner, making them ideal for minimalist branding, and they feel like a suitable match for the Metaverse atmosphere forming.
Sans serifs with a 1990s feel are the trendy type trend for next year, mirroring the 90s minimalist rebirth made famous by internet fashion and lifestyle gurus. To master the minimalist Nineties vibe, go for ultra-clean sans designs with a little rounded outline
That concludes the official list of graphic design trends expected to make headlines in 2023. The graphic design trends in 2022 were receptive to the post-pandemic milieu, with the tranquil and calming Japandi style and cyberpunk styling standing out for their links to the new digital-centric climate, as well as customers' need to feel comfortable and reassured.
Graphic design's newfound creative spirit is expected to develop in confidence in 2023, with a more eclectic and diverse design offering anticipated for the year ahead. The focus will remain on digital design, with futuristic Metaverse and innovative abstract art styles offering essential thematic inspiration for graphic designers. We will also witness a revival of cinema-influence-type trends, which will provide a splash of action and buoyancy to social media designs and posters.
Moreover, after years of serif saturation, we will see the happy return of sans-serif typefaces. At the same time, logo design will embrace a braver attitude by focusing on ideographic icons rather than type-centric identities. As can be seen, the dynamics of graphic design are ever-changing. Visual hierarchy and design layout strategies are evolving to satisfy the needs of today's consumers and viewers. Furthermore, as designers attempt to improve the user experience, the logic of showing visual elements is evolving.
The trends discussed in this post have the most influence on the graphic and design world. However, some of these trends will expire and be replaced by other ones. Others, on the other hand, will persevere and continue to redefine the way for graphic design. The terrain will undoubtedly alter, but it is difficult to predict in which direction.
If you are a professional graphic designer, you must be a perpetual student in order to stay up with the design world's wandering path. To remain relevant and adaptive, you must add or change your speciality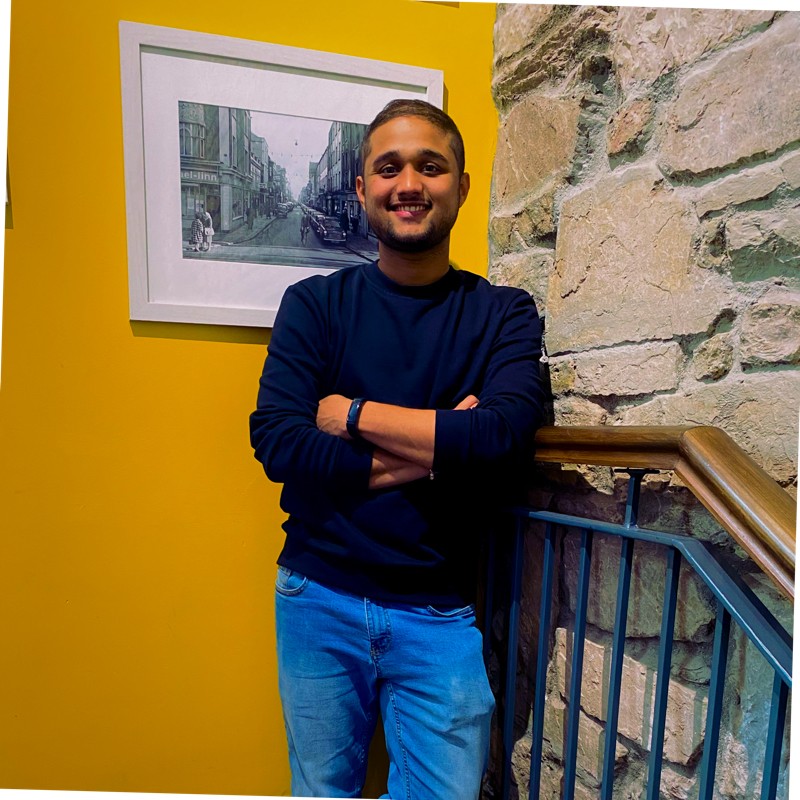 Rahul Shevde
​Coming from India with significant agency experience. Working at Performics India (Publicis Groupe) gave him the opportunity to involve in diverse SEO campaigns from Finance, Graphic Design, E-Comm & Ed-Tech space. Rahul is interested in graphic design software and free graphic design templates. The Design Wizard instruments he uses most of the time are:
Add Text To Image Online
and
Youtube Video Maker
.