What is a YouTube intro?
A YouTube intro is a short clip that appears at the beginning of many YouTube videos. It typically displays info about the channel of the YouTuber who made the video.
The intro often features an engaging graphic that combines visually appealing text and imagery to coax a viewer into watching more.
The first few seconds of any YouTube video are vital, and if you don't make an impression, a viewer may go to another video.
How to make your own Youtube video
With Design Wizard, it's easy to make your very own custom YouTube intro. There are tons of video templates that you can personalize to suit your channel.
This guide will show you exactly how to create a striking intro in only 7 steps.
Find out how to make a YouTube intro in minutes here
7 Steps to Making a YouTube Intro:
Choose the type of intro you want
Add your images
Insert your text
Adjust the length of the intro
Make sure the style is right
Combine it with your video
Upload to YouTube
Choose the type of intro you want
YouTube intros will vary in message, style and length, among other things. To create the type of intro that you want, have a look at what channels in the same niche are doing on their videos. This can give you some inspiration when making your own intro.
Many of them will use it as an opportunity to brand their video with their channel name in a unique and engaging way. You should have a good idea of what your personal brand is and how you want to display it before creating your channel. Figure out what colours you want to use, what your channel name will be, the videos you'll create etc.
Add your images to your Youtube Intro
You might want to add some images and channel art to your YouTube intro, like your logo, for example. If you're a business, this can be very helpful for letting viewers know who is behind the video. Even if you're not though, it can be a superb method of getting your personal brand front and centre.
Images could also include a background that transitions into your video once your intro has concluded.
To add an image to a video on Design Wizard, all you need to do is click on the Uploads button in the Video Editor and upload an image from your PC.
Make it clear by inserting text
There are several options you can choose to go for when deciding on your intro's text. Some of those include, your channel name, your other social platforms or a brief description of what your channel does.
Make your text both easy to read and noticeable. The intro has to catch your audience's attention and text that is hard to read won't do. Contrasting colours on text and background can work great here to emphasise the words.
Bright colours attract attention and will make it more likely that a viewer sticks around to watch more.
Adjust the length of the intro
An intro video doesn't need to be too long. A long intro can be distracting and cause viewers to click away to something else. That's why you should edit your video down once you've added everything you need to it.
Ideally, it shouldn't be any longer than 10 seconds, but it will also need to be able to get your message across effectively.
Use the Design Wizard video timeline to streamline your intro and cut out what you don't need with just a few clicks.
Make sure the style is right
Once you've finished your intro video, look over it to make sure it matches your personal brand and the way you promote your content.
Change any mistakes and have your intro looking exactly how you want it to. With Design Wizard, you can easily delete elements you've added and replace them with an alternative.
Combine it with your video
After all checks are completed, combine your intro with the video you want to upload. Make sure that the transition between the two is smooth and viewers aren't put off by it.
Be aware of how the intro will fade into the video and alter it to suit. If important information fades out of the video, use it at the start to make it clearer to a viewer.
You can upload videos to Design Wizard and combine them using the timeline. You can also save the intro you've created and customise it at a later date if you need to update it.
Create & Upload to YouTube
The final step is to upload your finished video to YouTube. Simply go to YouTube and hit the upload button, then add your video and the accompanying details and you're good to go.
To get the most views on your video, follow the steps outlined in our How to Become a YouTuber blog post.
Create your intro with Design Wizard
Now that you've found out how to create your very own custom YouTube video intro, it's time to get started.
Head over to Design Wizard's collection of YouTube intro templates to make your new design.
These templates will ensure that you have a high-quality YouTube intro that will make your videos stand out.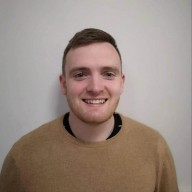 Michael Cole
​Michael Cole is a professional content writer. He has completed a BA in English and History and an MA in Journalism. Michael has extensive experience writing for both print and web and can turn his hand to any subject. His favourite one is free graphic design software. Especially he likes Background Remover by Design Wizard. ​