Developing a product positioning strategy can help you delve deeper into your brand identity. It's a good way to flesh out what makes your business and your products or services unique and convey this to your target audience successfully.
Next to your unique selling proposition, find out which strategy fits best with your brand by looking at how you can interact with your target audience in the best way and what sets you apart from your competitors. Identify your unique selling proposition to develop and implement the product positioning strategy that convinces your customers to buy from you.
Explore how you can design marketing materials aligned with your new product positioning strategy in Design Wizard with our step-by-step guide. We've got you covered for your next marketing campaign.
What is Product Positioning?
Product positioning is a marketing strategy that businesses use to promote their products or services. It includes a description of products or services, how these fulfill customer needs, and the unique benefits a brand offers that persuade customers to engage and buy from them.
By covering these aspects, marketers determine how they show their target audience the solutions they provide and how their business is different from competitors. This way, the product gets positioned on the market and in the minds of the target audience. 
Why is Product Positioning Important?
When you think about product positioning, it makes you focus on how you can address customer needs effectively. To make things easier, the spotlight should be on a niche audience with specific challenges that your business can help with. As a result, this strategy ensures that you tailor your products or services to an audience that is highly likely to engage with your products.
It also helps you to determine your unique selling proposition or USP and differentiate yourself from your competitors. Thinking about product positioning is a good way to brainstorm all the ways that make your brand unique and stand out in a competitive market.
Identify what you can offer that other businesses don't and you get more clarity on your brand identity. This focus on solutions and unique identifiers helps with decision-making on branding and other marketing strategies.
Types of Product Positioning Strategies
Features and Characteristics-Based Strategy
This type of product positioning strategy focuses on the features and characteristics of products or services. It's often used when there's a large number of competitors and the product is very similar to what the competition offers.
When most features are the same, this strategy helps to find the USPs of products or services. Ensure you don't just list some unique characteristics but highlight the benefits these provide to your customers.
Customer Persona-Based Strategy
When you apply this product positioning strategy, your focus is on what specific customers need from your product or service. Your messaging is tailored according to the customer personas you created. These are representations of typical customers and should be based on thorough market research and surveys of your customers.
Find out what their pain points are and what your products or services can do to provide solutions. If you get your customer personas right, your strategy shows an understanding of your customers' needs and ensures that your products are positioned in an engaging way.
Quality and Prestige-Based Strategy
When using this strategy, businesses sell their products by emphasizing the superior quality of their products or services. This is a positioning strategy many luxury brands use for their advertising.
The advertising message here includes the promise of luxury and cites the high standard as the reason for higher prices. Sometimes these brands add a comparison to competitors who provide a similar product to point out the better value customers can get. For this strategy to work, they also build on an established reputation and trusted brand identity.
How to Create a Product Positioning Strategy
Understand Your Target Audience and Market
Identify your target market with the help of thorough market research and surveying your existing customers. This means going beyond demographics and interests and finding out why your current customers buy from you. Find out what the challenges are that your business can help them with. Explore online and offline communication channels that provide advertising space and determine the channels they're most likely to engage with.
Use this data to create customer personas that represent the groups of people who buy from you. Map out the customer experience to gain a deeper understanding of how they find out about you and whether they have a smooth customer journey from the moment they learn about you until their purchase.
Analyze Your Competitors
For a full understanding of your industry or niche, explore what competitors are doing in the market. Start by listing the competitors that you're aware of and find others by searching online using the keywords your customers are highly likely to use when looking for products or services like yours.
Use competitor analysis tools like these to find out how competitors promote their products or services, what kind of content they publish, or how they successfully advertise to your target audience:
Identify Your Unique Selling Proposition
USPs are features that set you apart from your competitors and provide value to your customers. Start by outlining your current position in the market and use the research you've done previously on your target audience and competitors to find out what your unique selling proposition is.
It's easier to find out what the unique characteristics of your products or services are with a customer persona in mind. A good USP should be based on establishing the connection between the needs of your customers with the solutions you can provide.
Determine Relevant Communication Channels
To ensure your advertising messages get heard by an interested target audience, find the channels they engage with every day. For example, as part of your audience research, discover which social media platforms your customers spend most of their time on or find out which newspapers they read.
Tailor your product positioning strategy to the channels you need to focus on. The way you promote your product is different depending on whether your customers are avid readers of a niche print magazine or love scrolling their Insta feed.
Develop Your Product Positioning Statement
Once you've brainstormed and gathered all the information about your products, target audience, and competitors, it's time to sum up your learnings in one or two sentences. Your product positioning statement should be brief and simple for everyone in the business to understand easily.
Talk about your main benefit and include your core values to capture your brand identity. Provide clarity on what differentiates your business from other brands and how you address the pain points of your customers. Check and evaluate your statement by asking yourself the following questions:
Is it easy to understand and believable?
Will your product positioning statement resonate with your target audience?
Can you commit to the promise you're making to your customers in the statement?
Can you use it as a foundation for your brand strategy?
Will it help you to make more effective marketing and branding decisions?
Does it help to set you apart from your competitors?
Does it leave room for growth and position your business for long-term success?
Implement Your New Product Positioning Strategy
When you have your final product positioning statement ready, distribute it within the business to make everyone in the team aware that this is the codex you work by. Ensure everyone is up to date and include product positioning in your brand guidelines.
Incorporate it into your marketing strategies and use the findings you made along the way to focus on the areas that give you the best opportunities to reach your customers. Implement it in the copy and graphics you use to grow your business. Your strategy helps you to stay consistent and create a memorable brand. Review your strategy regularly and you'll be able to react to changes in the market and reposition your brand if needed.
How to Design Marketing Materials in Design Wizard
Step 1: Sign up and Log into Design Wizard
Go to designwizard.com. If you don't have an account yet, click Sign up at the top right. Enter your email address and create a password. To verify your new account, go to your inbox and click the link in the verification email. Log in with your Design Wizard details.
Step 2: Choose a Template
On your Design Wizard dashboard, click More Sizes and More Types. To find templates for ads, flyers, and other marketing materials, browse our design library. Choose a template size and use the search bar to find designs that are relevant to your marketing campaign. To open your chosen template, click the preview.
Step 3: Adjust the Text
To adjust the text, click on a text field and start typing. To add text, select the Text menu on the left and click Add Heading, Add Sub Heading, or Add Paragraph.
In the panel on the right, you can adjust font style, weight, and size. You can also change color, alignment, Line spacing, and Letter spacing.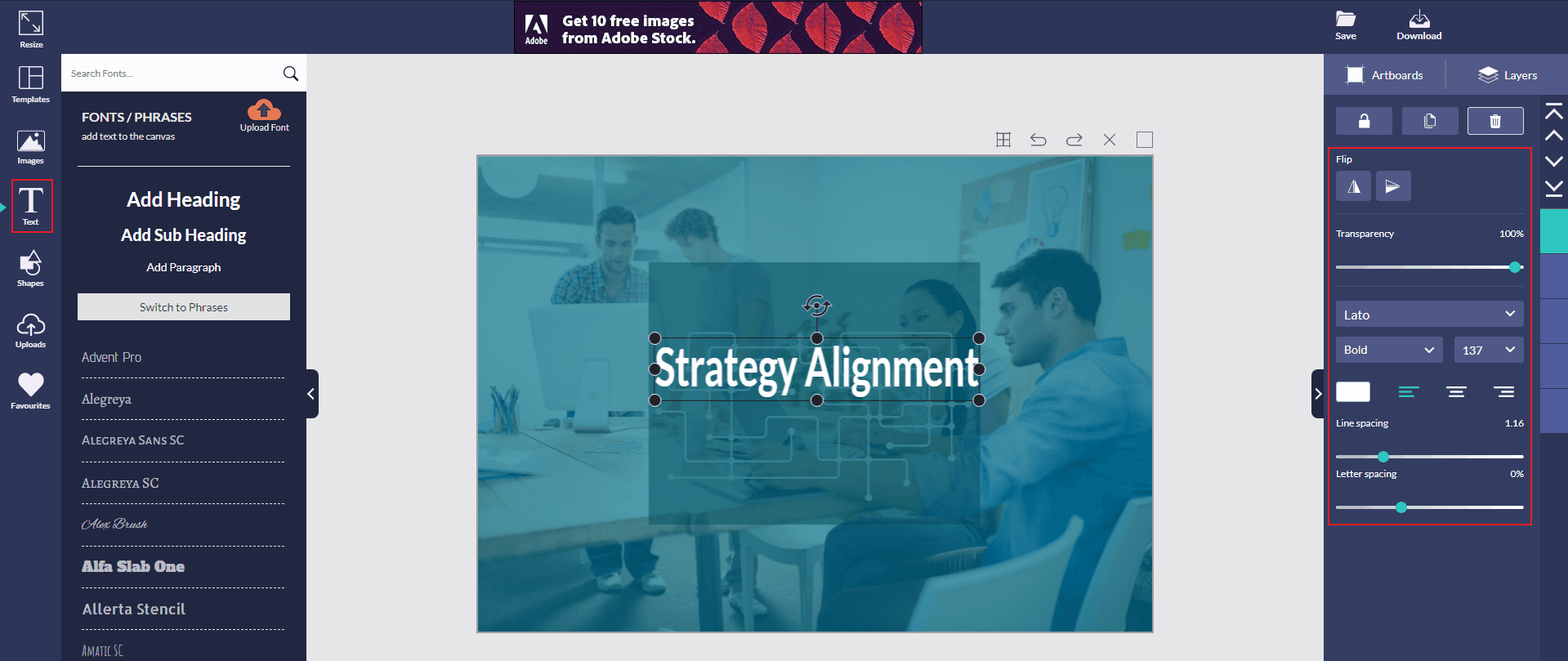 Step 4: Change Colors
To change colors in your design, select the part of your design you want to adjust and click the color in the panel on the right. In the Set Colour menu, choose one of the predefined colors or enter a hex value. Use the color picker tool to select colors from a different part of your design.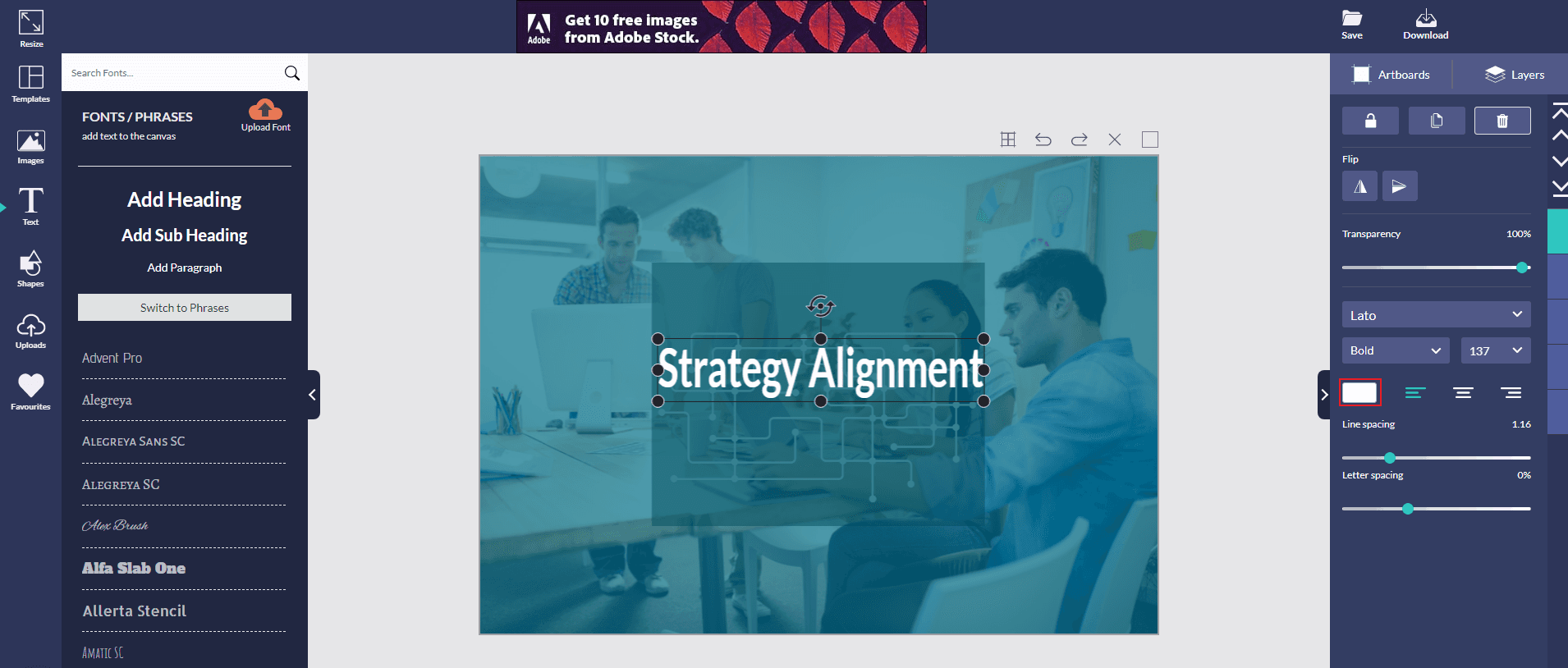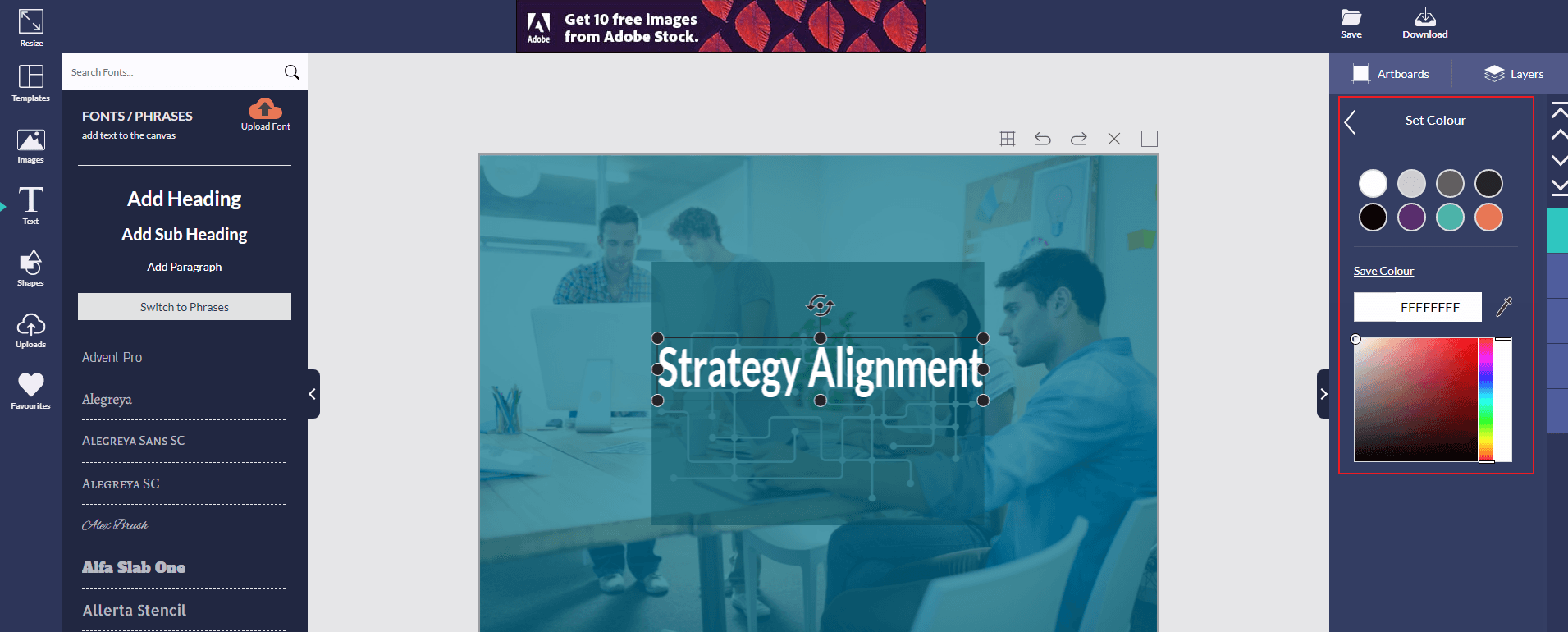 Step 5: Add Images, Icons, or Shapes
To add an image, select the Images menu on the left. Use the search bar and filters to preview and browse images and icons. Click the preview to add an image or icon to your design. To move your image to the background, choose the Layers panel on the right and use the Arrow icon.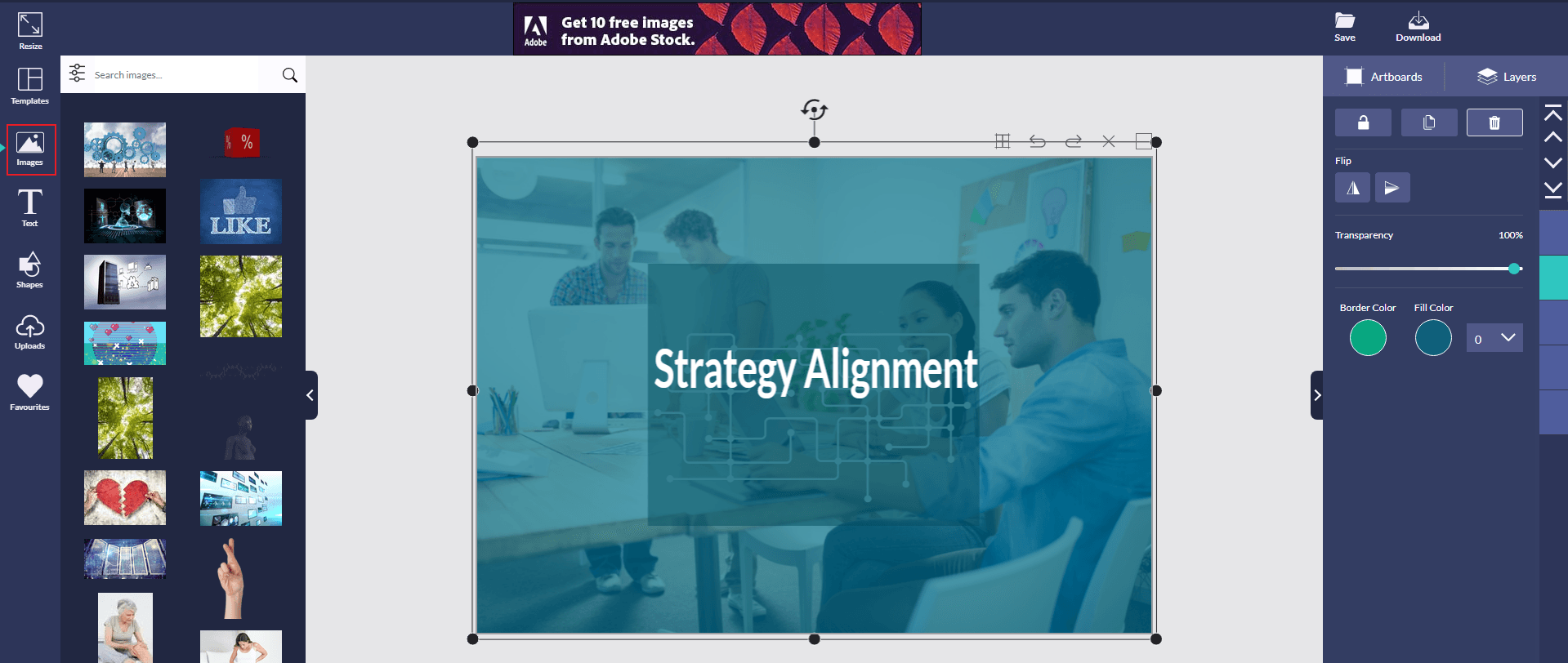 To add shapes to your design, select the Shapes menu on the left and click one of the shapes to add them. In the panel on the right, Flip the shape or adjust Transparency, Border Color, and Fill Color.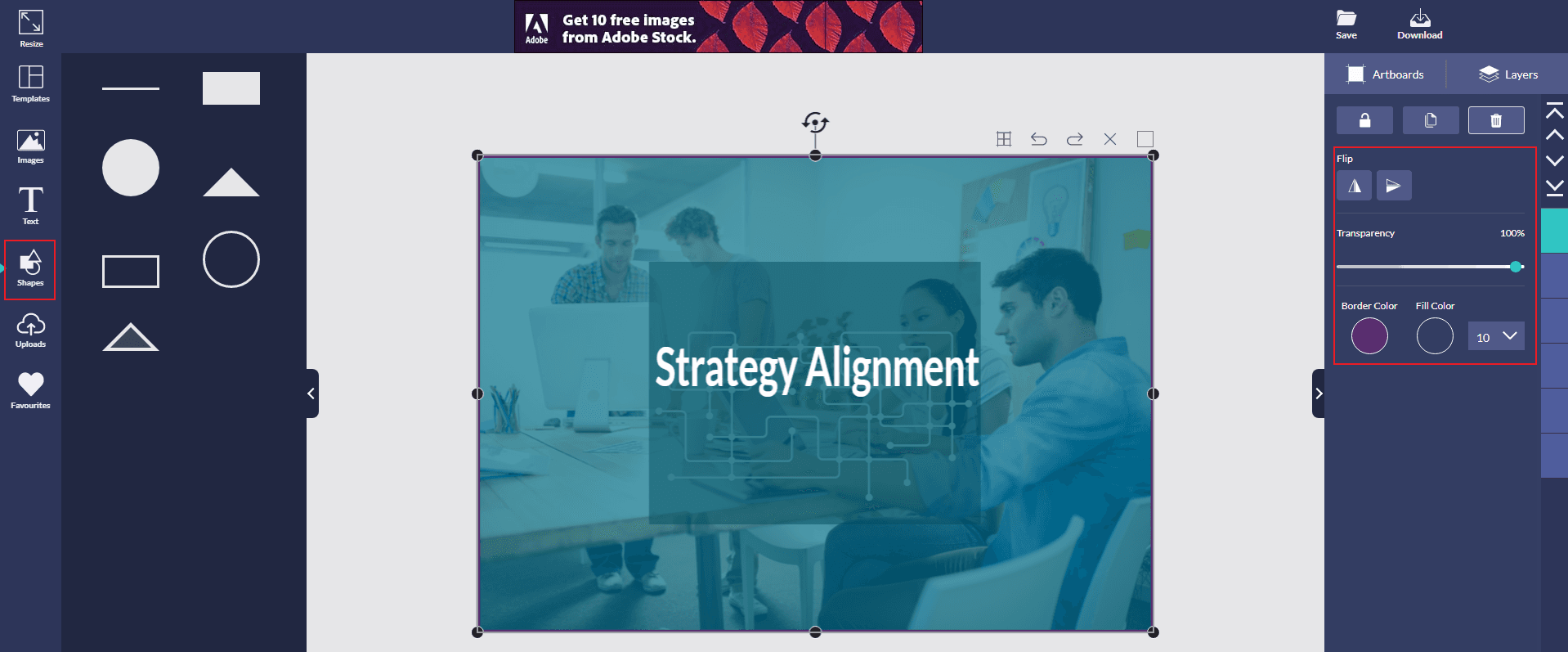 Step 6: Save or Download Your Design
Once you've made all your adjustments, click Download and find your final design in your Downloads folder. If you want to edit your design later, click Save to store your work in progress in your My Designs folder on Design Wizard.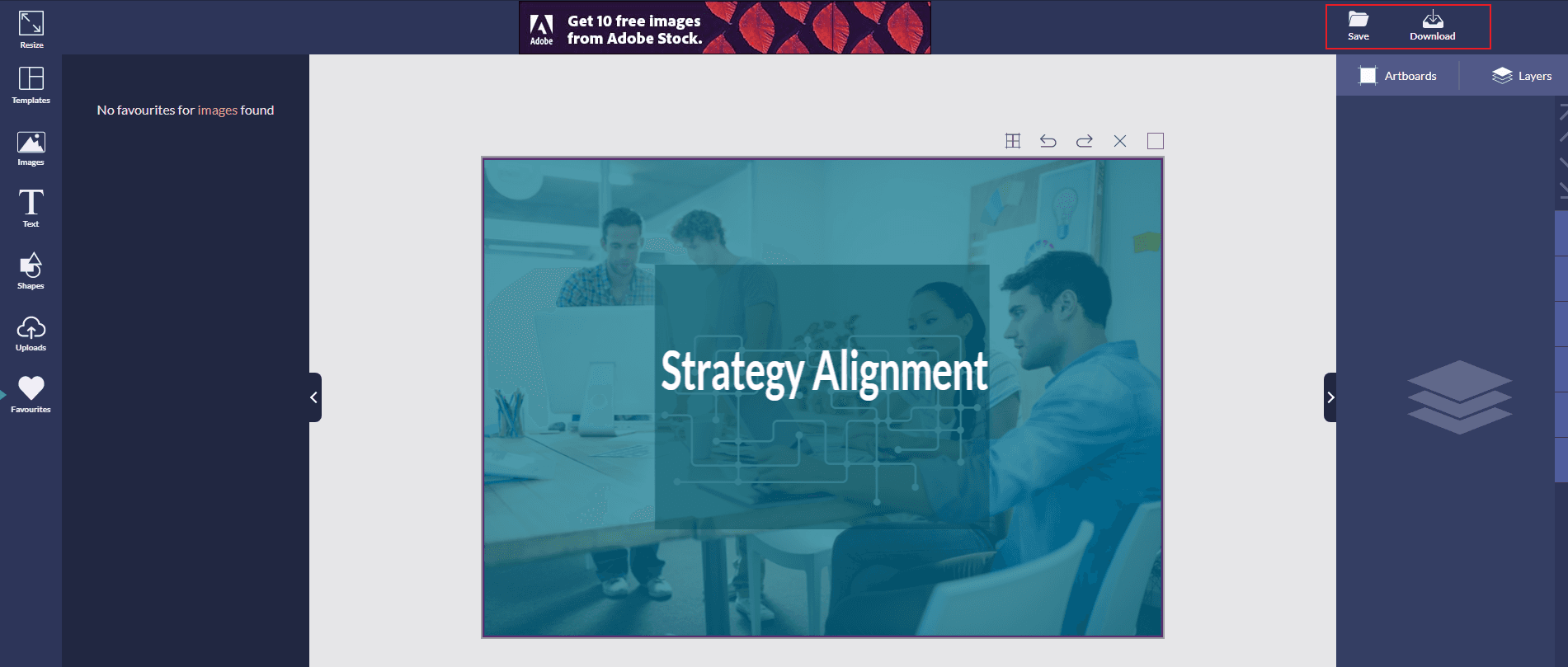 Finding the best product positioning strategy for your business takes some testing and time but will increase sales in the long run. Brainstorm what makes your products or services unique and carefully research your audience and competitors. Focus mainly on how your products or services provide solutions to your customers.
Depending on your type of business, narrow down your focus to features, your customer personas, or emphasizing quality. Once you've fleshed out your product positioning strategy, add it to your brand guidelines and adjust your marketing campaigns accordingly. This ensures the consistency of your copy and designs across all the communication channels you use to engage with your customers.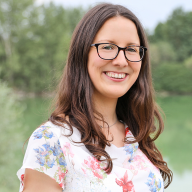 Elisabeth Strasser
​
Lizzie is a professional Content Writer. She's been passionate about SEO and content marketing ever since a life-changing internship at a digital marketing agency while completing her BA in English and American Studies.

Having graduated with a Professional Writing MA with distinction, Lizzie set out to gain her copywriting and digital marketing experience in Cork City.

An Austrian with a love for Ireland, Lizzie loves exploring Irish folklore and storytelling. Her favourite DW tools are:
Youtube Outro Maker
and
Add Logo to Video
tools.
​