Browse our advertising design tips and templates to find what works best for your ad campaign. Edit our templates in Design Wizard and quickly adjust them to fit with your unique business.
Successful ad design is geared towards a carefully selected target audience and includes elements that are memorable and strengthen your brand identity. Set goals and flesh out your unique selling point focused on providing solutions to customer problems.
Choose a type of ad depending on your goals and where you can reach most of your customers. We've gathered a selection of Design Wizard templates to spark ideas for your ad creatives.
Before You Get Started with Advertising Design
Just like with any of your other marketing efforts, ad design requires a certain amount of research and prep work. To craft a successful ad, you and your designers need to be clear about and aligned on your brand identity, customers, and goals.
Incorporate Your Clearly Defined Brand Identity
It's important to have your brand identity and the key message you want to consistently convey fleshed out for all your marketing efforts. This helps you with adding to a cohesive and memorable brand with your advertising campaigns.
Ensure your campaigns are part of an overall marketing strategy and a set of business goals developed in line with your brand guidelines. Use this guidance that includes your brand story, logo, color palette, image guidelines, typography, and voice and tone to make design decisions.
Know Who You're Targeting
Ideally, you should design your ad with a customer persona in mind. These are specific personalities you can create from data about your target audience you can gather through market research. A customer persona is a representation of a majority who buys your products or signs up for your services.
A customer persona profile hones in on the needs and priorities to give you an idea of what your target audience wants and expects from your brand. Use the information about what they buy, who they're buying from, and what might trigger an emotional response to create your advertising designs.
Nail Down Your USP and Determine Goals
Think about how you can convey the value of your products or services through your design. Be sure to tie that to the benefits you provide to your customers. If you understand their motivations, needs, and how your products can solve a problem for them, it's easier to establish a more personal connection with your design.
Add to that what's unique about your brand and makes you stand out from competitors. Convey unique features in your ad but keep the focus on the solution you're offering.
Even though the overall goal for your ad is to get your customers to buy, get more granular. Determine how you want your design to attract your target audience to take action. Set a single clear goal for your ad designs like getting people to register for an event, redeem an offer, or make a donation. All the components should lead your audience to this call to action or CTA in your design.
Craft Various Types of Ads with Our Expert Design Tips
Reach a Wide Audience with Display Advertising
Display ads come in different visual formats that you can find on websites, apps, and social media channels. They can be images with text or short videos with or without audio. They also vary in size as they're distributed across different online platforms.
Banner ads: These appear on the top or the sides of websites.
Interstitial ads: These are now quite popular on mobile devices. The ad covers the entire page and users have to close it before accessing the landing page.
Rich media ads: This type of display ad uses interactive features to engage your audience in different ways. They usually feature interactive videos, polls, or buttons.
Due to the already stimulating environment of a website, app, or social media, users often overlook or ignore display ads. It's crucial to create an enticing design that captures their interest and follow your CTA.
With display advertising, you can achieve a wide reach and build brand awareness. They're cost-effective and you have more control over where your ads show through the many targeting options in advertising tools. You can easily get measurable results with a full suite of metrics like clicks, impressions, and conversions.
Use a Consistent Color Palette for Brand Recognition
Make your brand stand out and differentiate yourself from competitors by using your unique brand elements like logos, color palettes, and icons. Stay consistent across all your ad campaigns to establish a recognizable design.
Keep both your design and copy simple to ensure your audience understands what you want them to do. Prepare your ad creatives in different sizes to ensure they're responsive and work across multiple channels without appearing blurry, elongated, or cropped.
In our downloadable ad template, we used the brand colors blue and yellow throughout. These colors go well together as they create an eye-catching contrast we used to get the key message across. It attracts viewers to look at the free trial offer and the call to action to sign up.
The contrast between the handwritten font Mrs Sheppards and the sans serif typeface Fjalla One adds to that. You can find both typefaces in Design Wizard or apply your own brand fonts.
The most important information is placed on the left according to the reading order including the logo that also uses the brand colors. The icons on the right integrate the brand color palette and complementary colors.
Assert Your Brand Identity with a Unified Color Design
If you're using photos in your ad design, ensure your color scheme matches with the rest of your design for a unified look. Include only the absolutely necessary information and a call to action that stand out to make sure your ad retains its high quality even when resized.
Choose an attractive image that fits with your brand image guidelines. If you don't have the resources for highly professional imagery, consider using royalty-free images for your ad design.
We selected a high-quality stock photo that reflects the joy and excitement of travel for our editable design. The image draws the viewer in and the simple layout and easy-to-read font Cabin used throughout lets you take in the copy quickly.
The black text and banner match the clothing of the model in the image and the logo inside the banner. They also stand out from the lighter background of the sea and sky.
We took the contrasting pink color for the CTA from the woman's shirt collar using the Eyedropper tool in Design Wizard. This is the main CTA but the website URL at the bottom is another incentive to find out more information.
Tell a Story with Your Video Ads
With better broadband speeds and the rise of social media, the video format has gained immense popularity in the last decade. Today, 68% of consumers prefer watching videos to learn about new products or services. As audiences moved from TV to the internet to consume content, brands saw new advertising opportunities and moved with them.
Video ads are now spread across the online world from websites to social media to apps. Professional video production is a bigger investment than graphic design but the return is often greater than on image ads. If your resources are limited, consider editing stock videos to suit your campaign.
Stock footage is short to fit perfectly with the needs of short attention spans on social media enabling you to get your message across quickly. Even though you only have a short period of time, try to encapsulate your message in a story. Telling a story helps to captivate your audience and make them watch from start to finish.
Boost Brand Awareness with a Short Video Ad
Video ads are an eye-catching way to give your brand awareness campaign a boost. Our eyes are automatically drawn to moving images. If your video ad keeps popping up on your target audience's social media feeds and other channels, they'll start to recognize your brand and get curious.
To attract attention, ensure your content is high quality and professional looking. For brand awareness include your logo and website URL or any other channel you want your audience to go to. Make it a clear call to action to find out more information.
In our editable video design, we used both the logo and website URL. To keep it consistent and on-brand, we applied the same font throughout. The white and black text is easy to read and the Sofia font catches the eye with its unusual humanistic style for a geometric sans serif typeface.
This video ad tells a short story and answers the question of where to find quick and easy meals. Music or voiceover is not needed as all the information is included and videos are usually automatically muted in social media feeds and on websites.
Reel in Your Audience with an Eye-Catching Animation
Depending on what type of brand you're creating ads for, an animation might be a better choice than live-action footage. Crafting an animation makes you think about how to simplify your message if you're advertising complex products or services.
To create one, boil down your key message and how your product works to a simple explanation that fits in and around fifteen seconds. Use this to design a visually interesting animation with the help of icons and text.
Our downloadable design for a broadband and smart home video ad offers a fitting theme for an animated video. It's an easy-to-understand way to display the various connections with home devices in a short and effective video.
We used the same brand font Poppins throughout and used the Eyedropper tool in Design Wizard to take the light pink color from the logo and use it as the background color for the text. This use of brand fonts and colors ensures consistency throughout.
Use More Granular Targeting with Social Media Ads
Ads on social media have to stand out perhaps even more than other ads, as your target audience scrolls through their feed looking for the latest updates from friends, family, or celebrities they follow. This means your ad has to be at least as interesting as these updates.
To create your eye-catching ad on social media, make sure it's easy to understand, feels natural in your target audience's feed, and captures their attention in less than three seconds. Always use high-quality visuals to build trust with your audience. Low-quality images look spammy and untrustworthy.
Social media platforms usually provide predefined CTAs that you can choose from. Select the CTA that fits best with your campaign and have a relevant landing page ready that you can link to. Make sure it includes all the information a potential buyer needs.
One of the most useful tools when running social media ads is the ability to perform A/B testing. Choose one or two elements in your ad that are going to vary and create two different ads. For example, experiment by adjusting the CTA and the image. Monitor which ad performs better and drop the one that doesn't work as well.
You can get quite granular with targeting through adding and adjusting demographics and interests. Other options are uploading a customer file with leads and using retargeted ads to find customers that checked out your business previously but didn't convert.
Promote a Collaboration with Influencer Content
A collaboration with an influencer or content creator is the perfect opportunity for sponsored ad content. A collab is a more authentic way to reach a wider audience with your ads, as you combine your company's brand with the personal brand of your collaborator.
As social media is usually seen as a personal space, advertising can be perceived as intrusive. A collaboration with a trusted content creator generates authenticity and gets your ads seen by an audience that is more likely to be interested in your business.
Add to that the approval of experts in your niche whose reviews and opinions about your products or services are valued by their followers and you have created your successful influencer marketing campaign.
In our downloadable template of a collaboration ad, the prominent feature is the image of the influencer. This makes it instantly recognizable to followers and sparks interest in the ad.
Use a branded hashtag for your campaign that the influencer can use to mark sponsored content and to spread the word. #fiststeps2021 is memorable and easy to use for any followers who want to engage with the content creator and your business.
Brand favorites in all caps on a red background immediately tell the viewer what the ad is about and clarifies this further with the additional heading. It's also best practice to make it clear that this ad is part of a collaboration by adding the brand logo.
Advertise Your Partnerships with Social Media Ad Campaigns
Rather than hiding your partnership with other businesses, fully embrace this type of collaboration and advertise it on social media. Just like with an influencer campaign, you'll gain a wider audience, as you tag your business partner in all posts.
Next to an ad campaign, this opens up new opportunities for organic posts telling the story behind the scenes of your partnership and interviews about your collaboration. Your ad sparks interest and people can find out more on your business pages or on your website.
In our downloadable ad template, we merged the two brand designs of Holly Kelly and Social Gym. This is most evident in the two different fonts Quicksand for Holly Kelly and Anton for Social Gym. The added social media handles make it easy for the target audience to find both businesses.
We used the complementary colors green and pink, which could also be the colors associated with each brand. The icon is formed by dumbbells associated with the gym and creating an X that emphasizes the connection between the two brands.
Additional copy provides more information and a branded hashtag to make this ad campaign more recognizable. Gym goers can use it to participate in the conversation around this new partnership.
Boost Your Sales with Ad Design for Email Marketing
Email marketing is still an incredibly successful technique to use to increase return on investment, as studies show that for every $1 you spend, you can expect to get an average return of $42.
This only works if your emails contain compelling copy underlined by a visually attractive message. To stand out from the many emails customers receive daily, make sure your design is eye-catching and simple with a clear call to action.
One of the reasons why email marketing is so effective is that your customers opt-in to get your emails, which shows a genuine interest and sets a good foundation for a potential sale.
Depending on the size of your mailing list, you can also segment your target audience into groups according to different interests with the help of email marketing software like Moosend. Similar to the more granular targeting you get with social media ads, your ads will only be shown to people who have previously expressed an interest.
Keep Your Email Ads Simple
Despite the main goal of increasing conversions through email marketing, your approach should be subtle. Instead of bombarding your audience with sales messages that will only increase your bounce rates and grow your list of customers who unsubscribe, offer valuable content.
Educational content is popular, as particularly in areas of interest, customers are eager to get tips. Produce informational articles, case studies, or tutorial videos that you can link to in your email to establish yourself as an industry expert. This builds invaluable trust and increases sales in the long run, as customers feel safe to buy from an expert brand.
In our downloadable sample design, the CTA links to an article with helpful tips to improve skincare. This can be your indirect sales pitch as you talk about how customers can use your products to get flawless skin.
The layout and copy are simple to entice the audience to click and find out more. The pink block text in sans serif font Fjalla One and the CTA button are eye-catching against the highly transparent background image. The tagline in Crimson Text pairs nicely with the sans serif font for contrast.
Promote Seasonal Sales Events
Seasonal sales events and discount offers are probably the most common type of emails we get from businesses. As long as they're not piling up in our inboxes every week, they're also the most popular, as everyone loves a good deal.
Seasonal events like Christmas or a summer sale are a great opportunity for an email marketing campaign. You can send everything you need your customers to know straight to their inboxes.
Our editable ad template is styled like a website to offer the selection of products in one design. Use the navigation style bar to link to the respective pages.
Icons like flowers, flip flops, and sunglasses are symbols for summer and add to the happy atmosphere you want to create around a summer sale. They fit well with the style of the model, which is emphasized by integrating the sunglasses into the image.
The contrast between the script font Dancing Script and sans serif font Lato draws attention to the most important information of the ad. The white call to action button clearly stands out against the pink background.
Create Event Ads that Entice Your Audience to Attend
Event advertising can involve everything from online ads to creative brand items you hand out on the day. You may be the business running the event or a sponsor. In any case, events are a great opportunity to think outside the box and craft a different kind of ad.
This type of ad is mainly concerned with the event itself while your brand is a smaller part of your designs. Even though your logo might not be as prominent, a branded hashtag is a must if you want to get people to share their excitement before, during, and after your event.
You can also show off your unique business by handing out more creative branded items than the usual water bottles, pens, or stress balls. Think about other useful items that you can apply your design to and that relate to your business.
Make Your Guest Speaker Event Stand Out
When creating event posters, make sure you keep the different channels you display them on in mind. To keep it simple, your design should be a good fit for display ads, print, and social media. In Design Wizard you can choose from a wide selection of pre-defined canvas sizes suitable for social media and print or you can enter custom dimensions.
Easily legible fonts like Roboto Condensed are crucial when you want to mention as many of the big names as possible for a guest speaker event like our editable design. Experiment with positioning of text to include all the information needed without overwhelming the viewer.
Apply visual hierarchy to create a structure. In our downloadable design, the lines and boxes also help to define space. Activate the Grid icon in Design Wizard to check your alignment when positioning design elements.
The red and orange banners at the top stand out to emphasize the call to action and the location. The title in all caps fits well with the black and white image. The sponsor is included for brand recognition but is not part of the most important information, so we reduced the font size here.
Increase Sign-ups for Your Online Event
Finding potential attendees for your online conference or webinar is not an easy task. This type of ad has to be visually attractive and professional to make a great first impression and get your target audience curious to find out more.
An eye-catching ad is simple and only contains the most important information about your online event. In our editable design, we included the title date, time, a CTA, and where to find out more. This is easily digestible for social media and display ad content.
Green and purple are colors that go well together and the sans serif Fjalla One and the script typeface Caveat complement each other to draw attention. Experiment with complementary font styles or add your brand fonts in Design Wizard.
Reach Your Audience Offline with Print Ads
Print advertising includes all forms of physically printed media like newspapers, magazines, and brochures. Even though digital formats have taken over the last decade or so, advertising in print publications can still be an effective way to promote your products or services.
Just like online advertising a print ad campaign requires research into what your audience is reading. Finding specific niche publications is key to find an engaged audience. This way, you're right where customers are looking for solutions you can provide.
Print ads drive higher levels of brand recall as well as trust compared to ads that pop up online. Customers take in more information written on print ads, as they're more likely to read the ad while they might just scroll past it on a website or social media feed.
From placing an ad in a newspaper or magazine to creating your own brochure, print ads are still an effective way to spread brand awareness and increase conversions.
Merge Print and Online with a QR Code
Although you can't include a clickable call to action in a print ad, you can still create an interactive ad with a QR code. This is a unique scannable code you can generate to link to a landing page of your choice.
Our downloadable design is a template to promote an e-book on how to use creative ideas to increase sales. Sending your audience to not just a landing page but a valuable piece of content like an e-book, cheat sheet, or whitepaper can be an effective way to give your campaign a boost.
Make sure the QR code stands out. The red border in our design ensures that viewers look at the code first and sparks initial curiosity about what it might link to. They read the headline that draws their attention in bold and easy-to-read font Khula next.
The composition of the copy is crucial here as the question in the subheading and the statement adds to the target audience's curiosity. The call to action and arrow lead them back to the QR code.
The image of a desk with a computer, coffee cup, and glasses fits well with its associations with a workday and is transparent enough to provide an effective backdrop for the white text.
Attract Your Target Audience with a Link to an Interactive Feature
Use offline ads to promote an interactive feature on your website. This has to be something valuable that fits with your type of business and adds to your campaign.
It can involve gameplay and above all should be entertaining, which gets your target audience interested and potentially keeps them on your website to explore. Interactive features like that increase engagement and make your brand more memorable.
Our editable design is a print ad for a home insurance company. For this, we chose a high-quality background image that represents new homeowners and fits with the key message of the need to protect your home.
The slab serif font Arvo used for the heading creates a visual hierarchy for the rest of the text. The separator lines help to create easy-to-read sections. To spice up this rather mundane topic, we added an interactive feature for the target audience to create housewarming party invitations.
Spread the Word about Your Business with Direct Mail
Like print ads, direct mail is one of the oldest forms of advertising. It can prove useful to multinationals and local businesses alike, as they can pick their target audience from a relevant direct mail list.
Design is crucial as color, tone, and key message align to create a unified and branded look. Think about a unique way to represent your brand, products, and services to avoid your collateral being thrown away without a glance.
Carefully craft every element of your direct mailing to grab potential leads' attention. Make it stand out from the rest of the letters they receive and add product samples for testing and to linger in their memory for a longer period of time. Track response rates by including coupons or QR codes.
Distribute Your Menu to Give Your Local Restaurant Business a Boost
When running a restaurant, you don't have much time to spend on marketing efforts. If you're pressed for time, a simple direct mail campaign can be your way to get more people to book tables.
It can be as easy as just using your menu to literally whet people's appetites. As your menu turns into your advertisement, it's crucial to nail your design.
Our editable template is an example of a cocktail menu for a 70s style bar. The retro red and orange colors are eye-catching and fit well with the aesthetic of the business creating associations of the colorful style of that decade.
The colors create a clear division between one half of the menu that displays the address, the name of the club, and the logo, and the other half that shows the cocktail specials throughout the week. Separators help to differentiate between the days of the week.
Both fonts Yanone Kaffeesatz and Cabin are highly legible to make it easy for readers to take the information in.
Show Your Community Spirit on Flyers
Word of mouth can be an effective strategy for small local businesses but a direct mail campaign using flyers can give you the boost you need to let more people know about you. Distributing flyers in the community is one of the most effective ways to increase awareness of your business.
It's important to show community spirit with your design. Include a photo of your team to build trust and create a personal connection as potential customers probably know members of your team.
In our editable design, the focus is on the people proudly standing inside their workplace the barbershop. According to the reading order, the logo and contact details are given first and highlighted through the red background on the left.
The name of the business in the Arvo typeface and large capital letters draws attention next. Use the fonts menu in Design Wizard to pick a brand font or upload your own to use the most prominent spot of the design for your business name. Add a list of services or main customer benefits below that to entice potential customers to contact you.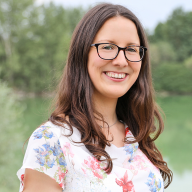 Elisabeth Strasser
​
Lizzie is a professional Content Writer. She's been passionate about SEO and content marketing ever since a life-changing internship at a digital marketing agency while completing her BA in English and American Studies.

Having graduated with a Professional Writing MA with distinction, Lizzie set out to gain her copywriting and digital marketing experience in Cork City.

An Austrian with a love for Ireland, Lizzie loves exploring Irish folklore and storytelling. Her favourite DW tools are:
Youtube Outro Maker
and
Add Logo to Video
tools.
​