Given the fact that video consumption is on the rise, it's time to ensure your YouTube advertising stands out.
Being the second largest search engine giant in the world, YouTube gets billions of organic traffic every month. It's a great way to attract new customers and encourage repeat clients to upgrade to a new product efficiently. Big businesses know this. Remember, that since Google owns YouTube, it affects your search engine rank really, really well.
If you're serious about content marketing, create your promotional content and experience the full benefits of YouTube advertising.
Video Advertising Formats
Basically, YouTube uses TrueView advertising which gives viewers the choice to watch a video ad or skip it. This means that you don't pay if a viewer skips your video or watches it for less than 30 seconds. Thus, you don't pay for random impressions or maybe-they-saw-its. Be prepared to host your promotional videos on YouTube's own server, due to their technical requirements. As one of its perks is that TrueView ads can appear not only on YouTube but also on video partner sites across the web.
With this in mind, let's define three formats for YouTube advertising:
TrueView In-Stream Video Ads
TrueView Video Discovery Ads
Bumper Ads
Now, when we already know YouTube ad formats, let's find out how your business can benefit from using them. Well, promotional video ads work wonders. It can foster trust and give your consumers more confidence to purchase online. Good news for you: only you choose what you want to pay for. Simply put, you decide how much you pay for advertising, which means more control of your expenses and coverage. As a result, you get the right audience at the right place. Plus, with the 30-seconds video limit, you should find a perfect combination of entertainment and simplicity to gain the attention you need.
So, which type of YouTube ad format is best for you? Let's learn, not guess.
TrueView In-Stream Video Ads
First things first. This type of ads is played at the start, during, or after the searched/posted video. Here, after five seconds of viewing the ad, a viewer has the choice to keep watching it or skip it. However, you as an advertiser pay once the viewer watches 30 seconds or interacts with the ad – visits a website or clicks CTA/banner. So, what's the solution? Create an engaging content that delivers the message within the first 5 seconds. That's it.
Okay, modesty aside, this kind of ad works great for establishing brand awareness. Think back to the few times you watched an add and it grabbed your attention. The quicker an ad can draw in the viewer's attention, the more traffic you'll get. Yet, in fact, such an in-stream video ad format yields a fairly low conversion rate.
Look, depending on the viewing time limit, there are two types of YouTube in-stream video ads:
Skippable In-Stream Video Ads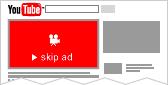 Skippable video ads give a viewer the choice to watch the entire ad or to skip it by pressing the skip button after 5 seconds. Thus, the ad view counts only if a viewer interacts or watches at least 30 seconds of the ads. Important to note, that such a video ad is recommended to be a maximum of 6 minutes long.
Non-Skippable In-Stream Video Ads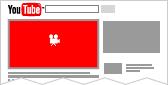 Just as the name sounds, non-skippable video ads is a mandatory watch before your actual video. This can't be skipped or viewed partially. Non-skippable video ads usually appear as 15-20 seconds in length.
Well, each YouTube video ad offers a channel interaction panel, a video title, and a channel name. That's why it's important to use clear CTAs: say, you can place a link to your website in the 'Go to the Advertiser's Site' block. Thus, you make it far more likely to convert.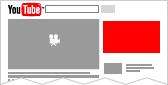 TrueView Video Discovery Ads
TrueView video discovery ads or 'TrueView in-displays ads' follow the simple idea to help users discover your brand content. Once a viewer clicks on your video, it's a strong signal that he/she is interested in your brand. This format appears differently on top of video search results alongside other YouTube videos. Moreover, the top-ranked ad may also be repeated below the organic search results. You pay once a user clicks on it to view it.
It's safe to say, that YouTube is mainly a social network, so make your video ad to look organic. The point is that you should adhere to the Ad Policy, which requires your video ads to comply with all official rules and guidelines. Good news: you're not restricted by time limits.
Picture this: you'd like to create your own website, but have no clue where to start. So what can you do about this? Definitely, you decide to find the answer on YouTube. You enter the request and see the next examples of TrueView video discovery ad:

Okay, say, you select a video tutorial on how to quickly create a website using a TemplateMonster template. Once you click the link, you'll see two more ad formats – overlay and display ad.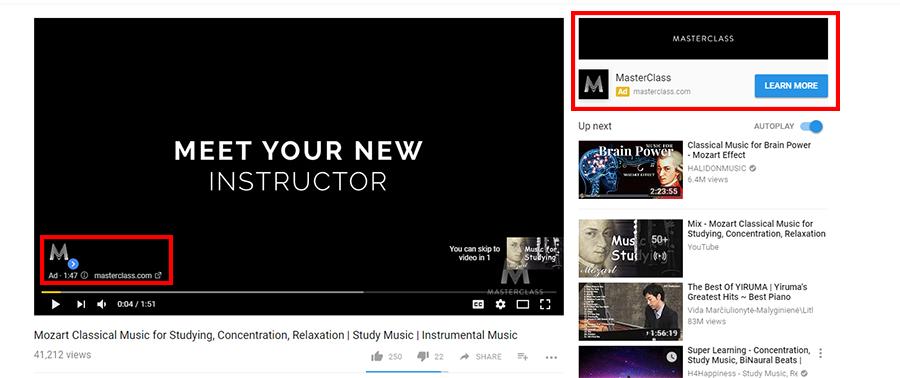 Overlay ad is a graphical ad that appears overlaid on the bottom of the actual video you watch. It's a small text block which sizes only 20% portion of the video total size. Important is that this ad type is displayed in the desktop version only. Once a viewer clicks the banner to open the full ad version, an advertiser earns.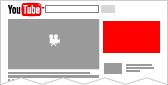 Display ad is an ad banner that appears to the side of the content you're watching on YouTube. Such an ad is considered viewed once a viewer opened it from PC only.
Bumper ads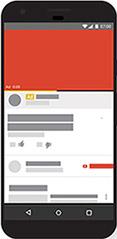 Bumper ads is a short non-skippable video of up to 6 seconds that is mandatory to watch before the actual video can be viewed. Due to their short format, these are great for reaching a mobile audience. They're displayed full-screen with a short and memorable message. The payoff starts at 1000 commercial views. But, the truth is that bumper video ads can boost brand image and awareness.
According to the recent research by Google and Eye Square, bumper ads are a cost-effective way, yielding better results. This is a great tool to reach the target audience in a more memorable way. To learn more about the effectiveness of bumper adds and the study itself, feel free to read this article.
Want your video ad to be a success? Then do it right. Configure all its elements properly. This means to include keywords & irresistibly clickable adjectives. Make sure you use them right. With the search engine stats, confirm that your ad matches high-frequency requests most.
Optimization of Your Promotional YouTube Campaign
Well, to optimize the performance of your promotional campaign simply set up a Google AdWords account. Congrats, now you're ready to start.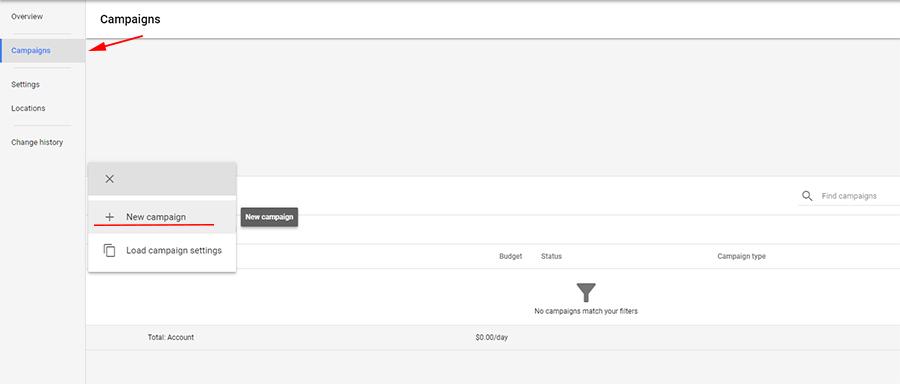 2. Select the campaign type and subtype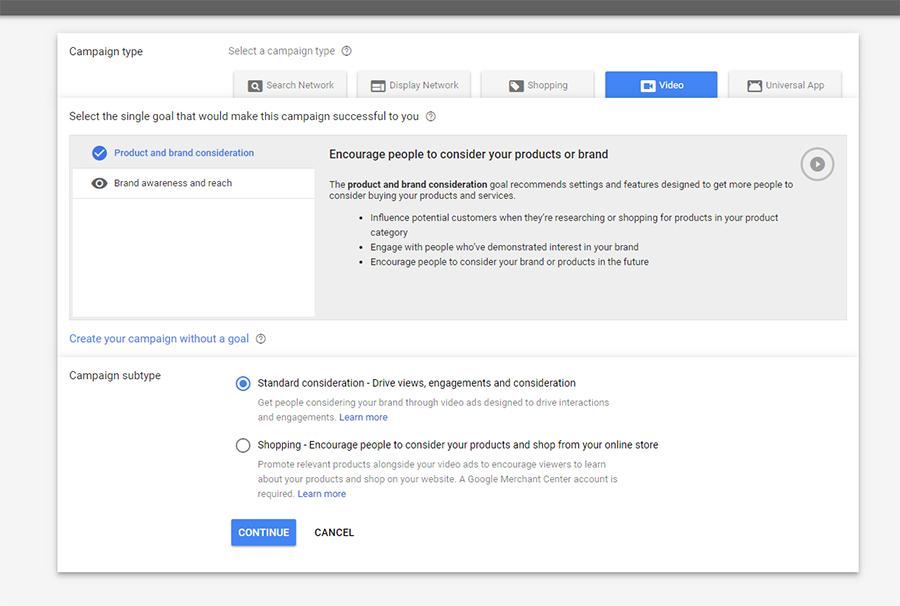 3. Next, name the campaign and set yourself a daily budget. Try to set yourself a daily budget of what you're prepared to pay for your promotional content. Say, if you want your ad to be seen throughout the day – the Standard Display Method is calling your name. If you want your ad to be frequented at the beginning of the day, choose Accelerated Display Method. This, indeed, may be a risk running out of budget quickly. Protect your costs correctly.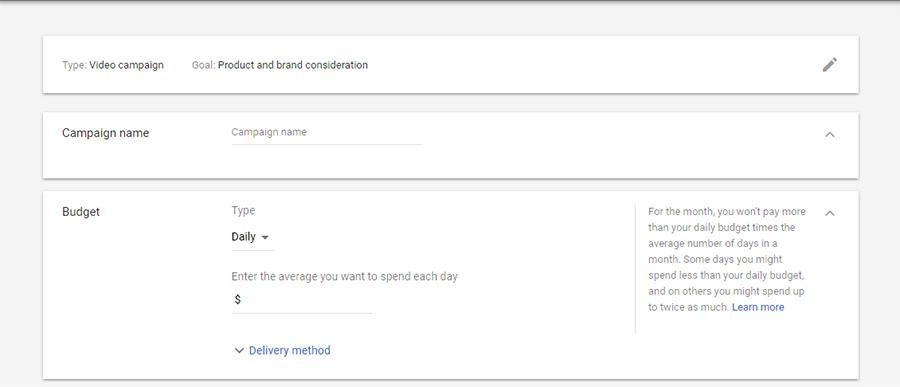 4. Set ad's launch date, targeting, language, and location. Set the time when a user can see your ads. If needed, use 'Exceptional Content' option to restrict your ad display on specific video categories.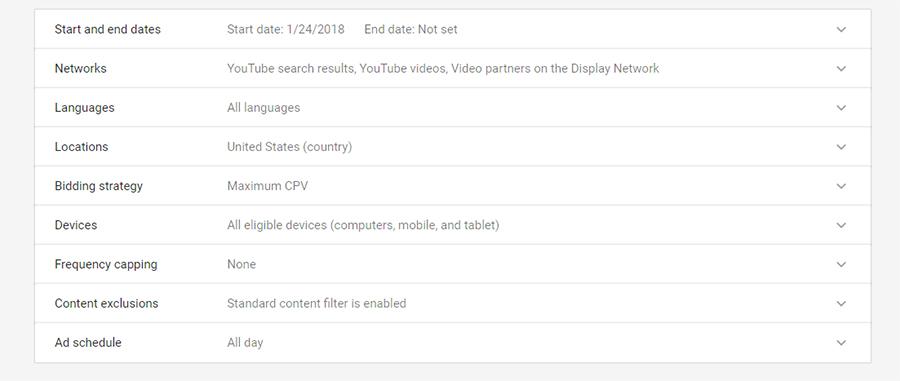 5. Don't put all your targeting eggs in one basket. To keep your promotional ads cost down, you'll need to target only the correct people to see your ad. Clearly defining your audience is a road to control your maximum cost-per-view for different target structures. Well, this can make all the difference in effectively reaching them. If your target audience is quite extensive and you can divide it into several segments. Say, you can start with the three broad settings, such as age, gender, and parental status. The correct data can help you cope with this task more effectively. Remember, focus on a very specific audience segment means an increase in conversion rates.

6. Time to upload your video ad or find it on YouTube. Remember that your video ad should meet certain requirements. Select the TrueView format used and the icon appearance. Add some video description and preview your video ad using a mobile device or PC.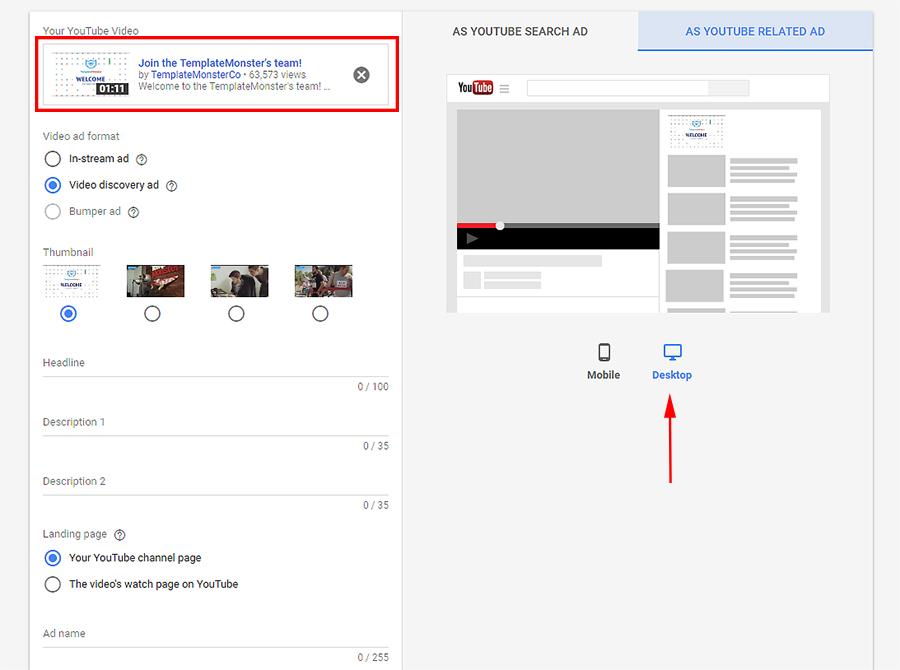 7. Get access to ad Settings and Management panel once your campaign is launched. Here, you can monitor the number of views and the audience that namely views your promotional content. Besides, YouTube Analytics will give you a deeper insight into video advertising analytics. Take action.

Once your campaign is created, there's one more thing to do. Link your YouTube channel to your AdWords account. This can help you see more stats and allows you to add overlays. To make this happen, click 'My Channel' → 'Video Manager' → 'Advanced'. In the 'AdWords for Video' section, click 'Link Accounts' and follow the instructions provided. Finally, after clicking 'Finish', confirm the request.
That's It!
Well, as you can see, creating an advertising campaign is becoming widespread. If created correctly, you can create real miracles of advertising at minimal cost. Engage with viewers through contests, response videos, or collaboration. Create a valuable video content to keep your subscriber numbers climbing.
Learn the basics and master them to increase paid clicks.

Claire O'Brien
​
Claire O'Brien is a professional Marketing Manager. Claire has more than 10 years experience in content creation including visual content, digital marketing, email marketing, social media and advertising. She has an avid interest in all things digital and software related. Claire likes to download
Twitter Post Templates
.
​