A color palette is meant to form the basis of your creative design. It leaves you with room to explore new concepts while offering one of the best ways to maintain brand image consistency.
In this article, we will elaborate on the theme of color theory, with a focus on the importance of a color palette.
What are color palettes?
A color palette is a combination of several colors that are to be used consistently across your designs. It is the full range of colors and color combinations. A color palette can consist of any number of colors, but typically has 4 to 6. A larger collection of colors is possible but requires more careful consideration.
Color palettes can consist of a wide range of mixes. But there are some general rules they should follow for the best effect.
For the most part, using color schemes of different shades of one color is safest. Primary colors with different shades offer simplicity. All you need to do is add other imagery and mix the palette in a way that follows the principles of design.
When experimenting with other color relationships, some caution is required. Some combinations are just repulsive, such as bad news colors with colors with earthy tones. They contrast poorly and are naturally a pain in the viewer's eyes.
Our article on color harmony rules can help you a lot with this!
If you want to use secondary colors or additional colors, you definitely can (and normally should). In cases where you want to use a complicated color theme, you are best sticking with the same level of warmth. A color palette with different colors and a mix of cold and hot colors is hard to pull off and seldom works well. There are some examples where such mixes work, but it's safer to choose one of the following themes:
Different shades of one primary or secondary color

A mix of 4 or 5 different colors, but consistency in warmth or coldness

Organizing each color in the palette in order of warmth, shade, and contrast

Using similar color types throughout the palette

What are the 12 types of colors?
There are 12 main colors on the color wheel, starting with the primary colors:
These are the basis of color theory and are then broken down as follows:​
Red-orange

Orange

Yellow-orange

Yellow-green

Green

Blue-green

Blue-violet

Violet

Red-violet

Refer to this color wheel and the general guidelines listed above when drafting your color palette.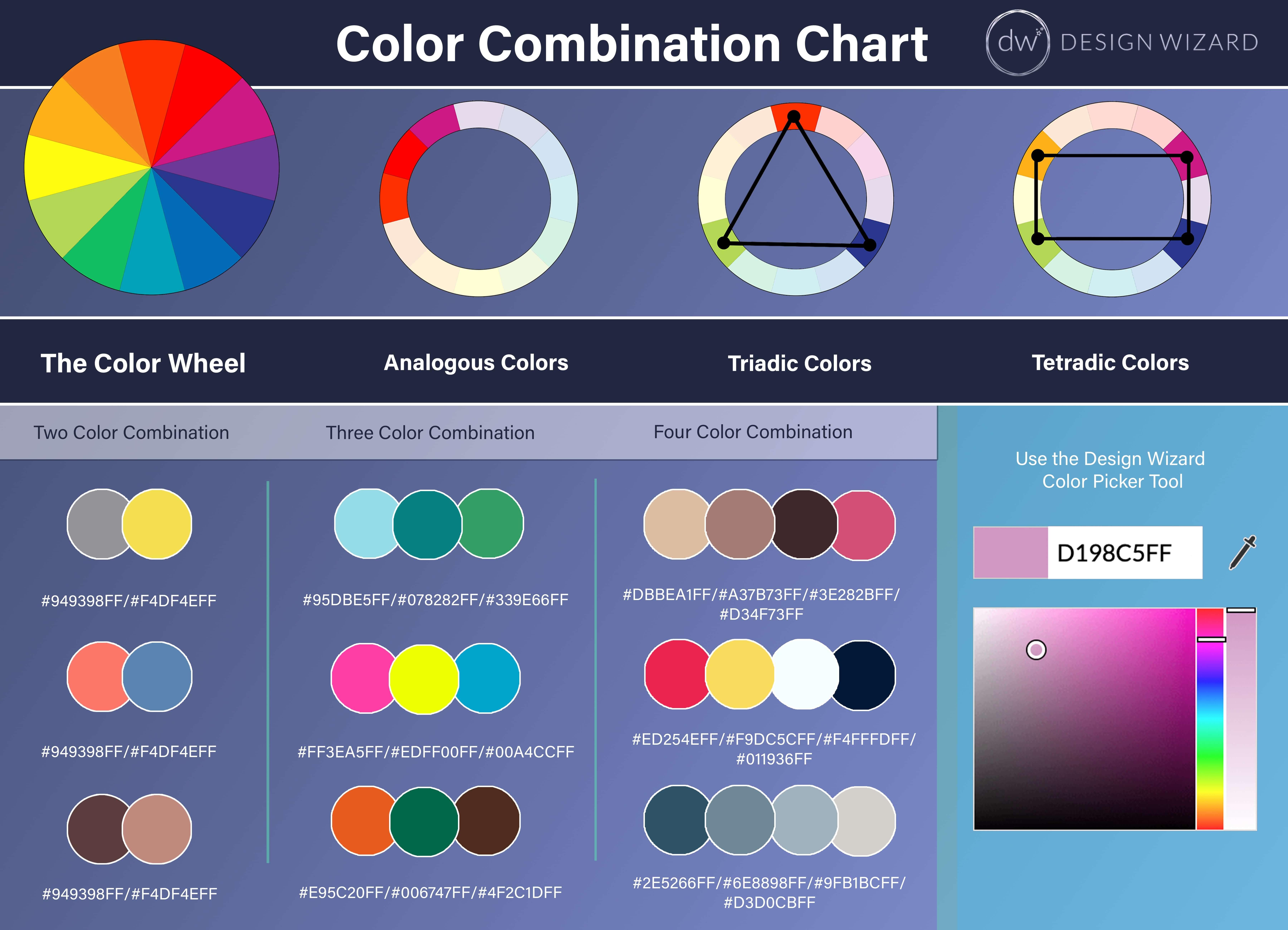 Why Does Color Matter?
Color generators normally co-opt data from social media marketing campaigns. Colors are taken into account and the colors and combinations that work are recorded. Why?
Because your color choices will partially determine the success of your long-term marketing efforts.
There are two main factors surrounding your colors of choice in marketing that make such a big difference:
The emotional impact they have on viewers in relation to the emotions you want to elicit to compel them to take a favorable action

Your brand's consistency, thus how easily recognizable it is within the spaces you market in

In the long-term, finding your color palette is one of the keys to marketing success, as it's the way in which you stay at the front (and perhaps more often at the back) of your viewer's minds.
How do I find my color palette?
First, you can use the examples we've provided here as the basis for a new color palette.
You can use any of these colors and create an entire palette by using the hex values posted below. That includes the hashtag plus the color code for it.
If you want, you can go ahead and create a new palette using your own creativity. Just remember the concepts we've discussed, and pay attention to your dominant color. Follow it up with less vibrant colors.
If you don't want to take the time to create a custom color palette manually, there are plenty of free tools to help you. As a rule of thumb, manually creating one can easily end badly if you aren't careful and experienced, and so should be avoided unless you're experienced with design.
You can use a free color scheme tool to automatically have a palette created based on the first dominant color. Many of them utilize data from social media platforms to provide palettes based on what converts better in marketing campaigns.
How to make a color palette on Design Wizard
Just insert your official brand color. Design Wizard's color wheel is comprehensive. You can choose an extremely specific shade of any color imaginable.
Next, if you want to automatically produce a color palette, use one of these free tools.
Once you have the color scheme you want to use, save a draft. Save the palette so you can always paste it elsewhere and use it as a reference. To ensure you use these default colors properly, save the hex values (the hashtag with the color code). Our hex values are universal; all major design tools use the same values to create the exact same color.
Creating a vibrant color palette on Design Wizard is a simple process. To help you get started, here are some examples we've provided before, and some additional ones based on social media conversions and professional automated creations.
Color Palette examples
Here are a few of the tried and tested color palettes that can help you create the perfect design. For the sake of simplicity, we will use 4 colors each. But an effective color palette can also include 5 or 6!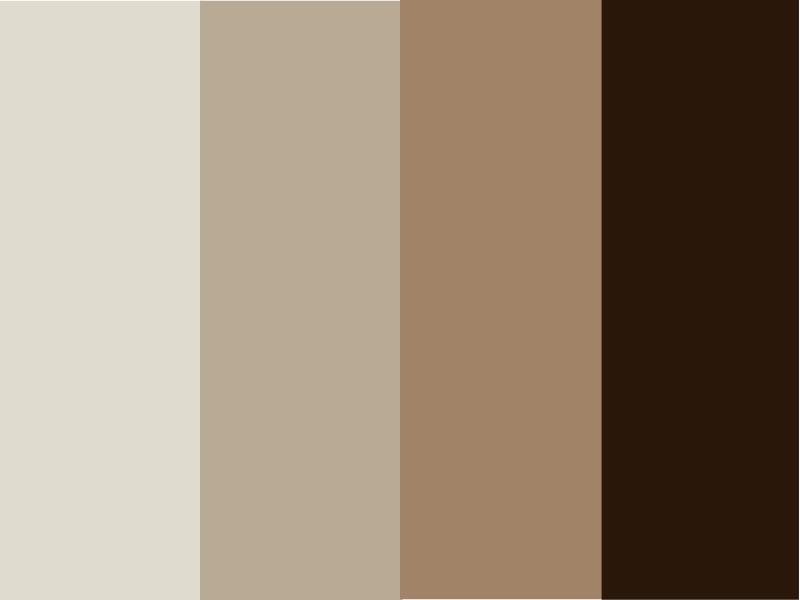 Hex Values: #DFD6CEFF/#B9AA96FF/#A18467FF/#291809FF
Beige isn't one of the most popular colors for branding, with it often being one of the tertiary colors or even less significant. But where it does fit in as more than a background color, it's a powerful choice.
This cool brown and its broader palette are often used by companies selling furniture or assorted luxury product packages.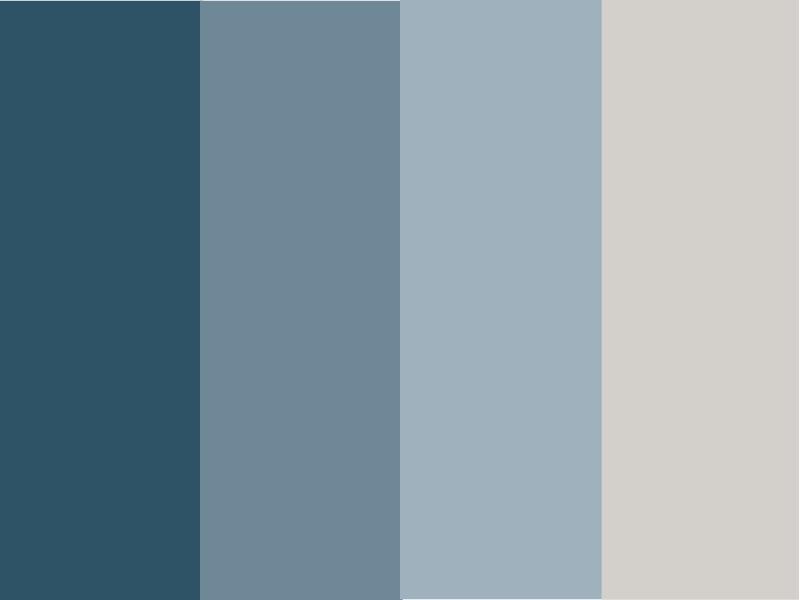 Hex Values: #2E5266FF/#6E8898FF/#9FB1BCFF/#D3D0CBFF
This Design Wizard classic can be easily expanded for more complex color blending. Blue colors, even in darker shades, are cool colors representing emotional coolness and relaxation. Mixes of blue with hot colors are typical for pairings. For palettes, it's more common to edge towards a progressively cooler side.
All kinds of companies can use this color scheme or ones similar to it. Experiment with the color fields to create a different type of harmony.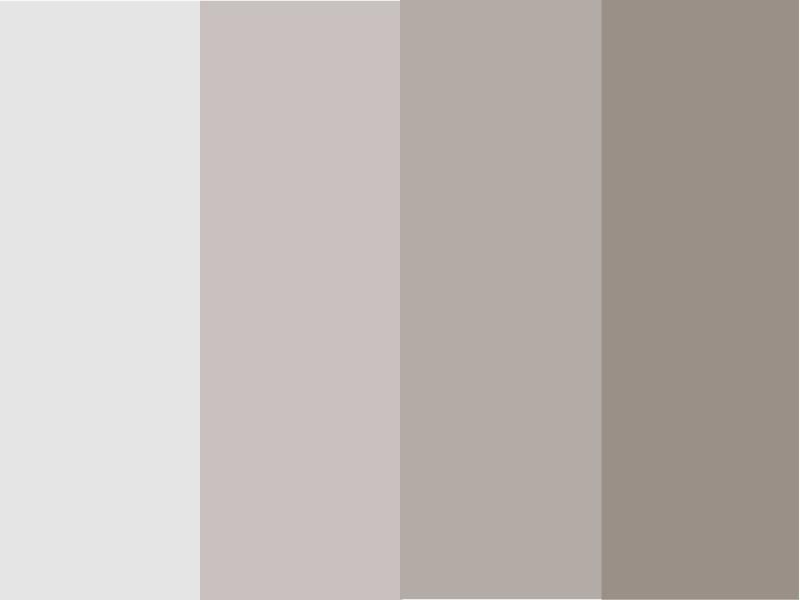 Hex Values: #E5E5E5FF/#C9C0C0FF/#B3ACA6FF/#9A9087FF
This simple color palette is still color conscious; you don't always need to overwhelm the viewer with a strong or bold color scheme!
Professional or office-themed branding will often employ simple, cool colors like these.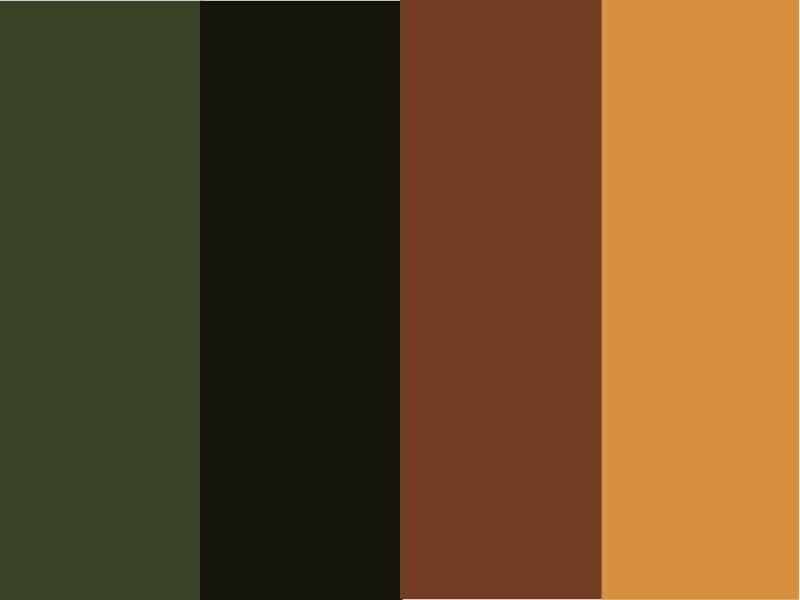 Hex Values: #384226FF/#15150CFF/#753C24FF/#D6903EFF
Base colors can include a wide range of primary, secondary, or tertiary colors. While green is less common, it is still used in the branding of many companies and when used properly can help you stand apart.
Green is more often used by companies selling natural or nature-themed products. It's also often used by companies selling financial products or services, particularly in the US where it is associated with money. But there is no reason to strictly restrict this type of color palette to these industries. Depending on the area, real estate businesses can arguably also make good use of it.
Dark green colors and earthy tones can spawn beautiful color schemes that slowly edge toward darker browns and greys. Try using color tools to make similar palettes with different shades of dark green. Fresh green will produce a very different result and will edge towards white.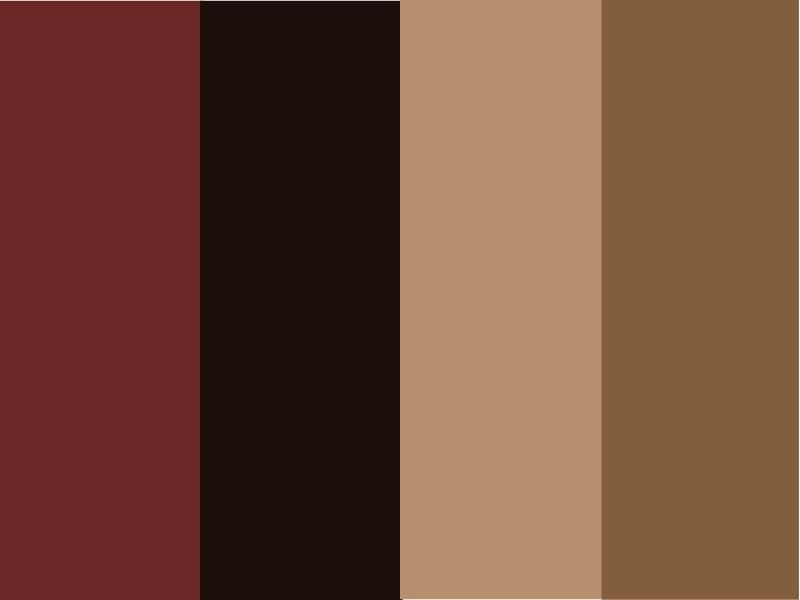 Hex Values: #6A2725FF/#1C0F0BFF/#B88F6EFF/#825E3DFF
Dark colors, especially dark red and black, provide a luxurious appearance. The color blending will normally edge toward dark colors and cooler, more naturally-appearing shades of brown. The calmness and coolness of the latter colors complement the cool and luxurious appeals of the former.
Dark red and black are almost inseparable. But with different custom color shades, color scheme generators may create different tertiary and other colors. Brown color themes will usually edge toward darker shades.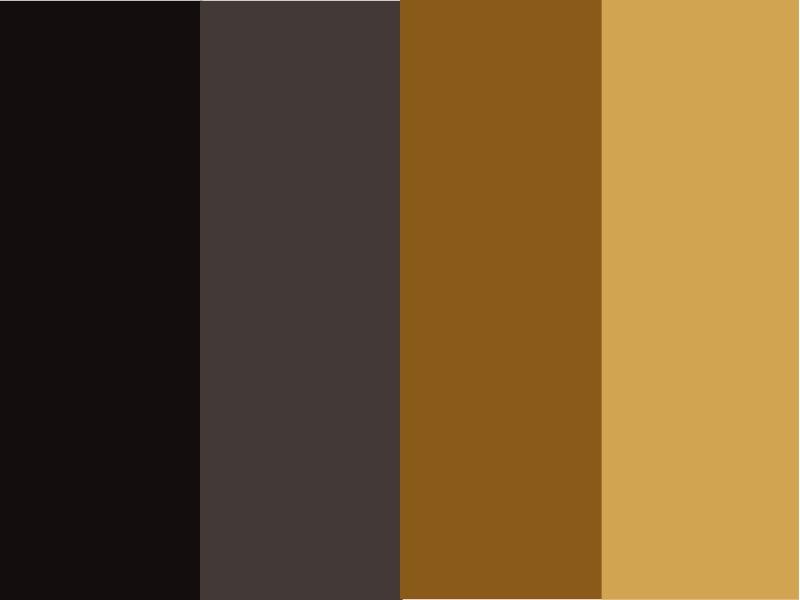 Hex Values: #130E0DFF/#433936FF/#8A5A19FF/#D1A451FF
If you want something more luxurious, perhaps for car services, financial services, and others, black is the place to start. The brighter brownish/yellowish colors add to the luxurious appearance, with grey as an appropriate separator in any brand imagery.
Conclusions: Basic design rules & color palettes
Your accessible color palette options are limitless. Use any primary color, with several analogous colors, to spawn several options. Using a color scheme generator, you can get started experimenting.
Design Wizard's hex color values are industry-standard, so importing them is easy.
When making a color scheme, you want to avoid bad matches. You also want to avoid bad news color combinations, such as orange color schemes. The former can be avoided by using a color generator. Bad news colors are simply the repetition of too many warm colors in bright shades. You don't want to overwhelm the viewer with imagery that resembles warning signs.
Secondary color palettes should also be prepared before the actual design process begins. They should include analogous colors that resemble your main branding color palette, but with some changes. You can then A/B test alternative color combinations to see what works better.
Lastly, consider more research on the best-selling color combinations. Different digital marketing companies have compiled a lot of useful data for you to consider.