Thinking about using Instagram for business?
While Facebook is considered a social media juggernaut, Instagram is no shabby second. In fact, on any given day, Instagram users spend nearly an hour on their Instagram accounts. In terms of businesses making use of the platform, according to recent stats, there are roughly 25 million companies across the globe on Instagram. This is because, for brands everywhere, Instagram represents hot real estate right now. And making effective use of posts and stories only stands to boost any brand.
Between the visual attractiveness of the platform and the fact that companies have a chance to extend their Instagram reach via influencers, there are a ton of possibilities. And those influencers (as we will discuss) don't have to have hundreds of thousands of followers. Surveys suggest that even micro-influencers now have some sway—with over 80% of consumers saying that they would buy based on what a micro-influencer recommends.


Start Thinking 'Strategy'
If by now you haven't started utilizing Instagram as part of your overall social campaign(s) and communications, now is the time to start thinking. Don't just launch into posting random, ill-thought-out posts. You are not confined to just one method. There are a variety of strategies you can use to ensure that your brand maximizes Instagram and incorporate it into its overall strategy.
First, we'll look at the basics in terms of how to get going when setting up the account. Then we will dive more specifically into how to use Instagram for business purposes.
1. Determine whether Instagram is the right move
Before jumping into setting up your account, make sure it's the right move for your business.
In determining whether or not this particular platform is a good fit, there are a couple of factors to keep in mind:
Q. Are your competitors using Instagram for their business?
This one's a no-brainer. If your competition is posting, then you need to be doing so too.
Q. Is your audience on Instagram?
Especially, if your brand targets a younger market, odds are, that audience is using Instagram. This means, if you're not on it, you're squandering a valuable channel in terms of reaching them. Instagram influences consumer purchases, period.
Q. Is your business somewhat visual?
If images and photos populate your website, then Instagram is probably a great fit. You don't necessarily have to be super visual, but at least have relevant pictures to complement your brand.
Facebook & Instagram; Do I need Both?
We appreciate how extremely difficult it can be juggling the million and 1 things running a business entails. Some people figure that if they're on Facebook then that is enough as far as social media marketing. This could not be further from the truth. If Instagram is a good fit for your business, then having a presence on both platforms could work wonders.


The difference between Facebook & Instagram:
Facebook has bigger numbers
This doesn't mean it's necessarily better for business use. Many, upon starting a company, feel obligated to set up a FB page, that doesn't mean though that it is all that active. Whereas with Instagram, engagement and interactions tend to be more meaningful.
Instagram attracts younger users.
Facebook does have a ton of users from all age groups, but those under the age of thirty tend to gravitate more toward Instagram.
Images tend to play better on Instagram.
Because the heart of the platform is based on sharing photos, when looking to do more of a visually centered campaign, Instagram is probably your best bet.
Instagram is more moment-centered.
This simply means that where Facebook offers broader, more general information about a company, for example, Instagram is more about capturing the smaller moments.
While both platforms can help your social media marketing efforts, there are certain advantages to using Instagram. And the key is to do so regularly so that your business maintains a presence within the Instagram community.
2. Setting Up Your Instagram Account
Setting up your Instagram business account is not difficult at all. First off, download the Instagram app for iOS, Android, or Windows. In proceeding to sign up, you will be asked for your email account. You will then choose a username and password, fill in the relevant profile info and hit "Done." It is important, however, to try to choose the strongest possible password for your account. Therefore, using a password generator is recommended.
At this point, you will need to convert this Instagram account to a business one. To do this first tap on the profile icon. Next, tap the three lines and click on Settings. You will then tap "switch to a business account." After this, you will be prompted to add contact information. For your business account, this needs to include a phone number, email, or physical address—you can add all of these if you choose.
Develop your profile
Your Instagram business profile should be optimized. This after all is what conveys to users who you are and what your brand stands for. From the profile pic to the 150 characters long description, here is a chance to showcase your unique brand identity.
In that short space make sure you utilize your brand voice. So, if your brand is young and fresh, relay that. Also, emojis can add a great deal to any profile description—they say a lot with eating up too many characters. Not to mention, you can also include hashtags here. These can be clickable and therefore lead users to additional marketing content. Finally, make sure your website is integrated into your profile. This is the only place you are allowed to have any clickable links of this nature—so take advantage of it!
When uploading your profile photo, make sure that it is at least 320 pixels to optimize how your profile pic displays. Businesses generally use a logo or some variation thereof for their Instagram pic. Keep in mind, it may be cropped so check and see how that logo appears once it is cropped to fit the space allotted.
3. Devise Your Instagram Strategy
Take a look at your current marketing strategy, outside of the social media stratosphere. You want to make sure that your Instagram marketing strategy takes its cues from this. Having a consistent and identifiable presence when it comes to advertising across any relevant channels and platforms is so important. More specifically though, as far as your Instagram business account goes, consider the following:
Set your goals and objectives for Instagram
In other words, what would you like this account to accomplish exactly? And make sure whatever goals you set out to achieve are realistic. Setting the bar too high can lead to frustration and ultimately an abandoned effort. Take some time to think about what you want to do with the platform and what Instagram metrics you will use (i.e. follows, likes, comments) to evaluate your results.
Determine your target audience
If you already have social media channels, then you are in luck! Figuring out who you need to be marketing to is easy, especially if for example you have a Facebook page. Looking at your Facebook page Insights can help more effectively gauge what's working, what followers you have, how those followers interact with your page, and so forth. Google analytics in terms of your website can also come into play here. This particular tool can show you more in-depth details regarding the kinds of users who are visiting your site.
Conduct a competitive analysis
A little competition never hurt anyone as they say. And in the case of your Instagram business account, your competition could help you understand what your marketing strategy needs to look like. So for instance, if a competitor is getting a ton of engagement, then they're probably on to something. Can you come up with a similar strategy without of course outright copycatting…
Create and populate your editorial calendar
Any good marketing strategy is systematic. Which means you need to be posting on a regular schedule. According to Buffer, the top brands on Instagram tend to post on average 1.5 times per day. There are tools to make life a lot easier to this end. Look into Hootsuite for example, to help maintain a regimented posting schedule.
4. Post Your First Instagram Post
It doesn't have to be a selfie!
But if it suits your style and brand .. it could very well be!
Your first Instagram post should be a relatively simple one. You want to introduce your brand to the Instagram community. Make sure you have a compelling and dynamic picture whatever it is. Remember, Instagram is all about the visual. Then dive into the detailed caption. Who are you? What do you do? Why is your company valued to the average user? This is your first impression on the platform, make it count!
5. Keep Posting Regularly
As mentioned, those top Instagram brands tend to post in the neighborhood of 1.5 times per day. Certainly, this can seem like a lot. Especially, when you have a company to run and don't necessarily have the resources to hire on a full-time social media marketer. That said, you can start with 4-5 times per week. As you gain more followers and have more engagements, you might think about upping that number.
Consistency is key
As with anything, you want to maintain a consistent posting approach. If you are only going to post say four times per week, do so on a schedule. If you let that account sit stagnant, it is serving no purpose at all. For any social media, you need to be posting regularly.
Use Instagram frames for a professional branded appearance
Instagram frames are a great way to enhance any business post. Many businesses use these, especially when promoting an event or some sort of social media marketing intuitive.
In the end, always make sure that you double-check your post. The last thing you want is a typo. Your Instagram business account should maintain a professional appearance. You don't want it to seem as though it is being done by an amateur. A typo isn't necessarily an absolute disaster, but it doesn't make for the most professional post. Keep in mind, you can always go back and edit after posting
6. Advertise Your Business with Instagram
If you've hit upon a post that performs well, this may be an opportunity to turn it into an ad. Instagram ads offer great exposure and considering that over a third of IG users do in fact purchase from their devices, yet another way to ensure your products are out in front of them. Instagram ads are integrated with FB ads—you can create such that are image-based or also video-based—totally up to what you think will work best for your brand. Also, with an Instagram ad, you are presenting your audience with that critical call to action.
How to create an Instagram ad for your business
Creating the actual ad is quite easy. First off, you're going to be using Facebook's Ad Manager. Select "create" and follow the instructions for an Instagram based ad. You will then input all ad details/images and select ad placement—manual (Instagram) or automatic (across a variety of FB placements). Click "Continue" and that is all there is to it.
7. Consider Working with Instagram Influencers
One of the great things about Instagram is the fact that it tends to be quite influencer-heavy. If this is relevant for your brand, you might consider reaching out to a few such Instagram influencers. They usually have quality followers who are persuaded to look into the brands they suggest—a great way to increase the number of followers your own business has.
8. Get the Most Out of Instagram Story Highlights
Your Instagram story highlights are among the first thing that users see upon checking out your profile. Using these to your advantage is key to promoting your brand. Unlike the stories, story highlights can be permanent fixtures. You can utilize these to send users to your website, a promo, a blog, you name it. Be strategic with these highlights as they do appear right beneath your bio.
9. Use online tools
While it may seem like there are many moving parts when it comes to most effectively integrating an Instagram for business strategy, it doesn't have to get overwhelming. There are plenty of online tools available in terms of scheduling and designing for example that really can help! We've created an Instagram toolkit that makes it easy for you to establish your business's Instagram presence—without having to spend hours sorting through the available tool out there!
Again, if you are not currently on Instagram, you are only shortchanging your brand. With so many users—in the neighborhood of one billion—Instagram is fast becoming a necessary go-to for any marketing strategy. And if integrated effectively with other marketing campaigns you have, it stands to boost your brand and expand your reach, exponentially so.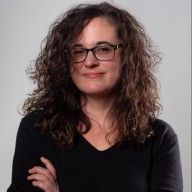 anne carson
​Anne is a former English professor turned content writer. Holding a PhD in Literature, she spent almost a decade in academia putting that degree to use, until finally realizing it wasn't exactly the best fit. A full-time writer, she's learned a great deal about the numerous subjects. She knows a lot about design trends and design templates. A mom of five (two teenagers and three dogs).​