Bring your blog to life with engaging blog images
Before we go through everything you need to know about blog images, it's worth taking a look at a brief history of blogging.
Blogging began to gain popularity during the early noughties and truly exploded with the rise of content marketing. Since then, blogging has completely changed the way we create content and communicate online. Today starting a blog or website is a matter of hours even for complete beginners.
Originally bloggers were everyday folk who mused, ranted and raved about topics that were important to them. But businesses soon followed suit when they realised the value of sharing their expertise and knowledge. These days, companies who blog receive approximately 97% more inbound links than those who don't. Blogging businesses also have an average 126% increase in lead generation. The bottom line is: including professional visuals positively affects traffic, responses, and retention. Images also make the blog more memorable and easier to find.
Because it's such an inexpensive and easy-to-implement strategy, blogging as a means of marketing is set to continue. With so many blog sites out there, the beauty about blogs is that anybody can create them – the real challenge lies in convincing people to actually read them.
If you're struggling to put together a captivating blog post, head over to inbound marketing wizards, Catch the Cat to read The Ultimate Checklist for Knock Out Blog Writing.
The importance of blog images for businesses
You don't need a Ph.D. in Marketing to conclude that consumers respond positively to relatable brand identities. Businesses who are able to speak to their audience on a human level are far more likely to be successful than those who focus solely on selling. But relying on words alone to create a broad brand personality just doesn't cut it anymore. Brands need images. Blogs need images.
The subject matter of blog images is usually dictated by three things: the theme of the text, the target audience, and the brand's style. But even keeping within these parameters, it can be difficult to hone in on what the images should look like.
And that's where we come into the picture – Design Wizard makes the process of creating blog images quick and easy. No more stressing over sourcing images, worrying about copyright infringement or paying someone else to put their stamp on your work. Read on for helpful tips to get started.
The first impression of your blog
A blog header image is the landscape shaped image that sits right at the top of the page. This is the only blog image that will feature on your audience's news feeds, so it's the first thing people will see when your blog is shared. Ideally, it sets the tone and is original, creative and compelling – no pressure! You can check out this blog post on Varanasi India as an example.
Honestly though, no pressure. Browse through our collection of templates until you find the one that sums up what your blog says and edit to personalise.
Ideally, the header image contains the blog title. Other popular approaches are including the author's name or a product. But overall, the choices are practically endless; a text based header image works for some, while a beautiful design might be enough for others.
Set the scene with your blog's pictures
One of the more interesting aspects that social media has revealed about human behaviour is that we love to see what's going on in other people's lives. Bloggers should definitely take advantage of this nosy nature and give people what they want – a glimpse behind the scenes.
Upping-the-ante on reality might be necessary of course. Bare magnolia walls are not inspiring. Employees slumped at their desks are not inspiring! But, luckily, there are plenty of tricks that you can use to make even the most mundane environment look like a buzzing hive of productivity.
Over shoulder shots
Close ups
Brainstorming
Meetings
Taking a break
The best part is you can instantly upload your own blog images straight to your Design Wizard work-space, where you can drop and drag extra elements like graphics, vignettes, and text.
The other option is to explore our creative library that is full of work related images and illustrations. and instantly make them your own. We have enough to represent all types of companies, small, medium or large. Take any of our thousands of business related images and use them. Our photographers and designers include cutting edge technology and carefully constructed contemporary compositions designed with you in mind.
Caring leads to sharing (especially when it comes to blog posts)
What are life's greatest motivators? Family, health, success, money? Chances are whatever gets one person out of bed in the morning will be something others can identify with too.
Inspirational quotes don't always have to be cringe-inducing. They can be funny, light-hearted, profound or personal.
Disclosing deeper viewpoints will give your reader a better understanding of who is really behind the blog. A flash of inspiration can also instantly alter a person's state of mind; make someone smile, laugh or brighten their days with even the most minor boost and they will be far more likely to spread your words.
Combining words and visuals is a powerful way to deliver any message. It is also one of the more satisfying designs to create. Play around with different backgrounds and fonts until you find the right balance. Landscapes are a safe bet; a beautiful setting teamed with a clever statement will always deliver good vibrations.
Another way to tackle inspirational images is to just let the words do the talking. Large, clear letters on a plain background is a quick and easy way to design an inspirational quote. Play around with the colors, weight, and styles of fonts to make even more of an impact.
Show off your data visually
The importance of infographics is a blog post all of its own! But for now, just know that an infographic is one of the most effective ways to display long-winded data.
Creating a simple infographic style blog image is a brilliant way to show things like statistics and percentages and present even the most mundane information in an interesting and dynamic format. Creating infographics merge visuals with text information.
Experiment with mixing shapes like bar graphs, pie-charts, arrows and flow diagrams, playing around with different elements like texture and size.
Color should be used liberally to ensure the facts are easy to absorb. Developing a color scheme will make the blog easy on the eye and instantly recognizable. Color coding is always a clever way to differentiate information.
Some business blogs have a tendency to over-explain and include more material than is necessary – this type of image makes it easier to condense facts and figures and to prioritize their importance.
Build upon one of our pre-made templates or start from scratch with a blank canvas. At last facts can be fun!
Tapping into image trends
Researching what kind of images are trending right now is a great way to get the stream of inspiration flowing. Trends are important because they reveal what people are responding to on a global level. Connecting with these will give you the confidence to make deliberate artistic choices.
Here are some of the biggest and most influential trends in terms of photography and illustration at the moment:
People/portraits: real people, real relationships
Color Surge: bright bold color
New Naivety: quirky, funny
Virtuality: technology
Unfiltered: realistic, candid
Topics that consistently trend on social media are also worth including in your blog images, there are so many to choose from.
From production and manufacturing to sales and consumption – we can't get enough of food. Including images of food in your blog is sure to ignite a spark of interest with your readers. You don't have to be a dietician, restaurateur or chef to enter the food blogosphere. Share images of your lunches, dinners or food goals to instantly resonate with your audience.
Design Wizard has thousands of food-related images to choose from, from saintly salads to sinfully sugar-laden delights. Weave them in where it makes sense and watch as your audience come back for seconds.
The same goes for everything coffee-related. These days, it's cool to rely on caffeine, but the same might not apply in a few years time so make the most of it while it's hot.
Blog image best practices
A blog that only uses text is unlikely to hold a reader's attention for long. Google plans to increase the prominence of visual search in the coming years, making images easier to recognise and therefore content that includes images easier to find.
Images are crucial to a blog's success, but misplaced images won't be of much benefit. That's why it's essential you know exactly where to put them. Blog images should be placed evenly between appropriate sections of text, maximising the readability of your post.
The images used alongside sections of text should be there for a reason. Including images which don't add value to the text will confuse your readers and might result in them losing interest in the blog.
To enhance the user experience of your readers, try to make sure that your blog images don't break the left reading line, as this can be distracting when it breaks up sections of text. However, it is possible to make left-aligned blog images look good, once it doesn't impact the words surrounding them.
The power of people in photos
Images are the first thing in a blog which a reader's eye will be drawn to and if they don't like them, they won't hang around. When you can, you should use blog images with people in them. It's well established that people prefer seeing images of other people, due to the range of emotions a person can convey and the unique nature of a human face.
If you are using stock imagery in your blog, make sure that the photos you choose look authentic and candid. A standard office stock photo will look insincere and ultimately fail to get any engagement from your readers.
Choosing the most suitable file type for your image
The way which your blog images are displayed will often depend on the file type you use. For bloggers, it'll be a straight choice between JPEG, PNG and GIF.
JPEG is a reliable file type for uploading images to your blog. However, you will notice that reducing the size of a JPEG image will have a detrimental impact on its quality. JPEG images are affected by lossy compression, which means that some image data will be lost forever when they are compressed.
There are many plus points to JPEGs though. Its file size is typically smaller than PNG or GIF files, meaning your blog page will have a quicker loading time. A JPEG is probably the best choice for adding screenshots and photos to your blog.
A PNG file will not lose its quality when you make it smaller, due to lossless compression. PNG images also feature transparent backgrounds, which can really enhance the look of your blog. This file type is commonly used for illustrations, logos and graphics, all of which may need to be displayed at different sizes in various situations.
PNGs support a huge range of colours and the colours of any image with this file type can be easily changed. It's worth noting that the less colours you use in a PNG image, the smaller it will be able to shrink. If it doesn't affect the layout of your blog, you should reduce the size of a PNG where possible.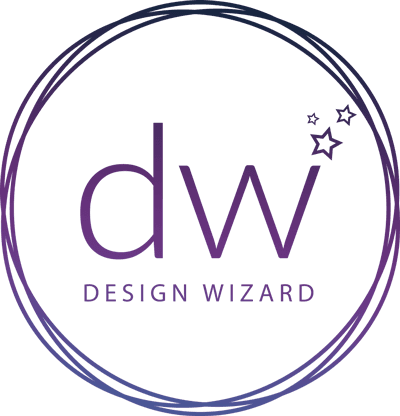 The Design Wizard logo you see here is a PNG image.
Consider the type of image you need to display on your blogs
GIF images are the best file type to go with if you want to animate your blog images. It's great for displaying simple graphics and can make your blog post a lot more interesting to look at overall.
One drawback of GIFs is their file size, which is typically larger than a JPEG. GIFs contain many frames, so to avoid an overly heavy web page, try not to use too many of them in your blog post. That said, they can still be a great alternative to videos, which are even heavier.
Ultimately, you will need to choose your file types based around how you want your blog images to be displayed. For example, if you need an animation to explain a point, use a GIF. Trying to increase page speed by using the wrong image file type is not worth doing unless you really have to. You want your blog to be exciting and to stand out, so don't reign it in for no reason.
Getting the size of your blog images right
When choosing the size of your blog images, you need to strike a balance between small images that are too blurry to make out and large images which will be overbearing for a reader and slow your website down.
If you're displaying a company logo, for example, you don't need to have it taking up the entire screen. This type of image can be small and placed alongside the text to support it and to provide more information. Unless you're specifically discussing the logo itself, an overly large image will detract from the text.
When you upload an image at say, 2500×3000 pixels, your website will display it a lot smaller, but it will still have to load the original size of the image. To avoid this, resize an image before you upload it. WordPress will help you adjust the image display size, but it won't optimise the image file size.
On the other hand, an image which needs to visually convey a lot of information needs to be big enough and of a high enough resolution that your readers can clearly understand it. Don't try to squeeze lots of detail into a small space for the sake of it.
By the way, you may need to know how to convert HEIC files to JPGs. HEIG is a newer image format, and while it's built to be more efficient than other image file types, your blog may require the standard JPG format.
You must also take into consideration that many readers will be viewing your blog on mobile devices, so your blog images will have to be optimised for mobile. Make sure they are responsive images that will change depending on the screen width.
Optimising your blog post images for Google
SEO is something you must consider when writing a blog post, whether it be for a personal blog or one that will be used in a content marketing strategy. Either way, you want people to be able to find what you've written. With some simple adjustments, there are a number of ways that you can quickly increase your blog's chances of ranking well on Google.
The first step in achieving good image SEO should be naming your blog images correctly. If you use the image title to provide a clear and informative description about what the image is, Google will be able to find it more easily.
For example, if you were naming the image below, you should start your title with the most obvious subject, which are the brown bears in the image. Then you should add more text that describes what you're looking at. A good name for this image would be 'brown bears mountain landscape'.
The image alt text should be next on your agenda. The alt text is used in place of an image when it can't be displayed for whatever reason. It should be seen as an opportunity to provide even more clear-cut information about the image, including appropriate keywords in the process. However, you shouldn't put too many keywords in the image alt text, as Google may regard it as spam.
Captions under your blog images can not only be beneficial for SEO, but can prove to be incredibly effective at engaging readers. Many visitors to your blog will not read the full thing, that's just a fact of life. So when they're scanning through the page, you want to hit them with some that will catch their eye. A caption under an image is far more likely to do this than a large body of text.
Sources for Blog Images
It's not always possible to get blog images from a simple Google image search. If you want to use an image you found on Google, you'll have to ask the owner for permission to include it in your post. This method of image sourcing is unreliable and may not get you the results you want. Luckily, there are a number of great online resources where you can get low-cost or free images for blogs instead.
The difference between free and royalty free images for your blog
Before you go looking for images for your blog, it's important to know the different types of images that are available to use. Public domain images are free to use and there are no restrictions on where you can use them. While many people will mention the source of a public domain image, you are under no obligation to do so with this type of content.
The reason public domain images are free is because their copyrights are either inapplicable, have passed their expiry date or have been forfeited by the creator.
Royalty free images have very few restrictions on how you can display them, but they are typically not free to use. The 'free' in royalty free is in fact a reference to your right to use the image without paying any more royalties. It's also not possible to edit or resell royalty free images.
Creative Commons pictures are also fantastic for using as blog images. A Creative Commons licence allows a creator to decide which rights they would like to retain and which ones they are happy to waive. Providing attribution to the creator is necessary, but in exchange you will have access to a high-quality photo for your blog. For some Creative Commons photos, you will even have the ability to customise the image, as long as you state what changes you have made and acknowledge the original.
If you do happen to be looking for paid images, Shutterstock, StockPhotos.com and Getty Images are two outstanding sources. The images on these sites are usually rights managed, which means that you must pay for a one-time usage licence and if you want to use the same image again in another way, you must purchase another licence first.
Free Images For Blogs
Some of the best free image sources on the internet include PikWizard, Pexels, Unsplash, Icons8 Photos, Kaboompics and Pixabay. All of these sites provide huge libraries of high quality images that you can download and use in your blog.
PikWizard offers thousands of high-quality free images that can be used anywhere. What makes PikWizard unique is that all images can be customised in detail to meet your needs. Simply click on any picture and you will have the option to edit it in Design Wizard, PikWizard's sister site.
Design Wizard lets you add text, shapes and your own images to create a professional, polished design. These designs can be used for social media posts, promotions, ads etc. PikWizard is super easy to use and you can start downloading images without even creating an account. You also don't need to provide attribution when you use an image from PikWizard. When you want to download, you can filter images by the most popular categories.
Another great site for getting blog images is Pexels. Users of Pexels can find tons of great images that they can use anywhere online for free. The Pexels licence allows for the use of images under both a personal and commercial licence, meaning you can use your chosen images for a blog even if it's part of your company's content marketing strategy. However, for images which display brands or trademarks, there is a chance that you may need to ask for permission.
You can upload your own photos to Pexels and their photo curation team will decide whether they meet the required standard to feature on the site's home page and in their search results. If Pexels chooses to use one of your photos, you'll get an email notification about it within a few days. All images on Pexels are licensed under a Creative Commons licence.
Discover Thousands Of Royalty Free Images For Your Blogs
Unsplash is superb for finding some of the best free images available online. You can group together all the images you need for your blog on the platform itself by creating photo collections. You can follow contributors that you like and you'll be notified when they upload new content. If you've got some great blog images from that contributor in the past, it may pay off to keep an eye on their latest additions for your upcoming blog.
Like other free photo sharing sites, Unsplash's images are free to use both personally and commercially. Usually you don't need to provide attribution for any photos you use, but Unsplash photographers are always grateful if you credit them when you use their work in your blog. You could do this using their name or linking to their profile.
The Unsplash API can be integrated with various types of applications if they meet all of the guidelines and are approved by Unsplash. You cannot sell unmodified Unsplash images or use Unsplash's name or logo in your own app. Also, in a specific scenario which you display an Unsplash photo on your own app through the API, you must attribute Unsplash and the photographer, and provide a link to their profile.
Download blog images completely free
Kaboompics is another platform which allows you to download and edit images without accreditation, for free or commercial purposes. You can download images in their original size, a condensed medium size or a custom size. Kaboompics shows you a corresponding palette of colours for each picture and provides you with their hex codes. You can download this colour palette and use it as you wish.
Information is provided about the type of camera used to take the picture, the lens, the exposure and how many downloads the image has got. Related photos are shown below if you'd like to download some blog images with the same theme. You can sort photos by newest, oldest, most downloaded and least downloaded.
Like the other sites, you can't sell a Kaboompics image in any form if you have not made any alterations to it. If a person is identifiable in a picture, they cannot be portrayed in a negative light or in a way that is offensive.
Last but not least, we have Pixabay. Pixabay offers users a choice between 4 main categories, Images, Illustrations, Vectors and Videos.You can go really in-depth in these categories by refining your search using '-' to exclude words from your results, '*' for prefix matching, '|' to combine search terms, parentheses to group terms and searching by image author.
You can easily like, favorite and share images on Pixabay and registered users can also leave comments on images. Each photographer has their own profile and the top contributors are shown in categories of most active, popular and newcomers.
There's also a fantastic feature which allows you to browse through many different camera types and choose your image based on your preferred camera. You can clearly see the name of each camera and what the camera looks like, resulting in a really engaging way to search for blog images.
As you can see, there are so many different tactics that you can take when it comes to including images in your blog. The most important thing is that they are authentic and represent you and your words in a genuine way. And remember, images are entertaining. Have fun with them!
To use any of the images you see in this blog, simply click on them and you will be able to download them from PikWizard and edit them in Design Wizard.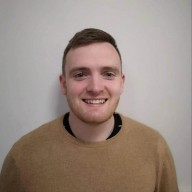 Michael Cole
​Michael Cole is a professional content writer. He has completed a BA in English and History and an MA in Journalism. Michael has extensive experience writing for both print and web and can turn his hand to any subject. His favourite one is free graphic design software. Especially he likes Background Remover by Design Wizard. ​