Why is Brand Awareness Important
There are a lot of misconceptions about what branding is, as well as what brand awareness is. It's not just about getting people to recognize your brand, it is also about getting them to identify with that brand. In other words, you want your audience to embrace your brand within the context of their lifestyle. If consumers are looking to make a purchase, there should be no question that they will turn to your brand. And why would they do this? Because you've implemented brand awareness strategies that have made them comfortable with who you are and the value you bring to their lives.
Think of some of the bigger brand names out there: Apple, Target, Nike. These companies are synonymous with certain characteristics and ultimately, lifestyle choices. Users and audiences immediately connect with their message and their overall brand. This is what a good brand marketing campaign does: creates a connection between the brand and its audience. In this article, we look at some of the more effective strategies when it comes to building brand awareness.
Edit in Design Wizard Branding across multiple channels
Brand awareness is the level of familiarity that people have with your brand. Creating a buzz around your brand, however, doesn't happen overnight. In fact, it could be a longer process than you might think. It needs to be consistent and methodical. Your brand awareness marketing also needs to run across multiple channels. Social media, online, print, all are components of a solid brand-building program. If you think that a couple of Facebook posts and an Instagram caption are going to get it done, think again. Below are ten strategies that if successfully integrated, can definitely help with the brand awareness factor.
Brand Awareness is About Telling a Story
If you offer users a story, something more insightful than just generic marketing copy, you start to build a connection. And connection, as mentioned, is critical when creating brand awareness. Anyone can use their website or social media channels to "sell." But not every brand uses these same channels to tell a compelling story.
Your story can be about any aspect of the company that you want, as long as it's authentic. Audiences crave authenticity. They want something real, and they want some insights into who you are. Your brand story is going to be a huge component of the overall brand itself.
Personality is Important
Now perhaps more so than ever before, audiences are looking to interact with people versus corporations. Especially smaller companies—they have an advantage here in that they can reach out on that more personal level. They can express personality through their branding. And in doing so, they establish their brand as one that can be trusted and consequently believed.
Make Your Brand Awareness a Social Effort
You cannot just focus on the immediate customer in front of you. Looking only to make that next sale is the quickest way to divert any effective brand marketing campaign. Rather, you have to get out there, in a manner of speaking. Be present on Facebook, Twitter, Instagram and YouTube among others. And when you do create content for social media, do so with the big picture in mind. In other words, don't just narrowly focus on sales promotions; post content that is interesting, fun, of value to the user in some way.
Here too is where you want to interact with those who reach out to you. Posting comments and even asking questions on Facebook, for example, can go a long way toward establishing those crucial connections. Learn more on creating connections through social media by downloading our FREE ebook now!
To Increase Brand Awareness, Make Content Sharable
Word of mouth advertising is social media sharing of course. Make your brand content super easy to share and also such that people will want to share. Again, this could be any form of content and it doesn't just have to be about products you sell or services you offer. Videos are great as far as inspiring people to share—especially if they offer a bit of humor. Everything you put out there remember is a reflection of your brand. So what do you want to say about what that brand stands for?
Sponsoring Events to Boost Brand Awareness
While much of brand building takes place online or via social media, there is room for more physical and traditional strategies when it comes to brand awareness. Certainly, given the current climate, this is a bit more difficult, but there are still some opportunities. And in sponsoring an event you get the chance to display some of the central elements of your brand. Your company logo and respective colors adorn banners and signs. You might even have giveaways so that people are carrying around accessories with your brand emblazoned on them.
Choose an Event Relevant to Your Brand
This could be a highly effective way to emphasize the personality of your brand. So for instance, if your brand deals largely in outdoor gear, try and sponsor an event that prioritizes nature, ruggedness, activity. The essence of your brand should be reflected in the spirit of the event itself.
Build Your Brand By Offering a Freemium Option
Essentially, this is a tiered pricing model that lets users get in at the basic level for free. From there, they have the option to pay for upgraded services. Freemiums work well in that they allow audiences to "try you out" first. Once they've interacted with your product and consequent brand, more often than not they will opt to upgrade and pay.
Freemium models have proven quite successful when it comes to raising brand awareness. Not to mention, if a user is happy with your product, they are likely to refer the model to friends/colleagues.
Brand Awareness and Free Content
Not only are freemium business models an example of brand awareness strategies that work, but in general, giving free "stuff" away can be a boon to any brand. People love the word "free." Giving certain pieces of content away is both effective and affordable. Podcasts, videos, infographics, white papers are all relatively easy to create and can go a long way toward connecting you to that core demographic.
Work with Social Media Influencers
Social media influencing is an over fifteen billion dollar industry. There's a reason for this…People trust influencers. They listen to what they say, they follow their lead. And so if you can work with an influencer in terms of sponsored content, this could be a great way to enhance overall brand awareness.
In choosing an influencer you of course want to ensure it is someone aligned with your brand ideals. Someone who has the kind of reach you want across relevant social media channels. And someone who you would be proud to have sponsor your brand and thus come to be associated with it.
Audience Size Matters
As far as social media influence, most are quick to associate the largest audience with the best brand exposure. This may not necessarily be the case, however. Sometimes micro-influencers with higher engagement rates might actually be a better fit for a given brand. Plus, micro-influencers may be a more affordable and still impactful alternative.
Create a Podcast for Your Brand
Podcasts are incredibly popular, and with good reason. They give users a chance to really listen to what the ambassadors of a brand have to say. Podcasts represent a more personal way to engage audiences. And they allow you to speak directly to those topics and issues that are important to you and your brand.
You also need to consider that with a podcast, users are likely to reach out and engage with you on a regular basis. This keeps you in the forefront of their mind and therefore gets you the exposure needed to solidify that brand awareness.
How to Measure Brand Awareness
Perhaps the question you should first ask is, can you measure brand awareness. While there is no one definitive metric here to tell you whether or not your brand awareness strategies are working, there are a number of different factors that when taken together can paint a fairly clear picture.
Website Traffic
Probably the easiest way to see if your brand boosting efforts have an impact is to check your traffic. Many users search via Google for certain keywords when looking for a product/service. If however, they are typing in your URL directly, this means they were aware of your brand. Your efforts are thus paying off!
Social Media Engagement
Another key way to see whether or not your brand building strategy is working is to see how many followers, likes and comments you have across your social media networks. If people are sharing your content, this is definitely a plus. The more activity you see on your Facebook page or Instagram account, the more you know brand awareness is probably on the rise.
Conduct Surveys
What better way to see if something is working than to ask. It really is that simple. You might create email surveys for example and send them to your current subscriber list. Getting feedback in terms of how well you're doing to heighten brand awareness direct from the customer can be invaluable on so many levels.
Search Volume Data
By using tools such as Google Keyword Planner and Google Trends, you have the ability to see if in fact your brand name is being searched for. You can also track these numbers over time to see if there are spikes at certain points. What branding efforts proved more useful than others? What caused your numbers to rise?
Blog Data
Beyond just your website proper and its traffic, there is also traffic to your blog. An effective brand-boosting strategy will elicit an increase in not only views but blog subscribers. What's more, if people are leaving comments on particular posts, this also bodes well for enhancing your overall brand awareness. And then of course there are blog conversions. Do your posts have a CTA? Are people behaving accordingly? This can tell quite a lot about how well your brand may be doing.
The Five Stages of Brand Recognition
Once you do begin to paint a picture of how well your brand awareness efforts are doing by looking at some of the above metrics, you also start to see at what stage your brand recognition is. Brand recognition simply means where people are in terms of how they perceive your brand. The five stages of brand recognition are:
Brand Rejection. If for whatever reason your brand comes to be associated with something negative, people will avoid interacting with you. Somewhere something caused a glitch in the system. It is extremely important that in your brand awareness efforts you work to rectify this and reconnect to your audience in a positive way.
Brand Non-Recognition. Do you stand out from your competitors? What have you done to give people something that they can cling to and therefore associate with your brand? If you are at this stage, it is time to double down on those efforts to differentiate yourself from the pack.
Brand Recognition. People are starting to take notice. From your company logo to your messaging, audiences now are beginning to realize that these things are representative of your brand.
Brand Preference. This is a great stage to be in as here is where when people do have a choice, they are opting for your products over those of your competitors. Use the leverage you have at this stage to keep that brand awareness momentum going!
Brand Loyalty. This is the stage that just about every organization strives for. Not only do consumers prefer your brand to others, they remain loyal to it. They become one of your "people." And they generally will eagerly share their enthusiasm with others, thereby increasing your word of mouth strength.
In Conclusion…
Creating brand awareness as previously mentioned, really is about playing the long game. Consistency, outreach, engaging with people regularly are all central components of any productive branding strategy. Remember to keep it personal as well. People can spot fake and generic miles away. Your brand needs to reflect the essence of who you are.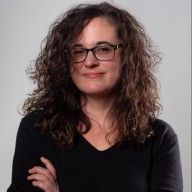 anne carson
​Anne is a former English professor turned content writer. Holding a PhD in Literature, she spent almost a decade in academia putting that degree to use, until finally realizing it wasn't exactly the best fit. A full-time writer, she's learned a great deal about the numerous subjects. She knows a lot about design trends and design templates. A mom of five (two teenagers and three dogs).​