Discover how you can turn your average Instagram bio into a top-performing profile for your personal brand or business. In the fast-paced and visual world of the social media platform, it takes creativity and personalization to stand out and show what's unique about you.
You only get a small space on your profile and a quick glance from Insta users to convey who you are and what you do. That's why you need to be clever and creative to make your profile enticing enough for people to want to click that follow button or explore more through a link in your bio.
We've gathered some great tips to create an engaging Instagram bio.
Why You Need a Top Performing Insta Bio
Whether you're a content creator or a business, a solid Instagram bio shows that you know what you're doing, increases your following, and leads your followers to explore other platforms you're on. A good Insta bio attracts attention, makes it clear what you do, and gives your audience the easiest way to contact you.
Creating an eye-catching bio is an art and requires some brainstorming to get all this information across in a concise way. Highlight what your brand is all about whether you're using Instagram for business or for personal purposes. Make it clear why you do what you do with your profile photo, words, emojis, and font styles.
Check Out Other Bios and Research Your Audience
You're probably already following businesses, experts, or creators in your niche, but if you haven't found their Insta accounts yet, take some time out to hunt for bios that appeal to you. Take note of what you like about them or what you'd avoid doing on your own Instagram account.
This way, you can get some inspiration and an idea of what might work and what won't for your own bio. It can be hard to tell what will appeal to your audience but some research can help you get into the right mindset.
Check your Insights on Instagram to find out who your most engaged followers are. Dig deep into demographics and the breakdown between followers and non-followers to create a persona that you can keep in mind when creating your bio. Use this information to make sure your bio caters to your target audience.
Choose Your Name and Handle Wisely
Ensure your name and handle on Instagram match as much as possible. Don't try to be clever in this case. It's more important to make it as easy as possible for your audience to find you and remember your name or handle.
Your Instagram name and handle can be your personal brand, your company name, or anything else that's descriptive of what you do, is unique, and can be described in one or two words. Think about what traits your friends would attribute to you or refer to brand guidelines for your business to come up with a name that reflects who you are best.
For example, if you'd describe yourself as artsy and fun, let that shine through. Or if your business is known for being creative and innovative, brainstorm ways to integrate that in your name or handle.
Check out our selection of creative Instagram names and handles:
Upload an Eye-Catching Profile Photo
The first thing your potential followers will see on your Instagram account is your profile photo. Make a good first impression by uploading a great visual of yourself or your brand logo that is easily recognizable. If your brand isn't well known yet, consider using a photo of the business owner, as people connect with people rather than an illustration.
Keep in mind that your profile photo is only 110 x 110 pixels with an aspect ratio of 1:1, so any small details will be hard to spot. Keep your background simple and make sure you find a soft light source when you're taking a picture. Experiment with different angles and choose your favorite snapshot.
Make sure your logo or profile photo looks good and works within the small circle next to your bio. It doesn't need to be a circular image but just bear in mind that the edges will be cut off on Instagram. Any distorted images look unprofessional and will not only cost you followers but also trust in your brand.
Pick Your Words Carefully
Brainstorm ways to best convey your personality or what's unique about your brand within the character limit of your Instagram bio. You don't have much space for explanations. Narrow down what you're all about to a few descriptive words or representative titles and expand from there.
Choose your words carefully and make sure you nail your voice and tone in a few words. Include hashtags that make it easier for Insta users to find you. There's also room for a branded hashtag that you can use for campaigns in which you ask followers to use a specific hashtag when they tag you in their posts.
This kind of user-generated social media content builds trust and increases brand awareness. It's also a great way to reach a wider audience for both businesses and content creators. Use emojis and special characters to give your words added meaning. Check for any double meanings when it comes to emojis to ensure you avoid any misunderstandings.
Include a Strong Call to Action
Ideally, just like on any other online channel, you want to spark followers' curiosity to explore more about you and go beyond your bio. The best way to direct them to your website is an enticing call to action that's clear about what they can expect.
A call to action or CTA invites users to take action. Make sure the action they want to take is simple and easy to navigate. Customize your CTA in your bio, or if you have a business account, you can also add one of the CTA or Action Buttons that Instagram provides to your profile. Once selected, this button appears under the follow button on your Insta profile.
Test different CTAs to find out which one works best with your followers. But even when you've found your best call to action, change things up every once in a while to keep it interesting.
Provide the Best Way to Contact You
Whether you're a content creator or a brand, your Instagram bio can serve as your online business card. Your bio is the only place you can include links on Insta, so choose the best way to contact you as hyperlinks you want to use here.
This can be your email or a link to your website. To save on characters, use link shortening tools like Bitly or TinyURL. If you can't choose just one link and want to give your followers a choice of your multiple online channels, use tools like Lnk.Bio, Linktree, or Tap.bio.
Lnk.Bio is a link in bio tool that offers unlimited links, link tracking, and can be accessed any time from any browser without installing anything.
On the free version of Linktree, you can add an unlimited number of links to one of the 9 themes you get and see how many times your Linktree has been viewed.
Tap.bio takes it all a step further and turns your link into an interactive Instagram Story. These stories are called cards and are your only way to add links to Stories until you've reached 10,000 followers.
Apply Appealing Font Styles and Emojis
Spruce up your bio by applying a different font style to it. Go beyond the default options you get within Insta and try out an Instagram caption or font generator. These include special characters and emojis you can try for a more eye-catching profile.
Here's a selection of generators for you:
Don't get carried away though. Choose fonts that are legible and don't use more than two different typefaces. Experiment with various styles that fit your personal brand or business and complement each other.
Check if your font displays across devices and browsers to ensure accessibility. If your chosen font isn't using Unicode symbols, it might not display and won't be accessible for screen readers.
Use emojis wisely and save on characters or convey more than you could with words. You can use emojis to add an extra layer to your words. Save on precious characters for contact details by inserting a phone or letter emoji instead of typing 'phone number' or 'email'.
Creating a professional-looking and enticing Instagram bio is an art that can be mastered if you keep a few things in mind. Look at what other people in your niche have done to attract attention. Incorporate what seems efficient use of characters in your own bio.
Make sure your profile photo makes a great first impression and pick your words carefully to convey who you are and what you're passionate about. A strong call to action and the best way to contact you can be your gateway for your followers to learn more about you and do business with you.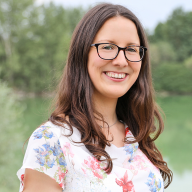 Lizzie is a Content Writer at Design Wizard. She's been passionate about SEO and content marketing ever since a life-changing internship at a digital marketing agency while completing her BA in English and American Studies.
Having graduated with a Professional Writing MA with distinction, Lizzie set out to gain her currently five years of copywriting and digital marketing experience in Cork City.
An Austrian living in Ireland, Lizzie loves exploring Irish folklore and storytelling and weaving the wisdom of stories into her writing and life.