Video editing at your fingertips
Once upon a time video editing was an endeavor that required some very bulky (not to mention pricey) equipment. You had to have a veritable studio set up in order to get anything that remotely looked professional. Not the case anymore. When it comes to such editing, all you really need now is a decent laptop; as far as the best laptop for video editing: there are many solid choices out there ranging in price from less than $1000 to over 2k.
Choosing the best laptop
Because of the amount of memory that laptops now have and because of the ultra-powerful processors, they are able to accommodate some of the most advanced software available to date. That's not to say that all laptops are created equal. There are some lower-end laptops that while they may boast video editing capabilities, really aren't going to perform in the way that many need them to.
But all in all, for any level video editor, whether you are simply adding text to a video, making a video ad or creating a small documentary or movie, you are bound to find that perfect model that meets your needs, fits the budget, and produces stunning results. Learn more on the use of video in 2021 by downloading our FREE ebook, 'Creative Ideas to Increase Sales'.
In this article, we will walk you through some of the best laptops for video editing in 2020. But as will be mentioned throughout the article, and to keep in mind, is that the best video editing laptops largely depends on your needs, so keep this in mind as you take in the following information.
How to Determine the Best Laptops for Video Editing
There will be several factors that determine which laptop might work best for you when it comes to the video editing end of things. Keep in mind, that different laptops have different strengths, and consequently, weaknesses as well. When assessing the best laptops out there and trying to figure out which to purchase, consider the following:
What are you primarily using the laptop for? Are you a film student? Do you just want to play around with some video footage you shot on vacation? Are you looking to create a lengthy documentary? The way in which you use your laptop should factor into the kind of laptop you buy. If for instance, you just want to do some light video editing, then you may not necessarily need an amped-up graphics card. On the other hand, in deciding which is the best laptop for video editing as far as your personal needs, you might very well want to dive into creating some serious video content. In that case, look for one with premium display specs. The best laptop for you is a laptop that meets your video editing needs.
What screen size are you most comfortable with and best fits your needs? The screen size you select is going to be dependent on a couple of different things. For one, comfort level. Some people just aren't comfortable working on a laptop with a smaller screen. They find themselves having to squint and/or zoom in beyond what is workable. Then again, too large a screen and the laptop is going to start to get a bit too bulky. So while a 12" screen may not be ideal for some, a 17" screen could be pushing it. Usually, 15" laptops tend to work well. Plus, the 15" sizes tend to have among the most powerful CPUs.
Where will you be doing most of your video editing? This actually is a fairly important consideration. Let' say for example, that you are filming some form of documentary. Odds are, you will therefore be doing some editing while on the road. So a couple of factors are going to come into play in this situation: portability and battery life. You can certainly find some rather bulky laptop setups. But if you're limited as far as the space in which you have to work and also the fact that you're constantly moving, then bulky might not be a good laptop choice. Additionally, think about the battery life. Using video editing software can drain a battery fairly quickly. Look for a unit with optimal battery life and/or also check out power adaptors.
Look for a laptop with ample memory for video editing. Most common as far as memory goes in terms of video editing, is probably going to be 16GB of RAM. You can potentially purchase additional memory up to 32GB for example, but generally speaking, 16GB should be sufficient for most video related projects. Unless of course, you have numerous larger projects going on at once, then you should consider upping your storage and memory.
Mac or PC for video editing? The age-old debate—and not just in the world of video editing. With this type of work, many do tend to lean toward Mac. Final Cut Pro, for instance, will only work on a Mac. That said, there are many who swear by their PC as they can get a many-core processor and yet still maintain portability. Again, this is probably a debate that will never be settled, so it'll come down to whatever you're most comfortable with.
So, what are the best video editing laptops in 2020?
There is no definitive answer to this. It really depends on all the factors mentioned above. The question really should be, "what is the best video editing laptop for me"? because it depends on your needs and preferences. You are going to want to spend some time doing a bit of research to find the perfect laptop for video editing for you. There are a ton of sites out there that go over in detail what to look for as far as determining the best laptop for video editing. Take your time, do the requisite homework, and this way, you will feel confident about the best purchase you can make.
Below are ten of the best laptops that seem to be highly sought after when it comes to video editing.
10 Excellent laptops for video editing in 2020
MacBook Pro (16 inch) – Powerful Graphics Card
The MacBook Pro is most certainly one of the best laptops for video editing out there at the moment. Many even deem the MacBook Pro is hands down the best laptop for video editing in 2020. The screen offers a stunning display and because the unit is so slim and light it lacks the bulkiness that some other 16" laptops seem to have. The higher resolution of the MacBook also makes video editing a dream. And with some of Apple's updates as seen in this particular model, the editing experience is even more powerful. The graphics card alone makes this laptop definitely one of the best picks of this year.
Acer ConceptD 7 – Upgraded Display
With its Pantone 4k display, this laptop is a tremendous value for the money. And that's the other thing, with the Acer ConceptD 7 you still get a powerful tool for editing video and yet you're not paying what you would with a MacBook. For many, especially now, cost does count! Additionally, with this model you get the experience of its Nvidia RTX graphics cards— a gaming level experience but designed for those who primarily want to edit videos.
Microsoft Surface Book 2 – Detachable Screen
The first-generation Surface Book got mixed reviews. Fortunately, Microsoft has made some adjustments and the results are looking pretty good so far. What you do get with this version is a 15" screen that easily detaches from the keyboard. Many applaud the convenience this offers as it provides a great deal more control as far as utilizing the touchscreen for easier editing. The resolution of the Surface Book 2 is quite a bit sharper than many Windows-based laptops. This lands it among the top three choices for Windows laptops for video editing. Add to this the fact that it has a super-powerful processor, and this one is most definitely a contender. The price tag is a bit steeper than some of the others, but all signs seem to point to the fact that it is worth the money.
Dell Inspiron 14 5000 – Undeniable Performance
Dell can always be counted on to come out with some superior performing laptops, and this 14" 5000 series is certainly no exception. One of the most attractive things about this model is the price, which certainly make a case for being one of the best laptops for video editing within its price range. Far below some of the others, the cost of this laptop makes it almost too attractive to pass up, starting at around 600.00. That said, there are a few drawbacks to this laptop, such as the fact that the graphics tend to be somewhat lower end, and you may not get the results you're looking for when it comes to 4k editing. But all in all, especially for those new to the realm of video editing, this could potentially be a great buy. Get your feet wet with this unit, see if this is something you want to go further with, and then potentially upgrade from there.
HP Envy 13 – Lightweight Design
Again, with this video editing laptop, its price makes it a definite contender. Not to mention, with the 13" screen you still get a very usable amount of real estate to this end, but the size makes for a more lightweight, slim design. It has ample storage and memory to handle a wide array of video editing tasks. And the unit's keyboard is considered among the most user-friendly in this class of laptop. Another affordable and yet powerful option for those who might be newer to video editing.
Razer Blade 15 – Faster Speed
Traditionally a gaming laptop, the Razer 15 is emerging as a favorite among some video editors. The design is compact and light, and yet this model can easily connect to larger monitors, giving you plenty of options and flexibility. The unit offers a 10-gen Intel i7 10750H processor which makes this laptop a workhorse in its class. If you truly are looking for speed while maintaining portability, this could be the perfect model for your video editing needs.
MSI Modern 15 – Professional Results
It honestly doesn't get more durable and yet still portable than MSI's 15" model. And with an ultra-powerful processor, the laptop can handle just about anything you throw at it. If you're all about productivity, then this one is most definitely worth a second look. Given that it comes in under $1000, this is also a great value for the money. While perhaps not as well known as some of the other laptops in this list, it is becoming a go-to for many video editors because of the attractiveness of design combined with a very tempting price tag.
MacBook Pro 15 Inch – Tried and True
The MacBook makes it in again for one of the best laptops for video editing, and it's no surprise really. Apple's Final Cut Pro is perhaps one of the most innovative software packages to ever come out. That said, the software works amazingly well on this 15" MacBook Pro. Given the design, the unit is lightweight and incredibly easy to take with you when you're on the go. The price tag here as well makes the 15-inch version a bit more attractive to some versus the newer 16-inch model also in this list. One of the better features of the 15" MacBook is the TrueTone Retina display—ideal for essentially any kind of video project.
Acer Predator Helios 300 – Exceptional Audio
With a powerful processor in the Intel i7 10750H processor, this laptop is worth considering for all of your video editing needs. And given that the price tag falls under $1000, it has become a popular model, especially in 2020. Perhaps this model is best known because of the premiere audio quality you get. While many are concerned obviously with the graphics and visual components of a laptop, audio often gets overlooked. Acer however has upped their game when it comes to that aspect of the laptop. This unit offers Waves MAXXAudio which enhances sound quality by leaps and bounds.
ASUS ProArt Studiobook Pro 17 – Bigger Sometimes is Better
With this laptop, you definitely are taking advantage of screen size. At seventeen inches though it is still surprisingly portable—certainly a feat when we're talking about a display that large. This means that you can perform numerous video applications with this particular laptop. And as it boasts 32GB of RAM you have plenty of storage for all of your needs.
Video Editing Laptops: A New Generation Approach
When looking for the best laptops for video editing you need to think about yourself. Which laptop you choose again should be based upon your needs, what preferences you have, and of course what you're most comfortable working with. The good thing about purchasing a laptop on which to edit videos is that there really is a wide range as far as specs offered and price points. For some who may be seasoned professionals subsequently looking to take their game to the next level, then it stands to reason that you may want to invest more money into your workstation. Then again, for people who are newly getting into the field, starting out with something cheaper, say under that $1000 mark, could be a good way to go. Gauge your interest, see if it is something you wish to pursue and allow yourself to grow from there.
When looking for the best laptops for video editing:
Keep in mind that you definitely want to ensure that the model you buy provides portability, a high-resolution display, a top-notch graphics card, tons of power, ample memory, and color accuracy. These are key. From there, again, it is about determining what suits your needs the best. What is certain is that in 2020 video editing is getting increasingly easier. The resources, software, tools, and yes laptops available make it so that even amateur footage can come out stunning.
And because you can customize your laptop virtually any way you want, it can basically grow with you. Increase your RAM, purchase a better graphics card, you can even upgrade your CPU. There are a ton of options for maximizing your laptop purchase and thereby ensuring it can handle all of your video editing projects. Best of luck finding your ideal video editing laptop.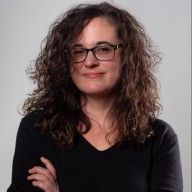 anne carson
Anne is a former English professor turned content writer. Holding a PhD in Literature, she spent almost a decade in academia putting that degree to use, until finally realizing it wasn't exactly the best fit. A full-time writer now for the past seven years, she's learned a great deal about the numerous subjects she's gotten to tackle, everything from real estate investing to the scarier side of online dating—sometimes more than she actually wants to learn. A mom of five (two teenagers and three dogs)