Explore how you can design Facebook video ads in just a few simple steps with Design Wizard and learn best practices to build a successful campaign. See how easy it can be and get an overview of how to set up your video ads in Ads Manager.
Facebook keeps hold of its position among the most used social media platforms around the world. This makes it highly likely that a good portion of your target audience has an account providing you with a powerful advertising channel. Facebook has become an efficient advertising tool over the years by offering marketers the ability to fine-tune audiences and show relevant ads to interested customers.
As more and more businesses have started advertising on the social media network, it's become harder to stand out. Image ads are often not enough but eye-catching videos are an effective way to stop users from scrolling and hook them in a simple and quick way that entices them to take action.
Here's how you can get started and increase brand awareness and conversions with a Facebook video ad campaign today:
How to Create Video Ads for Facebook in Design Wizard
Step 1: Sign up and Log into Design Wizard
Go to designwizard.com. If you haven't got an account yet, click Sign up at the top right. Enter your email address and create a password.
To verify your new account, click the link in the verification email in your inbox. Log in with your new Design Wizard details.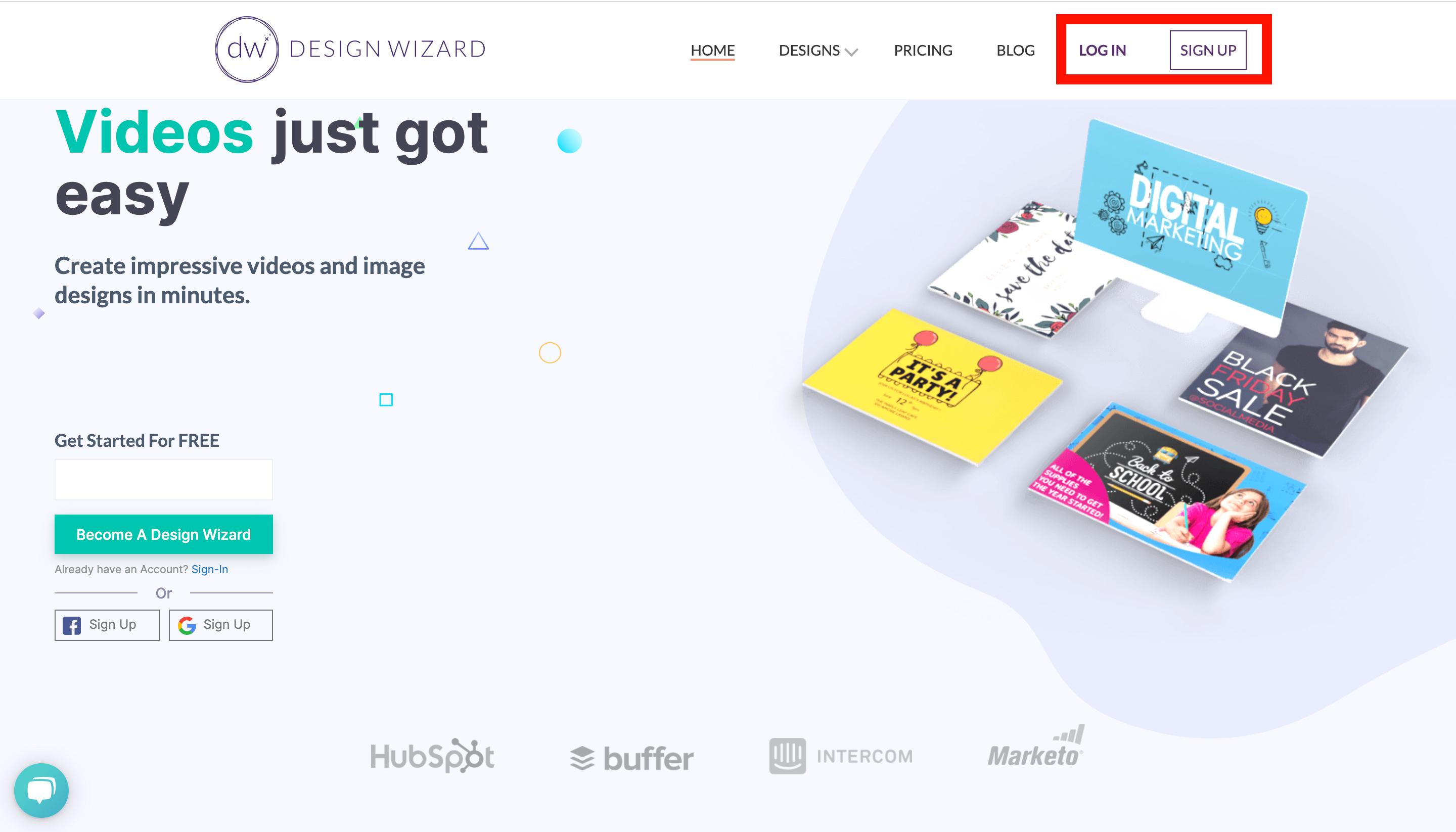 Step 2: Select a Blank Canvas
Get started with a blank video canvas. On your Design Wizard dashboard, find Your sizes and choose Video.

Step 3: Find a Facebook Video Ad Template
Click Videos in the menu on the left. Use the search bar to enter a term that relates to your business or what you're advertising. Browse our video library to find a relevant video ad template.
Click on videos to select and preview them. Hover over the top right corner of a video and click the heart icon to save selected videos. To find your favorites later, go to Favourites in the menu on the left.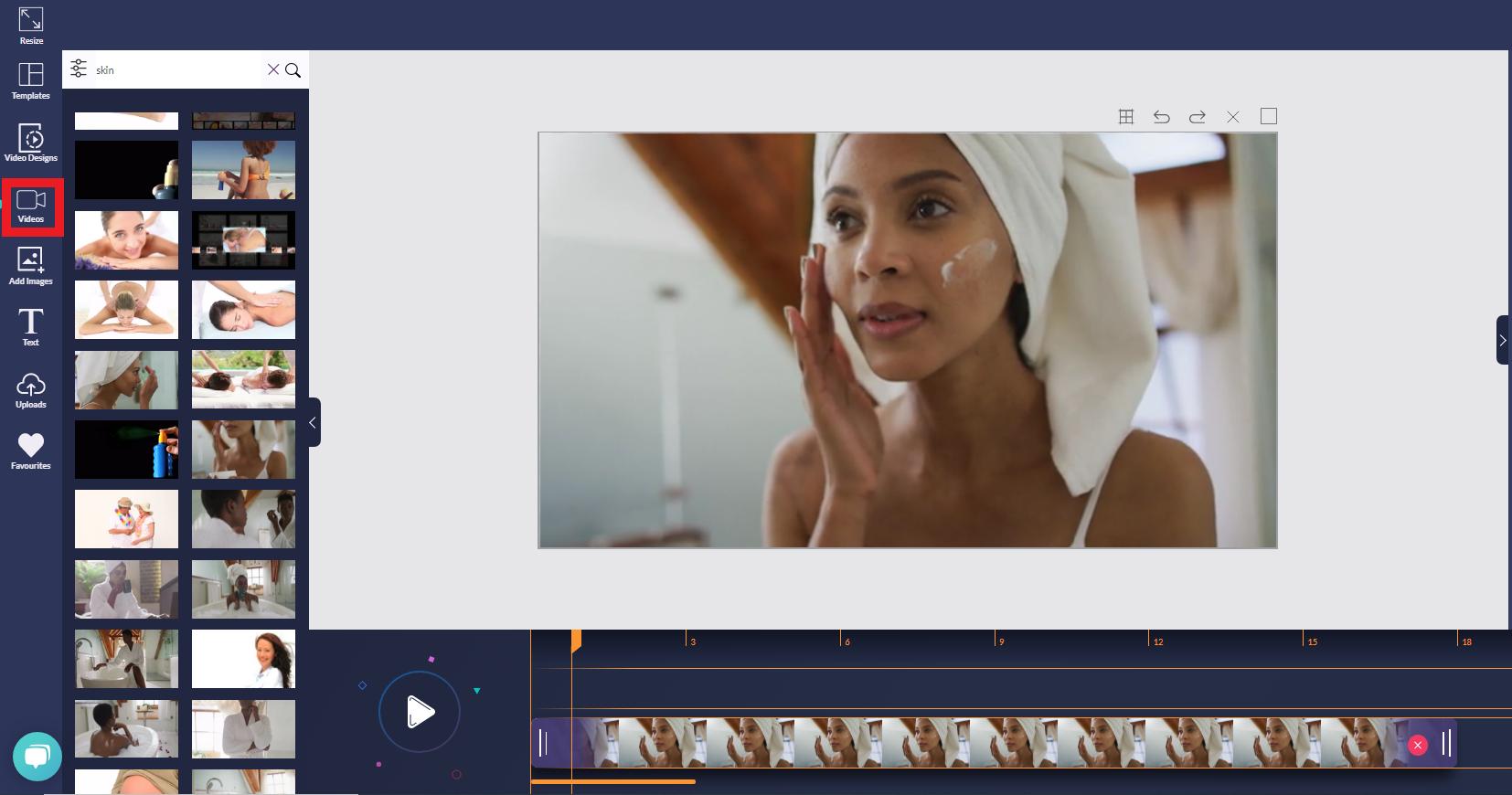 Step 4: Add Text and Adjust Timing
Click Text in the menu on the left. Browse animated text templates and select your favorite. To place your text where you want it to appear in the video, click and drag the text block on the timeline at the bottom of the screen. To extend the length of time your text is shown, grab the sides of the text and pull it out along the timeline.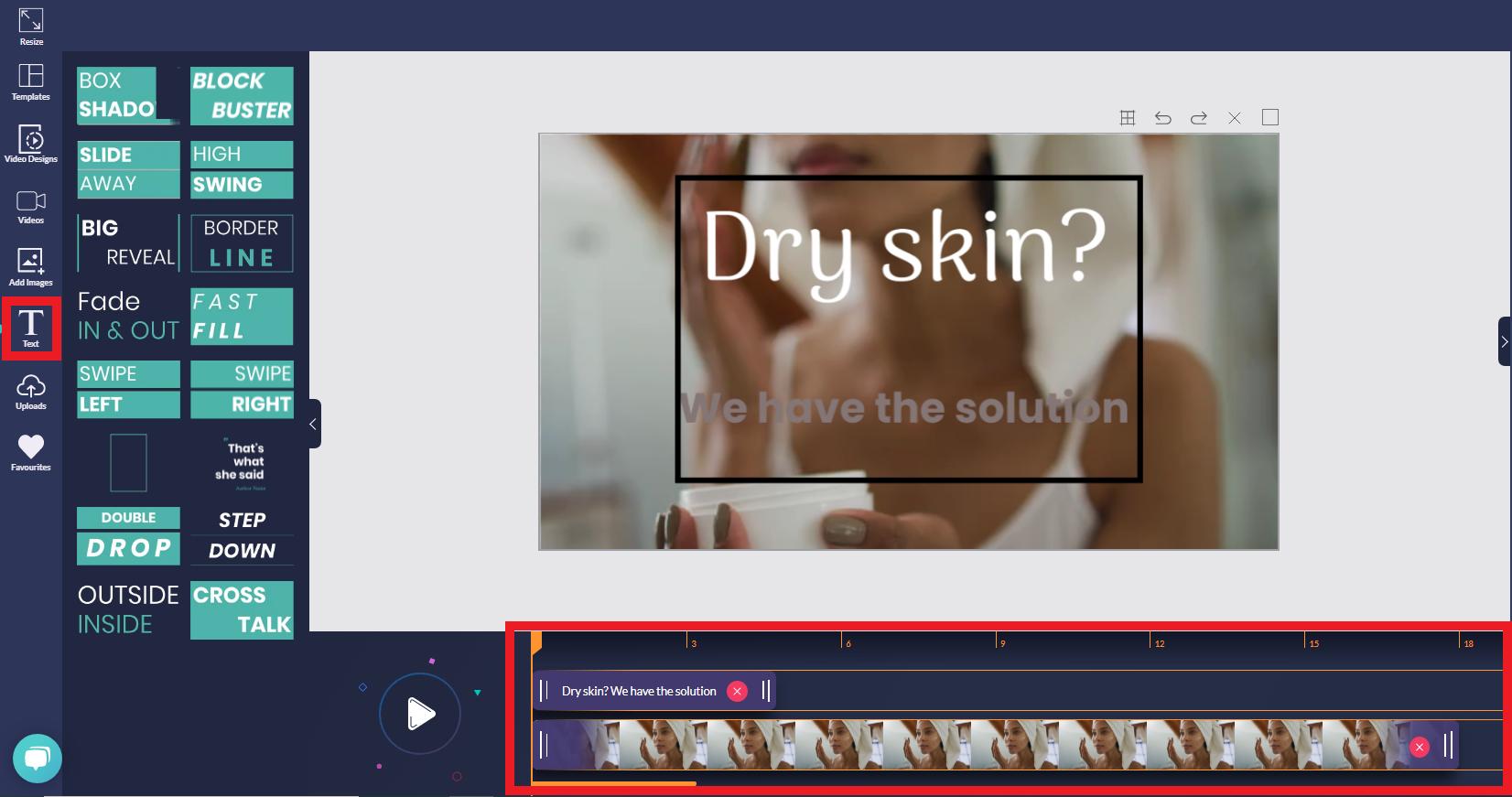 Step 5: Change the Text of Your Facebook Ad
Double-click the text on your timeline. Customize your text in the panel on the right. You can adjust the alignment, color, line spacing, ratio, and size of your chosen typeface. If you signed up for the Design Wizard Pro plan, you can select uploaded brand fonts here.
To move the text to a different place in your frame, just click and drag it to your chosen spot. If you need to delete the text from the timeline, click the red X icon.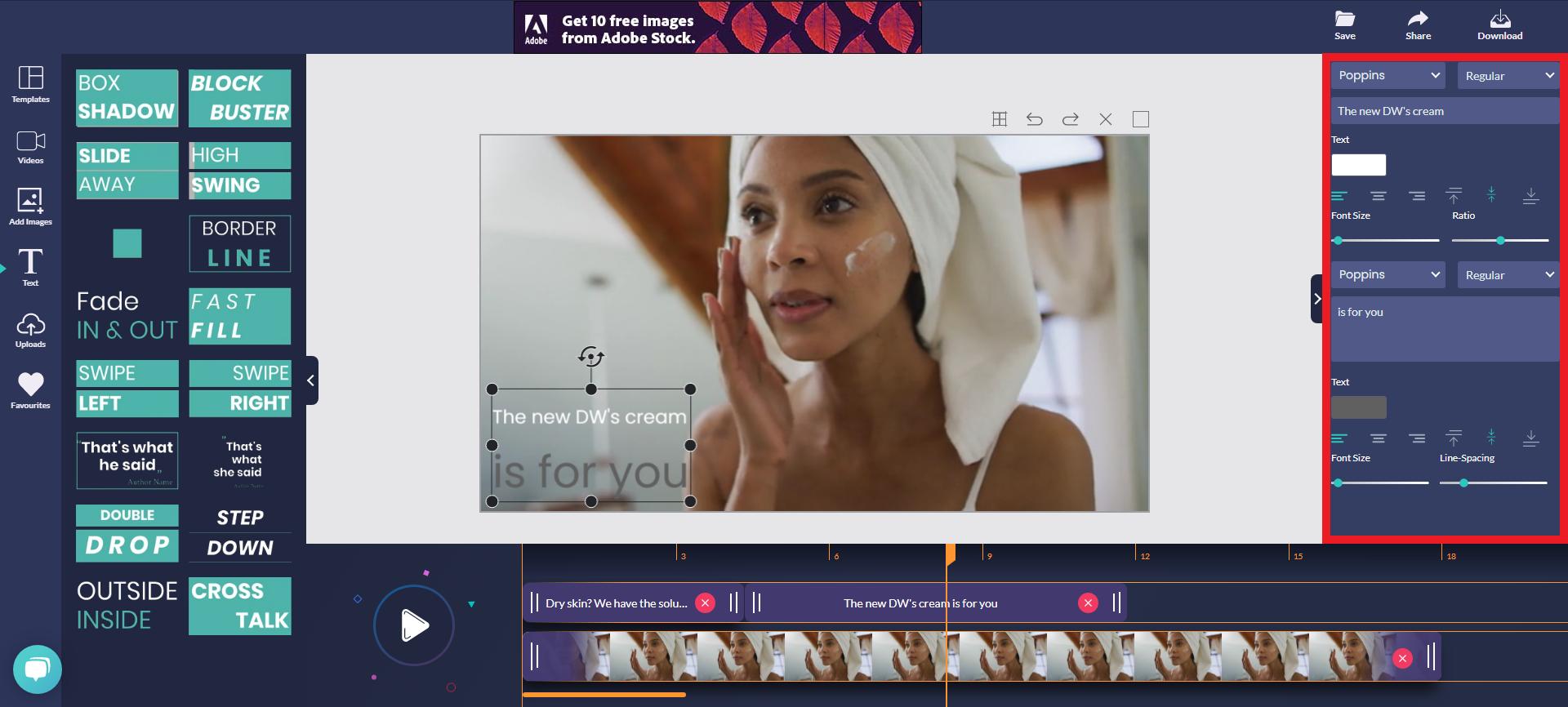 Step 6: Download or Share Your Video Ad Directly to Facebook
Once you have your final version ready, click Download on the top right. Choose Share to immediately share it to your Facebook feed.
Looking for a tutorial on how to create a video ad campaign on Facebook? Just scroll down to find our step-by-step guide following our best practices for Facebook video ads.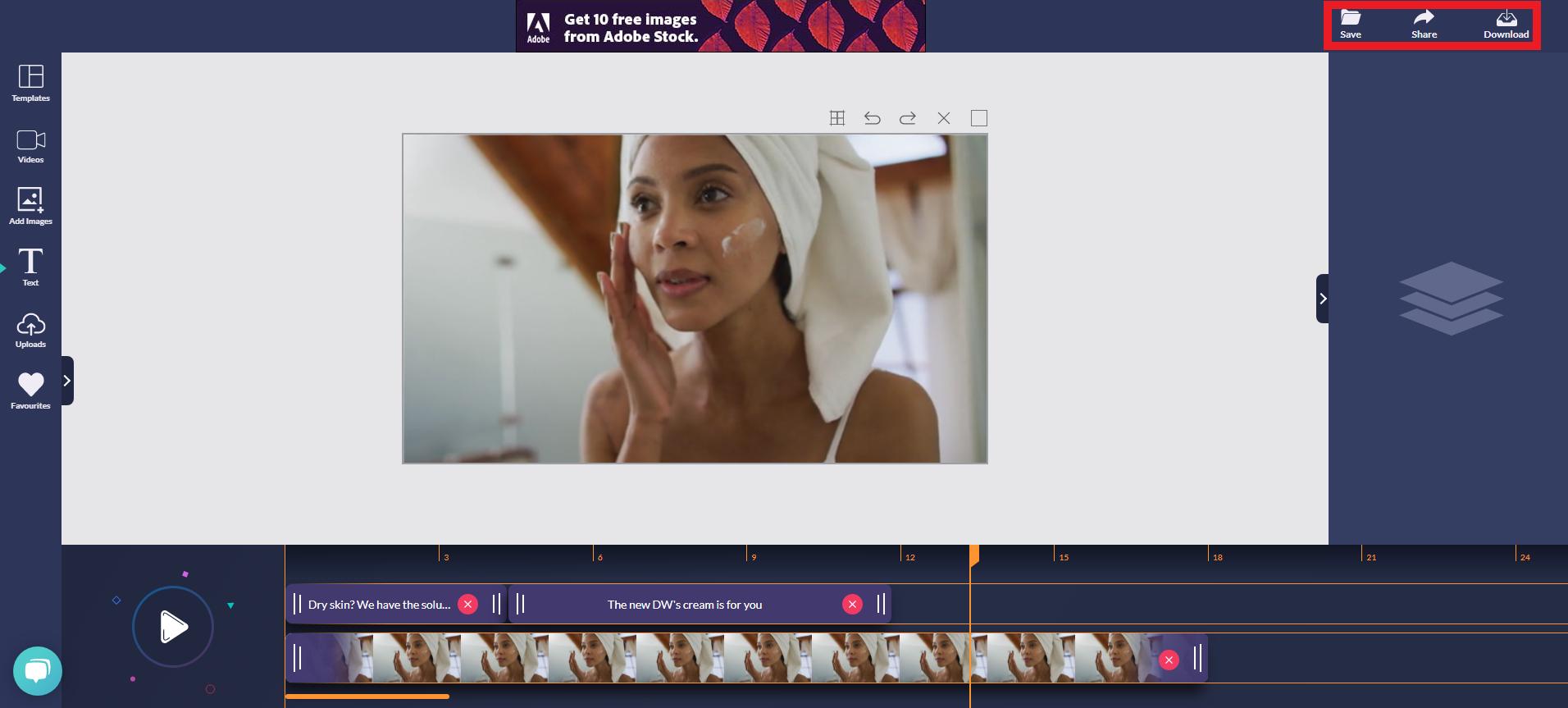 What are the Facebook Video Ad Specs?
Facebook recommends the file types .MP4, .MOV, and GIF. Your video size should be at least 1080 x 1080 pixels but aim for the highest resolution to meet the ratio requirements.
Ideal ratios:
Aspect ratio: 16:9 recommended
1:1 for desktop or mobile
4:5 for mobile only
File size and duration:
Ideal video ad length: 5 to 15 seconds
Maximum file size: 4 GB
Minimum width: 120 pixels
Minimum height: 120 pixels
Copy character recommendations:
Primary text: 125 characters
Headline: 40 characters
Description: 30 characters
Identify Your Target Audience and Your Goals
The opportunity to send highly targeted ads to an interested audience is what makes the ads platform on Facebook so attractive for marketers. It's a powerful tool that provides various ad formats like lead ads, instant experience ads, or video ads. To create a successful video ad campaign, be clear about who you want to target and what the goal of your campaign is.
Once you've settled on your requirements, you can create custom audiences to narrow down your focus on the portion of Facebook users that's relevant to your business. These custom audiences are essentially users who've already interacted with your brand.
Here are a few ways to retarget the type of users who are more likely to be interested in your products or services:
Website visitors: With the help of the Facebook Pixel installed on your website, you have the option to target visitors of specific pages on your website.
App activity: Find users who are using your app or game.
Engagement: Target Facebook and Instagram users that have previously interacted with your content.
Customer file: If you've got a list of existing customers with contact details and can match this to their Facebook accounts, you can upload this in the Ads Manager.
If you don't have these options available, you can also hone in on the type of users that you think are potential customers by entering criteria like location, demographics, interests, behavior, and connections.
Start Your Story with the Climax
The most engaging way to structure your video ad is by telling a story, but the trick is to change the order and start with the climax. Following the typical structure in storytelling of beginning, middle or climax, and end will cost you views, as users scroll past a lengthy intro.
Hook your audience quickly with a bold statement or question. Brainstorm ways to surprise and entertain users to stop the scroll. Know the pain points of your target audience and focus on one of them in each video ad. Consider creating a series of video ads that are connected through these pain points and your key advertising message.
Make sure your content provides a clear solution to customer problems to keep them watching and end with a strong and unique call to action. Finally, provide a link to a relevant landing page with your video ad, so viewers can take action easily.
Boost Engagement with Subtitles and Video Poll Ads
Make your video ads more accessible with the help of subtitles. Add captions to stop users from scrolling past your video ad that is automatically muted on Facebook. This also ensures accessibility for people who are deaf, hard of hearing, or whose first language isn't the language you're using in your video.
To boost engagement, make it as easy as possible for everyone to receive your advertising message. On Facebook, you can choose to generate automated captions or upload a previously created SRT file.
Another effective way to give your engagement rates a boost is to create video poll ads. Most people can't resist a good poll. Particularly when it's as easy as clicking a button on their social media feed.
You can add a poll to your ad if it has one of the following objectives:
Brand Awareness
Reach
Traffic
App Installs
Conversions
There's a character limit of 80 characters for a question and 24 characters for each answer. Be sure to include links to landing pages for both choices that take your Facebook audience to a page where they can take action.
Experiment with User-Generated Content
Particularly on social media platforms, user-generated content is one of the most effective ways to increase credibility and build trust in your brand. Know your audience, make it fun, and add a branded hashtag and you get an engaging campaign with highly relevant video ads.
In asking Facebook users to participate you automatically draw them in and get interactions with your brand that wouldn't be possible otherwise. This is crucial for the Relevance Diagnostics you can monitor in the Ads Manager. Facebook uses these to determine whether your ad is relevant to the audience you're targeting.
Relevance Diagnostics pit your ad against other ads competing for the same audience. To get your video ads in front of as many potential customers in your audience selection as possible, aim to score average or above average in the three ranking factors:
Quality ranking
Engagement rate ranking
Conversion rate ranking
Design for Mobile Views
Another difficulty that advertisers have to overcome on top of only having a few seconds to get their audience's attention is the space they can occupy. Mobile views have increased dramatically in recent years, which means it's highly likely your video ad will be viewed on a small mobile phone screen rather than on a monitor.
This makes it even more important to stay focused on your product and have a clear and succinct message. When you're designing your ad, use as little text as possible and select an easily legible font. Make sure your typeface also fits your brand to make it more recognizable and get people to associate it with your business at first glance.
If you're working on a tight budget and looking for a cost-effective way to get stunning visuals that reel in your audience, use the online video editor to adjust premium video footage in Design Wizard. Create a short ad within minutes that you can download in mobile-friendly .MP4 format.
Use A/B Testing to Refine Your Campaign
When you're A/B testing an ad, you're essentially splitting your campaign in two and showing two different versions of your video ads to different parts of your audience. The most important guideline to remember is to only test one element of your ad at a time.
Variables you can test to see what helps to get more clicks or conversions are:
Ad copy
Visuals
CTA
Optimization goal settings
Audiences
Campaign objectives
Once you've launched your A/B test, monitor which ad performs better and disable the underperforming ad as soon as you see a clear winner. After this campaign is finished, clone the successful ad and test a different element to keep exploring what works with your target audience.
Facebook Video Ad Types
Find out what's the best type of video ad on Facebook for your brand and campaign. Here's a quick overview:
In-feed Video Ads
These video ads become part of your audience's feed, as they scroll through it. They look very similar to organic posts, which makes it even more crucial to create a creative and engaging ad. Your video ad content has to stand out among posts from family, friends, and other pages Facebook users follow.
In-stream Video Ads
With the increase of video consumption on all social media platforms, it was only a question of time until videos on Facebook Watch would also contain ads. Just like the ads that appear on YouTube, there are in-stream video ads that feature within the content that creators uploaded.
These usually play after a user has already watched a few seconds of their chosen video content, which makes it even more likely that your audience will watch the full ad to view the rest of what they were watching. If you select In-Stream Only placement in Ads Manager, you can choose the video topics that fit your products or services and select brand objectives that help you make it more likely your video is shown to the right person.
Facebook Marketplace Video Ads
Advertising on Facebook Marketplace can be a great option for small businesses that sell products locally. Users are already in a shopping mood when they arrive in this area of Facebook and are mainly looking to buy from people or businesses around their homes.
Organic and sponsored listings appear here side by side. A video ad that shows your locally sourced products in an engaging way can get you a great number of customers clicking through.
Facebook Stories Ads
You can create a video ad of up to 15 seconds and choose to place it in Facebook Stories. The sponsored content will show every so often, as users swipe to the next story. They're short and less intrusive.
Make sure it's set up in vertical format, as users are most likely to watch stories on their mobile screens. To encourage more engagement, you also have the option to add a polling sticker to your Stories ad.
How to Set Up a Facebook Video Ad Campaign
Before you get started, make sure you have admin access to your business page and navigate to Facebook Business Manager.
Here's our quick and easy beginner's guide to help you get started setting up video ad campaigns on Facebook:
Step 1: Set up Your Ad Campaign
In Facebook Business Manager, select Ads Manager. In the Campaigns tab, click Create and Choose a CampaignObjective that supports video ads. Click the arrow next to Name your campaign and enter your campaign name.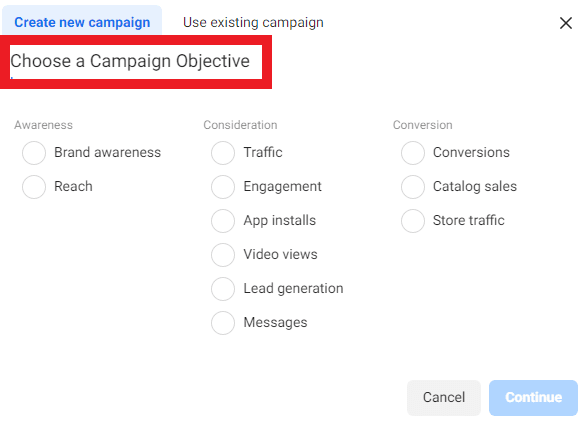 Click Continue. In the campaign window, you can declare Special Ad Categories or set a Campaign spending limit if that applies to you. Click Next.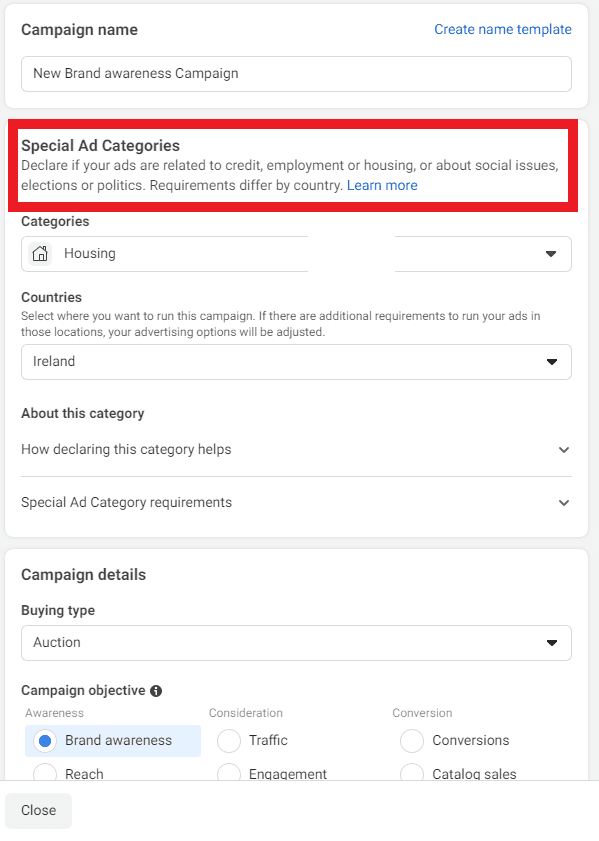 Step 2: Select Your Budget & Schedule
In the Ad set window, enter your Ad set name. Select your Conversion event location, which depends on where your customers will be able to take action after clicking on your CTA.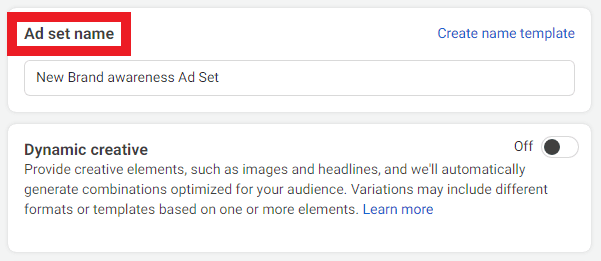 Determine your Budget & schedule and select a Daily Budget or Lifetime Budget from the dropdown menu. To run your campaigns automatically during a certain time period, enter a Start date and End date.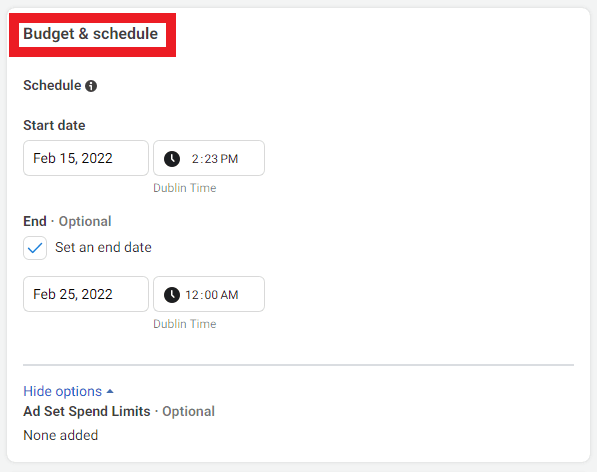 Step 3: Fine-Tune Your Target Audience
In the Audience menu, search for suggested Custom Audiences. If you want to customize the audience you're going to target, click the Edit icon next to Locations, Age, Gender, Detailed Targeting, and Languages.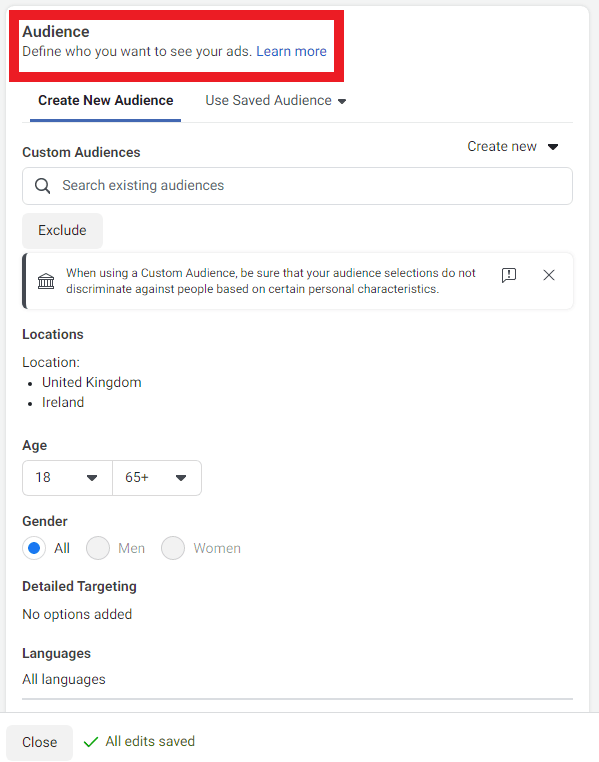 Step 4: Choose Your Ad Placements
If you want to have more control over where your ads are shown, click Manual placements and select the Platforms you want your video ads to appear on. Depending on the video formats you prepared, select where on Facebook, the Audience network, Instagram, or Messenger your ads should appear. Click Next.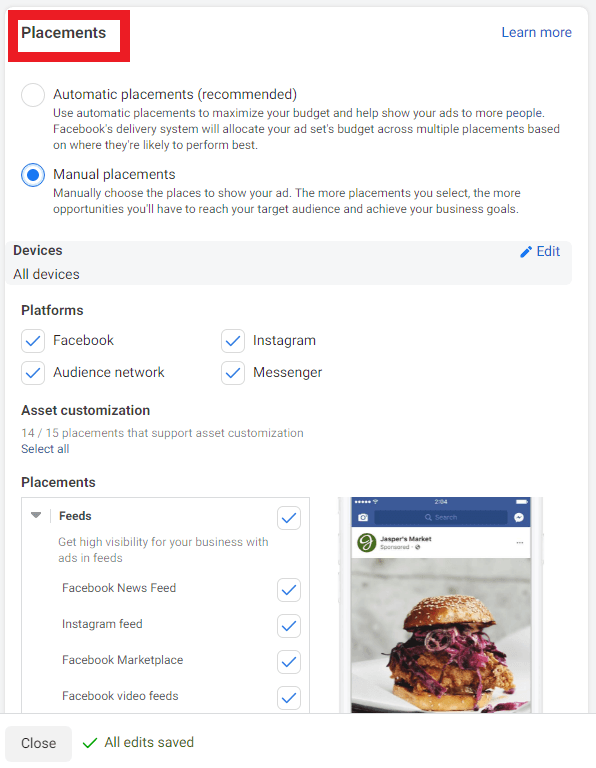 Step 5: Create Your Video Ad
In the Ad creative menu, click on the Add Media dropdown and select Add video. Click Upload and select your video file in your Explorer. Click Next and Done. Enter your enticing ad copy under Primary text, Headline, and Description.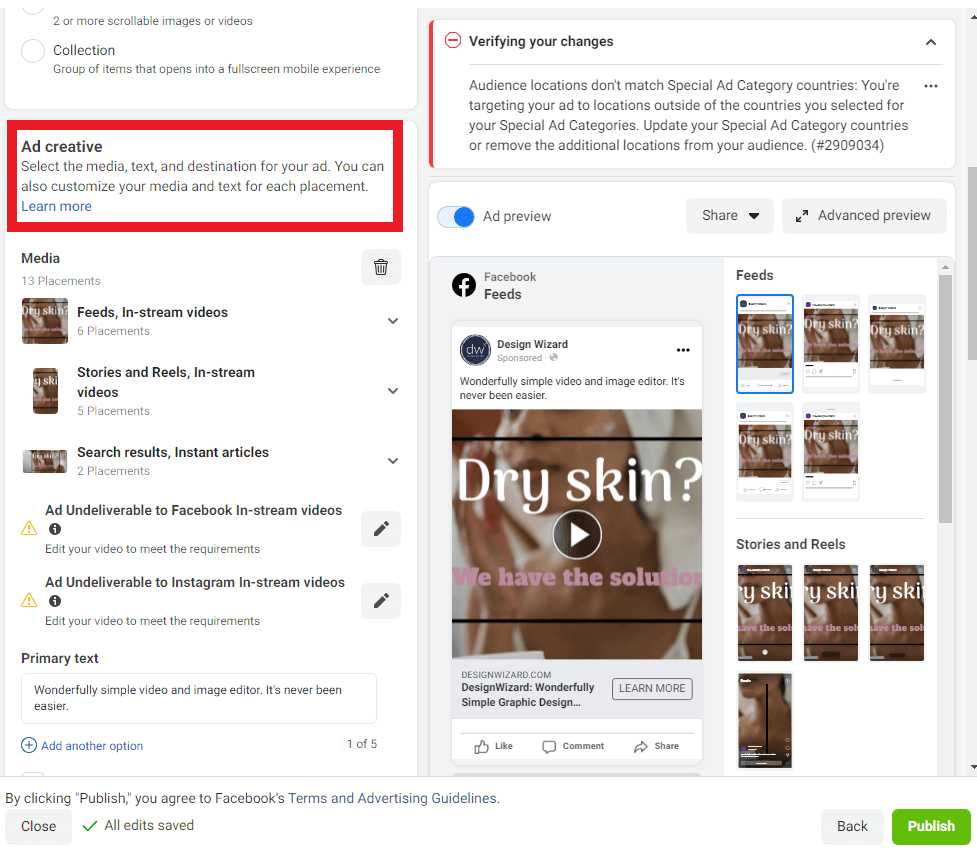 Step 6: Select a Call to Action and Destination
Select a Call to Action from the dropdown menu. In the Destination menu, select where you want to send your audience and enter the relevant details. Check the Ad preview on the right to see if you're happy with the result or if anything needs tweaking.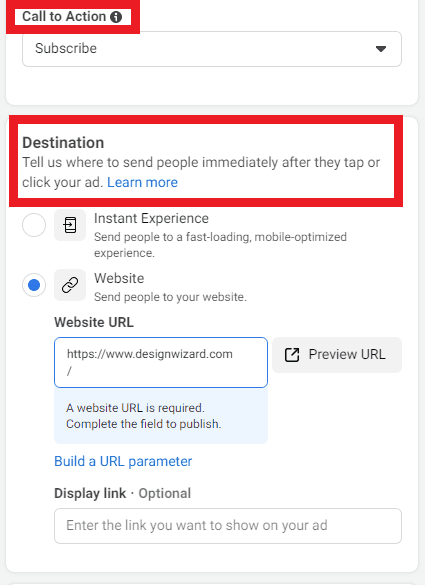 Step 7: Review and Publish Your Facebook Video Ad
Click Review on the top of the Ad settings window. Scroll down and have a look over your settings to make sure everything is set up correctly. Click Publish.
Video is one of the most effective ways to reach your target audience on Facebook. To create a successful video ad campaign, it's important to know who your target audience is and how to create content that hooks them and entices them to click and take action.
Craft your ad according to what you know about the Facebook users who follow you and find suitable templates in Design Wizard that you can adjust quickly. Get straight to the point and start the story you're going to tell about your brand with a bold statement or a question.
Make sure to design your video for mobile views, insert captions, and have your ad ready in different formats to fit the various placements you can choose in Ads Manager. Explore A/B testing to find out what users prefer when watching your video ads and tweak your campaigns accordingly. Finally, at the end of your video ad campaign, use your findings to fine-tune the next.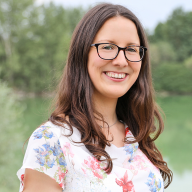 Elisabeth Strasser
​
Lizzie is a professional Content Writer. She's been passionate about SEO and content marketing ever since a life-changing internship at a digital marketing agency while completing her BA in English and American Studies.

Having graduated with a Professional Writing MA with distinction, Lizzie set out to gain her copywriting and digital marketing experience in Cork City.

An Austrian with a love for Ireland, Lizzie loves exploring Irish folklore and storytelling. Her favourite DW tools are:
Youtube Outro Maker
and
Add Logo to Video
tools.
​