Learn how to create striking video ads that reel in your target audience with Design Wizard. Follow our easy step-by-step guide and make use of our vast video library for your ad campaigns.
Video has rapidly become one of the most effective ways to advertise your products or services to a wide audience online. Particularly on social media, video ads perform better than images and text.
Video gives you the opportunity to convey your key advertising message in a simple and engaging way that your target audience can take in at a glance. Add a clear call to action and interactivity to the mix and you'll increase brand awareness and ultimately conversions.
Here's how to get started creating video ads in Design Wizard:
How to Create Video Ads in Design Wizard
Step 1: Sign up and Log into Design Wizard
Go to designwizard.com. If you haven't got an account yet, click Sign up at the top right. Enter your email address and create a password.
To verify your new account, click the link in the verification email in your inbox. Log in with your Design Wizard details.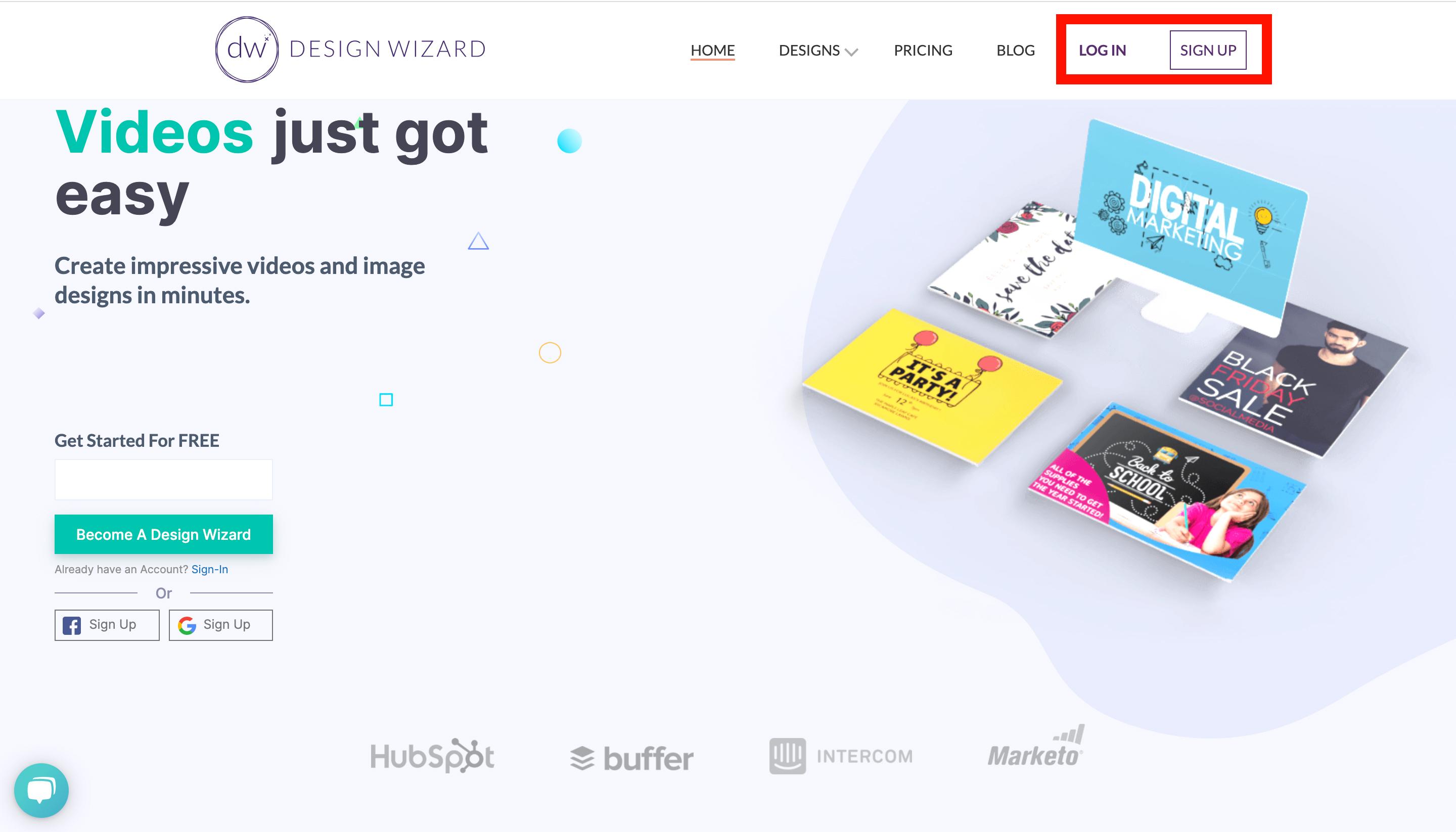 Step 2: Choose a Blank Video Canvas
On your Design Wizard dashboard, you find Your sizes. Choose Video.

Step 3: Find a Video Ad Template
Click Videos in the menu on the left. Enter a topic that fits with what you're advertising in the search bar and browse our video library to find the video ad template you need.
Click on videos to select and preview them. Hover over the top right corner and click the heart icon to save selected videos to your favorites. To find your favorites later, go to Favourites at the bottom of the menu on the left.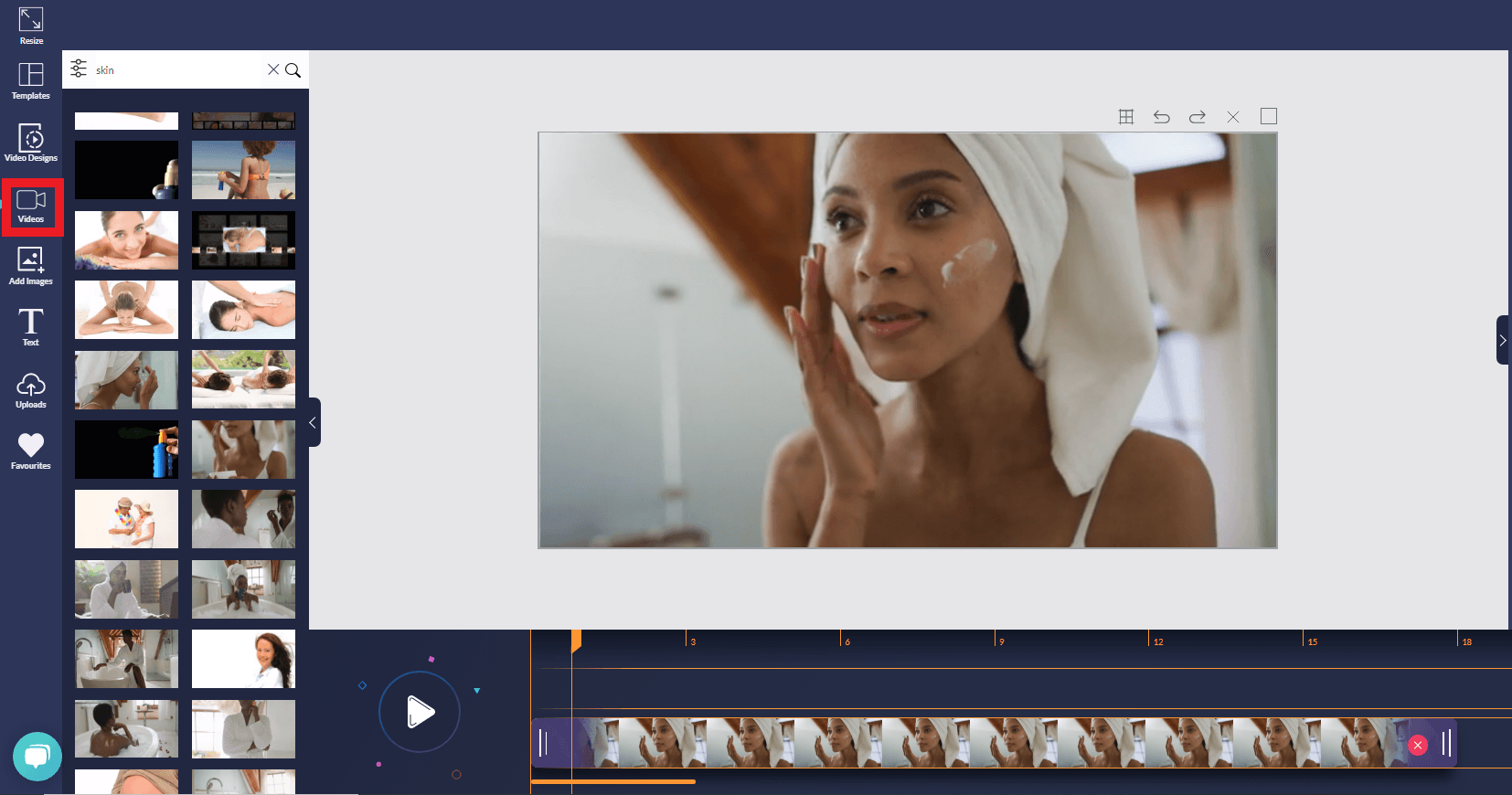 Step 4: Add Text and Adjust Timing
Click Text in the menu on the left. Select your favorite animated text template. To move your text to where you want it to appear in the video, click and drag the text on the timeline at the bottom. To extend the length of time your text is shown, pull out the sides of the text along the timeline.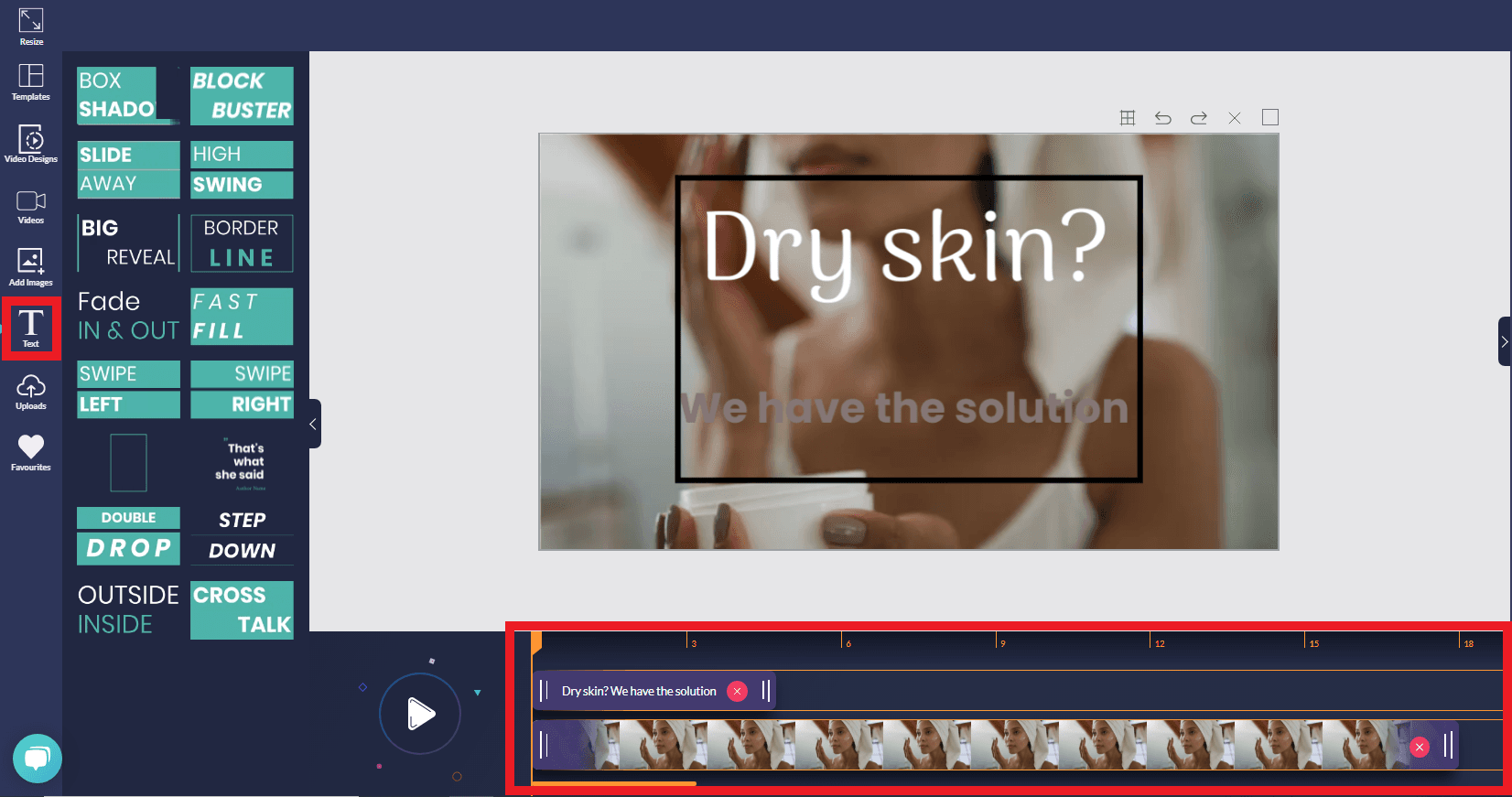 Step 5 Adjust the Text
Double click the text on your timeline. Customize your text in the panel on the right and adjust font style, size, color, line spacing, ratio, and alignment. If you signed up for the Design Wizard Pro plan, you can upload brand fonts and select them here.
To move the text to a different place in your frame, just click and drag it to your chosen spot. If you need to delete the text from the timeline, click the red X icon.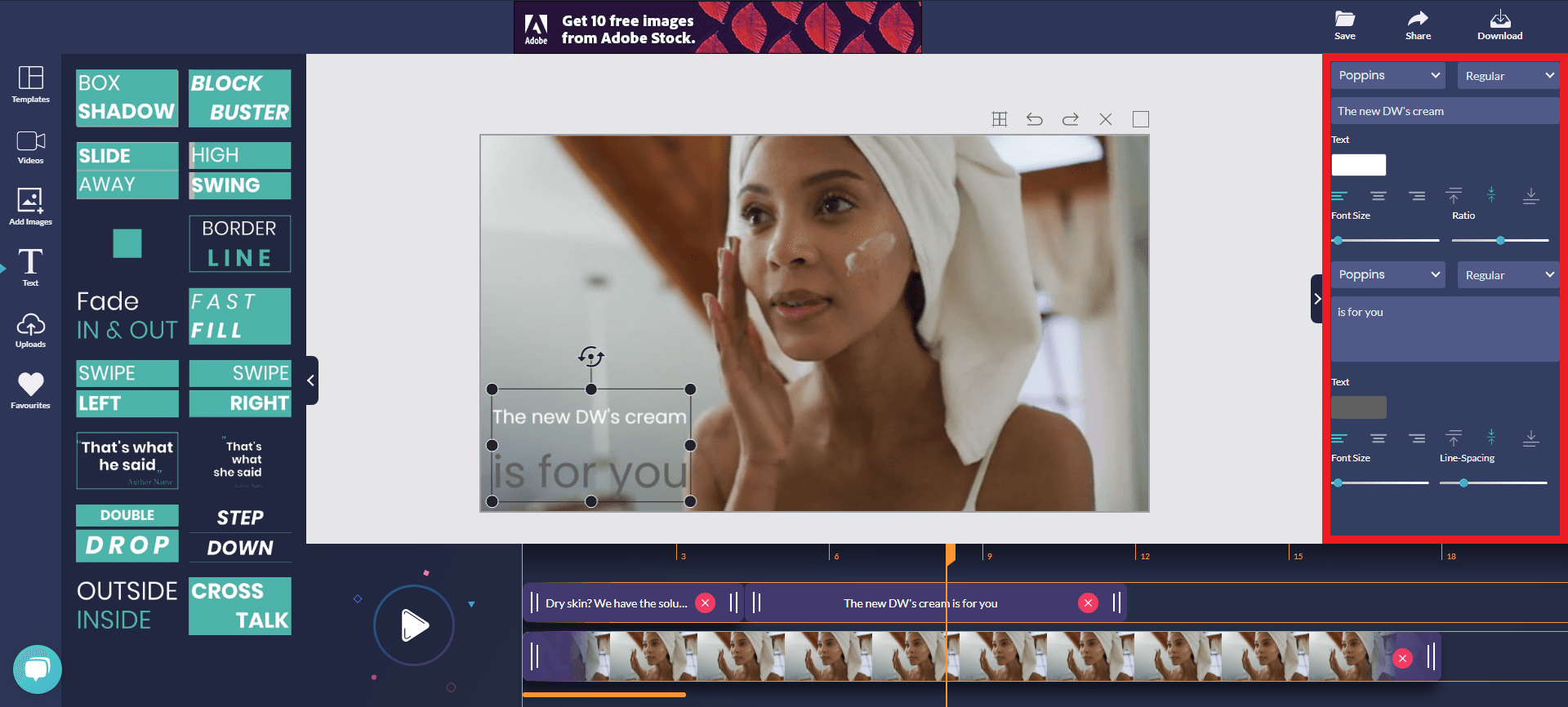 Step 6: Download or Share Your Video Ad on Social Media
Once you're happy with your new video ad, click Download on the top right. Choose Share to immediately share it to your selected social media channels.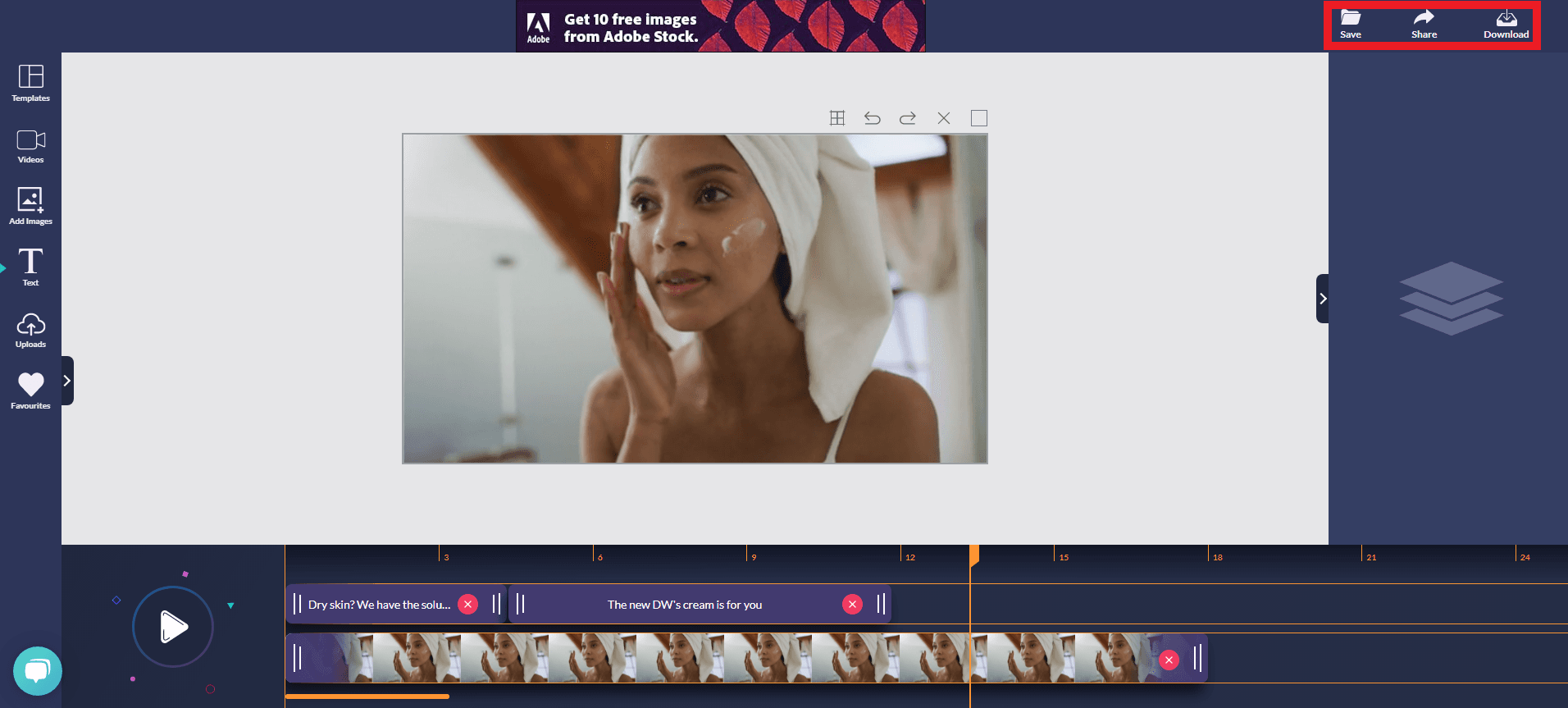 Video Advertising Best Practices
As you can see, creating video ads doesn't have to be hard or involve a large budget to work towards increasing your sales. It's better to keep it simple and make your ad easy to take in at a glance. Select a video template from the Design Wizard video library that suits your brand and get started.
To make your video a success, also keep these best practices in mind:
Craft a Story to Convey Your Key Message
To convey your key advertising message and make your brand more memorable, make use of storytelling. Your target audience is overwhelmed by an increasing number of marketing messages every day. To grab their attention you need a genuine piece of content that creates an emotional connection. There's no better way to do this than through telling a story.
If you're ready to take it one step further and create your own video ad rather than using a template, brainstorm how you can create a story with relatable characters. Write a script that represents your brand's values and makes it clear what actions you want your audience to take.
Create that connection through close-ups and using authentic voices. Authenticity is key if you want to avoid creating a commercial that alienates your audience with messaging that is too focused on selling the product. Build trust through the story you tell or by inviting customers or employees to speak about their experiences with your brand.
Hooking the Audience with High-Quality Content
You only have a few seconds to hook your audience online before they scroll past or click 'skip ad'. That means you need a clear, professional-looking, and enticing hook right at the start of your video ad.
A crisp-looking intro can make all the difference. Use the Design Wizard YouTube Intro Maker and customize video templates to capture the attention of your target audience. Once you've hooked your audience, provide them with a reason to take action and how they can do so. Or offer them more of your content with an outro that takes them to where they want to go.
If you're working with a tight budget, using high-quality stock videos is an easy way to add high-quality footage to your ads. Explore the vast PikWizard library to find suitable content to download and edit in Design Wizard.
Keep it Short and Simple
How long your video ad should be depends on your brand and the story you're telling to get your key advertising message across. Optimal length is also determined by your industry, where you're going to publish your ad, and where in the sales funnel your audience is going to see the video.
Generally, though, the rule of thumb is to keep it short and simple. You don't want to overwhelm your audience with product details and features. Instead aim to get the most important benefits across in the simplest way possible.
Your hook should only be a few seconds long and what follows has to keep your viewers interested in what you have to say. If you can't think of a good hook relating to your products or services, consider using humor or the unexpected to stop your audience from scrolling past and instead have a closer look at your video.
Make Your Video Ad Accessible
Depending on where you launch your ad, save and download it in the different formats required to ensure your ad is responsive across platforms. Not only do you have to consider different formats for TV or your website, but requirements for your social media channels are also going to vary.
Linkedin, Facebook, and Instagram all have different specs, and by adhering to the differences here, you can make sure your campaigns stay responsive and nothing gets cut off. As is the nature of social media, video ad sizes are constantly in flux, so make sure you check for updated formatting regularly.
When you're designing your video ad, keep in mind that it should be accessible to everyone. Here are a few things to watch out for:
Don't add text over moving images, as this can be challenging for screen readers.
Make sure there's a difference of 20db between background music and voiceover.
Check transition times to make sure the audience can read or take in your content. On average people read 200-250 words per minute but keep in mind that some members of your target audience might need more time than that.
Avoid flashing images to grab attention. Your content shouldn't flash more than 3 times per second.
Include both captions and a voiceover to make your video accessible to both people with visual and hearing impairments. Captions are now mostly auto-generated but this automation isn't perfect. It's good practice to check and correct captions before your ad goes live.
You can also upload an SRT file containing a transcript you've created previously either manually or using YouTube's handy captioning tool. Even if you don't want your video ad to be available on YouTube, you can set the video to private to auto-generate captions, correct them, download the SRT file and delete the video in your YouTube Studio when you're done.
Include a Clear Call to Action
Make sure the action you want your audience to take after watching your video is clear and easy to follow. Your call to action or CTA can range from clicking through to a page on your website to filling out a form.
Ensure any links are directly available inside your video or immediately below in the description. Depending on the story you create for your video ad state your call to action in the middle or at the end of your video. Make it both visual and audible to keep your CTA accessible.
To make your call to action stand out more, avoid going for the usual "Visit Our Website", the skippable "Learn More", or the forceful "Buy Now". Think about how you can align your CTA with your brand and the story you're telling in a unique way that grabs attention.
Make Your Video Ad Interactive
The best way to get your audience engaged is to let them interact with the content. To keep it user-friendly, the interaction shouldn't involve more than a couple of clicks, dragging and dropping design elements, or hovering over a certain part of your video.
Some of the features you find in interactive video ads are:
Hotspot: A clickable area like a CTA button that users can click through to a landing page set up for the action you want them to take.
360 views: Users get the ability to drag the screen within the frame into the direction they want to view. For example, these are popular in the tourism industry for showing the target audience a 360 view of a popular destination or a luxurious hotel room.
Branches: Your audience can control and customize the content they view by selecting different paths they click through.
Quiz: Users can answer questions by clicking buttons in the ad. The result of the questionnaire links to a landing page that offers them a solution based on their answers.
Data input: This type of interactive video contains a form for users to input their data. This should trigger a response like an email with further instructions or the content they signed up for.
Interactive video ads also come with in-depth tracking, which means that you can see exactly how your audience engages with your content to see what might need to be improved. Optimizing your ad content with interactivity or gamification will not only increase engagement rates but also make your brand more memorable. It creates a more personal connection between your audience and your business through interaction.
Test Different Versions
To gain a better understanding of what works with your target audience, choose different elements in your video ad and create two different versions. In your interactive video, you might want to test interactive elements like CTA buttons or the paths users take. You can test design elements by adjusting fonts, or colors.
If you have more than one video clip ready, make it your audience's choice which one is the best. A/B test the variation in the story you're using to convey your key advertising message and see which one your target audience prefers.
Another often forgotten element of video ads is metadata. Search engines use this kind of data to index your video. Search engine bots can't watch your video file but rely on the text you provide with it. Use relevant keywords in your meta title and descriptions to clarify your content. You can test different versions of metadata to determine which helps you get more views.
Other elements to test are variations in copy, music, or video length. Pick what needs to be tested according to your products or services, your key message, and what makes sense for your business. Narrow it down to two elements to get the best result and tweak your campaign accordingly.
Creating effective video ads is a powerful marketing technique to increase brand recognition and increase conversion. With an attention-grabbing hook and a captivating story, you can stand out from the crowd that vies for your audience's attention.
If you're working on a tight budget, using high-quality stock footage is a great option to craft a successful video ad campaign. All videos in our Design Wizard library are free to use with no attribution required. Use our handy resize tool to resize videos for different platforms and make them responsive for a professional look.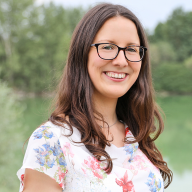 Elisabeth Strasser
​
Lizzie is a professional Content Writer. She's been passionate about SEO and content marketing ever since a life-changing internship at a digital marketing agency while completing her BA in English and American Studies.

Having graduated with a Professional Writing MA with distinction, Lizzie set out to gain her copywriting and digital marketing experience in Cork City.

An Austrian with a love for Ireland, Lizzie loves exploring Irish folklore and storytelling. Her favourite DW tools are:
Youtube Outro Maker
and
Add Logo to Video
tools.
​