Every type of content creator has several options for making extra money. Affiliate commissions generated through affiliate marketing programs are one great way to generate additional income. It's a relatively simple process and one that opens many new doors.
In this article, we will cover the ins and outs of affiliate marketing as a beginner.
What is Affiliate Marketing?
Affiliate marketing is the marketing of products and services offered by a company you establish an affiliate relationship with. If you are an affiliate marketer, you advertise the company's products or services to your audience. In exchange, you receive affiliate commissions. Commission rates are just a percentage of the profits earned from each sale you create for the company.
As an affiliate, you simply find the product or service you enjoy. If they are open to an affiliate relationship, you promote those products and services.
How Does Affiliate Marketing Work?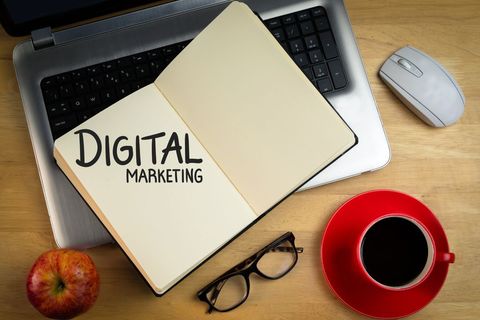 affiliate marketer. You enter an agreement with the business to promote their products for a portion of the profits produced from each sale you bring them.
While it's a simple arrangement, it's important to understand how your success as a marketer is measured and how you are paid.
Affiliate sales are tracked by affiliate links. For example, imagine you are advertising an affiliate product to your YouTube audience. There are a few ways to do it, but normally it's a few simple steps for you to follow while producing your regular YouTube content:
You produce your next video as you regularly would

You have a short break or segway in your video to promote the affiliate product

You include links on screen and in your video's description

Viewers who click through the link are tracked

You are paid your portion of any resulting sales
This symbiotic relationship benefits both businesses and content creators. As a content creator, you can essentially continue working as usual, but with another opportunity for monetization.
Businesses don't normally just work with any affiliate partners. They will often want to work with relevant content creators. For example, a fishing business will often work with bloggers, site managers, YouTubers, and other content creators who create fishing content. That way, the business knows they are reaching their target audience directly, while the fishing content creator is more familiar with the product and how to promote it.
At the same time, not all affiliate marketers are deeply connected to the affiliate products they promote. Sometimes, a popular content creator will simply promote a simple product that many regular people would consider buying. In other situations, businesses employ comprehensive affiliate marketing strategies, a part of which is the careful selection of affiliate partners.
As a part of digital marketing, affiliate marketing efforts are normally part of a broader marketing strategy. For example, if you have a specific hobby, some brands will want to work with you for product review content. In this case, you would present a comprehensive review of the product and all of its qualities. But because affiliate marketing can be applied to essentially any consumer goods or products industry, there are many ways businesses and affiliate marketers work.
Depending on the type of content you create, you may be eligible to enter one or more of the three main affiliate relationships.
What are the 3 main types of affiliates?
Unattached Affiliate Marketing
This affiliate marketing business model is the loosest and easiest to employ.
An unattached affiliate marketing business is one that has no connection to the products or services it promotes. The business or content creators don't require any expertise or authority in the industry of whatever they are promoting. This is because such a level of intimacy with the business or the broader industry in question is not needed to ensure a successful relationship.
A regular unattached affiliate marketing campaign will normally include a simple, broad Pay Per Click (PPC) foundation. The marketer hopes that enough people will click on the link and purchase the product on their own, without the need for much context or guidance for the viewer/shopper.
For these reasons, casting broader nets often works. Search engine marketing with video titles, headings, and blog content can capture a large audience. Then, some portion should click the link and some of those users should then purchase the product or service.
This type of affiliate marketing can be attractive for its simplicity. There is less need for commitment and concentrated effort. This makes it a good arrangement for content creators trying to generate passive income without working too hard on developing experience, authority, expertise, or deeper relationships with partner businesses.
Related Affiliate Marketing
This is the "middle ground" of the three types of affiliate marketing.
Related affiliate marketing means you don't necessarily use the product or service but are somehow connected to the industry they are from. Affiliates who do this normally have some authority in their niche.
If you run a makeup blog and promote a certain makeup brand, for example, you would be a "related" affiliate marketer. This is different from "involved", however.
Involved Affiliate Marketing
Involved affiliate marketing, as the name suggests, describes an affiliate program where the content creator and the products being marketed are the most connected. To meet this description, the content creator will:
Have intimate knowledge about the industry

Try and trust the products and services they are marketing through the affiliate program

Have authority in their niche so customers trust them

Make real, detailed claims about their use of the product or service
In this way, you can view involved affiliate income as the most "honest". This is one step ahead of "related" affiliate marketing. The only difference is that a related affiliate marketer doesn't necessarily use the company's products and collaborate more closely with them. But there are a few other differences in the way these kinds of involved affiliate campaigns work.
Involved affiliate marketing does not normally rely on pays per click. Sometimes, the content creator works more closely with the business's marketing team. But in all cases, the content creator tries to be more direct and provides an affiliate link directly to the product page. Because the audience trusts them more, they should be able to produce more sales for the business. The content creator is normally compensated with a commission.
As should be expected, this is the most difficult approach to affiliate marketing products. It takes more time and effort to build up this level of credibility. However, the payoffs can often be much higher. Affiliate marketing income can reach peaks with highly tailored content made by true enthusiasts.
The kinds of affiliate marketers doing involved affiliate marketing are normally truly passionate, such as:
Gardening store owners marketing gardening equipment

ATV riders with large followings marketing certain ATVs
How Do Affiliate Marketers Make Money?
In all three of the above cases, there are the same potential paths to monetization. The universal answer is the affiliate link, which includes a tracking pixel so that the business knows who sent them the customer who made a purchase. The marketing content and link can be inserted into:
Email newsletters (email marketing)

Videos (such as YouTube or TikTok content)

In a blog post

On review sites

Anywhere users can be found and will click through to a product page
The other major way affiliate revenue changes drastically is in the type of affiliate campaign. This is the financial arrangement that determines which exact outcomes lead to what exact payment to the content creator.
Pay per Sale
This is the default marketing method in the affiliate marketing industry.
The business pays the content creator a flat rate percentage of the sale price for each sale they produce through affiliate marketing strategies. The affiliate marketer must actually get customers to make a purchase before receiving any compensation.
This is an easier outcome to achieve with involved affiliate marketing.
Pay per Lead
This is a slightly more complicated option. The content creator is paid according to the number of leads they generate.
In affiliate marketing practice, a "lead" is a conversion that is not quite a sale. The affiliate must persuade their followers to complete a specific action. This is normally something like:
Signing up for an email list

Filling out a form

Signing up for a free trial

Downloading company software
The content creator is compensated for each specified action they persuade a follower to complete. This can be difficult or even feel unfair when users complete other actions than the desired one.
Pay per Click
This approach to affiliate marketing sets the goal of driving traffic to a site. It is less direct, not requiring the affiliate to actually produce an affiliate revenue.
PPC affiliate campaigns focus on getting the affiliate to redirect traffic from their platform to the merchant's website. The affiliate is paid for the traffic that this generates.
The profitability of the campaign is determined by two metrics, the first being cost per acquisition (CPA). CPA means the content creator gets paid every time the business is generated a new lead. When the affiliate link takes one of their viewers to the business's website and they take an action, the content creator is paid.
Earnings per click (EPC) is the measurement of the average earnings per click on the affiliate link. It's normally measured in the total amount earned for every 100 clicks. The higher your EPC, the more pleased your partner will be with your affiliate program. It essentially measures your conversion rates.
Pay per Installation
This is a simple arrangement where the merchant pays the content creator for every installation following a click on the affiliate link. This is often appropriate for businesses selling software solutions or mobile apps.
How do I start affiliate marketing as a beginner: Your Go-To Guide
Online affiliate marketing is fairly simple, but setting up a good affiliate income takes a lot of work. The amount of work depends on your current following and/or level of authority in the industry you create content in.
Let's go over your affiliate marketing guide - from finding the right affiliate opportunities to maximizing your income.
Establishing Yourself
During this first step of the affiliate marketing journey, you will need to:
Decide what kind of quality content you are going to create

Choose your affiliate platform(s)
The first step involves simply picking a niche and deciding what kind of content you will create with it. Your options are limitless, and you can use as many online platforms as you can handle to put out content.
So, what interests you?
If you have a specific passion or another topic you want to cover, you're already halfway there. Content can include blog entries or videos. You can (and should) then promote that content on social media. The asset you offer as an affiliate marketer is paying customers. So, you have two options based on the types of affiliate marketing we listed above:
Making entertaining, general-purpose content to gain a large audience

Making specialized content that attracts a certain target market that future affiliate partners will be looking for
To start, you can always make a custom business card to use as a physical copy, or as part of your LinkedIn profile.
Find Affiliate Marketing Partners
Success with affiliate marketing means matching the right audience with the right merchants. In its simplest form, using an affiliate network is the easiest way to connect the two.
Affiliate networks connect content creators with brands that would be interested in forming an affiliate relationship.
The biggest example of this right now is Amazon Associates. Amazon Associates helps Amazon Affiliates monetize their followings by promoting physical products that are sold on Amazon.
There are quite a few places where you can find the same.
Platforms like ShareASale and CJ Affiliate connect content creators with businesses that are already looking for affiliate opportunities. These affiliate networks offer easier access to a large directory of affiliate merchants looking for what you offer. However, they are also highly competitive spaces where it can be hard to stand out in some cases. The chances of failure are thus still there, and of course, the platform will take a cut of the proceeds for the services they offer.
Tailor Content to Niche Spaces
At the same time (or as an alternative), you can try to get into niche spaces. For example, niche topics or review sites. Here, you would be expected to create reviews for specific brands that set them apart from their competitors. But that also means tailoring your content to the unique needs of review platforms.
Other options include making affiliate relationships through your online course or workshop. For example, you can integrate your affiliate marketing into your existing events and courses.
Again, this route still takes time to build up and requires genuine, authentic, and engaging content. It is, however, often a way to get more meaningful and profitable affiliate partnerships.
Affiliate Program Management: Your Affiliate Marketing Cheat Sheet for Success
Here are the tips that make for a successful affiliate.
Become an Expert
The first and most important thing for any involved affiliate marketer is expertise. The more you know about the types of products you're promoting, the easier it will be.
This is because when you're a trusted expert, potential customers and potential affiliate partners will be so much more comfortable working with you. Businesses working with a renowned affiliate marketer benefit from both your authority and the level of review you can provide to your audience.
Talk to Experts
Authority goes both ways; when you're always talking to experts, you enter a higher place in your niche. Involved affiliate marketers benefit from this similarly to how they benefit from becoming experts themselves. Audiences see two experts providing engaging and valuable content. Businesses see the same thing plus the audience watching the expert continuously adding other experts into their content.
Needless to say, this is all very good for business, as well as for the wider industry!
As for the interview, podcasting is one of the most popular formats for insightful, long-form discussions. Edit this cover or create an entirely different one. This podcast cover image is 3,000 x 3,000 pixels, the standard size for Apple Podcasts for Creators.
Create Tutorials
Tutorials, whether video tutorials or written step-by-step guides, boost your authority. Your audiences see you as a valuable content creator that is also their own teacher. You are pushed further into a position where viewers will be more likely to click your affiliate marketing links.
This can be expanded to include educational eBooks, educational interviews, and other similar content.
Don't Neglect Email Marketing
Email marketing is still alive and very lucrative if it's done right. Regardless, it's an important part of the conversion process.
There are a lot of ins and outs to successful email marketing, including not ending up in peoples' spam folders. But you can find email marketing guides online, take advantage of email marketing software, or simply outsource all the work.
Email marketing is an important affiliate marketing opportunity because it's a list-building and trust-building exercise. It's also one of the very few spaces outside of social media where you can still demand followers' attention. In terms of conversions, it's the most effective form of messaging.
Email marketing campaigns are ideal places to include upsells and engaging marketing techniques such as:
Free eBook downloads

Newsletters

Sales

Industry reports

Entertaining storytelling

Sneak peeks

More
Also, remember to use the right email header!
You can edit this email header or use one of Design Wizard's many other templates.
Create Video Content
Video content is the most in-demand and engaging content that you can create. If you're not regularly putting it out, starting now is one of the most effective ways to kickstart your affiliate marketing journey.
Videos can be shared across most popular social media platforms. Short, easily-digestible videos can serve as great advertisements, while long-form videos such as interviews can help you capture more high-quality leads.
Pro tip: Remember to use high-quality video thumbnails to attract more viewers!
This template has the standard resolution for YouTube video thumbnails. Use it or any other Design Wizard YouTube template to create the best possible thumbnail.
Always Consider SEO
SEO is applicable to most forms of affiliate marketing. With due diligence, some extra SEO considerations will bring far more traffic to your marketing channels.
There are a few steps you can take. Use images with the right alt text, write blogs with SEO tools and use video descriptions to capture more organic traffic.
Create Educational Material
eBooks, guides, video tutorials, and other educational materials can help you expand your affiliate marketing network. When applicable, you can even create an entire course online at a low time and financial cost.
Educational material can be engaging when it's well-crafted. More importantly, it's a serious reputation booster that can improve your following and impress serious brands.
They say you shouldn't judge a book by it's cover. But it really can't hurt to have the best possible cover for your eBook. Edit this or other templates formatted for Kindle.
Stay in Character
Most successful content creators work with some level of consistency. They can foster a persona that their audience remembers and relates to.
Staying in character across all marketing channels can help with this.
One great way to do this is by consistently creating a certain "brand" of imagery across marketing channels. You can edit this or any other Design Wizard template and make a new theme that you can call your own! Try doing so with Facebook post sizes, or with other image sizes.
Broad Distribution Strategy
As a form of content marketing, successful affiliate marketing should include several channels. For example, if you post on YouTube, share the video on all your social media. The more platforms you use, the easier it is to reach the most potential customers.
Important: Staying Legal and Ethical
There are plenty of stories of unscrupulous affiliates. A small portion of the affiliate marketing industry has somewhat tarnished it for everyone involved.
Since, affiliate marketing has still grown and still remains very lucrative and mostly highly ethical. However, as an affiliate marketer, keeping your activities legal and ethical is critically important. Even in cases where no laws have been broken, unethical behavior can ruin everything for you.
The main legal risk of affiliate marketing is fraud. Affiliate marketers who fake a specified action to gain greater commissions from their partners may be committing fraud.
Auto-refreshing pages, using software to generate more clicks, and other unscrupulous activities can be very profitable and tempting by how easy they can be to do. However, the costs of such actions are often permanent, with criminal records being the most serious punishment. However, the reputational damage of unscrupulous affiliate activity can also be permanent, as much of the information online is permanent.
Conclusions
Making money with affiliate marketing is an accessible form of income for many content creators. As with most content marketing, it's another way to monetize the attention you capture online.
You have several options for how intimate your relationship with your niche and affiliates will be. You don't need to be an expert in anything in particular to simply advertise affiliate products. However, if your content covers a specific niche that you have in-depth knowledge of, you can be a far more efficient (and reputable) marketer.
If you want serious affiliate revenue, it's important to look at what you're doing as a business owner. Affiliate marketing efforts pay off when you are experienced and know how to plug your affiliate's products into your content.
FAQs
How much money do you need to get started with Affiliate Marketing?
You can start affiliate marketing with not much money. The only issue is you must have an internet connection, a device to create and distribute content with, and an online following. Beyond that, the expenses you will incur are those associated with producing the kind of content you need. So, financial requirements can vary greatly.
What is an Affiliate Network?
An affiliate network is an intermediary connecting content creators with potential affiliates.
How do I find Relevant Affiliates?
You can draw your pool of affiliates from one or more of the applicable sources. Some popular options include reaching out to niche content creators, partnering with other websites, popular affiliate platforms, or even reaching out directly.