Are you on a mission to define your brand and want it to be recognizably your business? A crucial part of that recognition is your logo. It's what your customers see first. Understanding how to design a logo is a valuable skill to have. Thankfully, if you want to design a logo yourself, use overly complicated software.
Usually, a symbol made up of text and images, your brand logo serves as an identification for your customers. It's like a signature on your products, your website, and your social media. It conveys who you are and what your business does best.
Hiring a graphic designer is time-consuming and expensive but creating a custom professional logo doesn't have to be. We show you six simple steps how to design a logo that grabs new customers' attention, celebrates your uniqueness, and fosters brand loyalty.
What is a Logo?
On a basic level, a logo is a symbol that combines text and an image to create a unique design that helps customers immediately recognize a company or organization. It's a one-of-a-kind identifier that is often made up of a brand mark, logotype, and tagline.
Businesses put a lot of thought into their logos to create a representation of who they are and what they stand for. Decisions on typography, imagery, and color are crucial to create a memorable design.
It's not an easy task to pack all that into a single image but when you get it right, your logo becomes the foundation of your brand identity and makes a strong first impression on your target audience.
Why Logo Design Is Important
As the mark on your packaging, website, business cards, and social media, your brand logo accompanies your customers from the start of their buying journey to the end and beyond. It's one of the first pieces of information about your business they find and you want to ensure that it communicates what differentiates you from your competitors.
Create the Foundation of Your Brand Identity
Your logo is a representation of your core values, vision, mission, and business purpose, which you define as part of your brand identity. It's all about fleshing out your organization's personality and channeling that into the creation of your unique design.
Questions to ask yourself and your team:
Why did we start our business?
What are the beliefs and values we want to express through our logo?
What's unique about us?
Which words would we use to describe our brand personality?
How would we want our customers to describe us in three words?
What do we like and what do we not like about competitor logos?
Design a Logo that is Memorable
All of your answers should feed into designing a logo that conveys information through symbols, fonts, and optionally a short message in your tagline. A well-thought-out logo creates positive associations and fosters brand loyalty. It's easy to spot for customers and makes you memorable. Even if they forget your company name, the visual nature of a logo still triggers their memory and emotions.
Show Why You're Unique
A logo can be a great way to show at first glance why you're different from your competitors. This is your chance to tell your story in the simplest way possible and show everyone why you're better.
Are you sustainable, innovative, fun, or all of these at the same time? You'll be surprised how much you can communicate with the right icon and font.
Explore Logo Design for Your Brand
Once you're clear on why you need a logo and what you're trying to convey with it, it's time to explore your options. Learn what you can do to get crafty and what to avoid to achieve your unique style. Here are some ideas to get you going on your journey towards your final design.
Brainstorm Designs
A good brainstorming session can help you get all the ideas in your head down on paper, a whiteboard, or any word processing software of your choice. To trigger ideas, you can refer back to your thoughts on your brand identity and think about the elements you can use to communicate it.
This is a judgment-free zone. Just note down anything that pops into your mind even if you think one of your ideas can never work. Some crazy ideas might spark revelations!
Get Educated and Get Inspired
If you're not a designer and you're planning to design a logo yourself, make sure you have a good foundation in the fundamentals of style, color, and typography before you get started. All of these elements have meanings attached to them and you want to make sure you convey the right ideas through them.
Have a look at what's already out there. Check what your competitors and other successful businesses are doing. How are you different and what do you think works well with your common target audience?
Be sure to take notes during this process to be able to present your discoveries and talk about your choices. This helps to eventually narrow down what you're designing in one direction by talking it through with other team members and decision-makers.
Pitfalls to Watch Out For
Avoid making your logo too generic and going for the obvious. If you're a mechanic, you don't necessarily need to include the image of a car. Keep in mind though that you don't want your logo to become too abstract by putting shapes together in a way that will only make sense after you've read your brand messaging document.
Don't try to save money with a low-quality logo but also stay away from shiny new trends. Your logo should be timeless. Trends are fleeting and a trendy design today might look dated in a few years' time.
How to Find the Right Type of Design
By now, you should have narrowed down the direction you want to take your logo design. Your final result will be made up of colors, shapes, graphics, and typography. To make it all come together, refer back to all your notes and mood board and take it step-by-step.
Find what kind of aesthetic you're going for. Here are just a few examples:
Classic
Vintage
Minimalistic
Quirky
Handmade
Choose Your Type
Generally, your logo should be simple, memorable, versatile, and timeless. To make your choice easier, we've compiled seven types of logo designs you can find in Design Wizard. These designs are ready for you to explore and play around with.
Monogram
A monogram is a typography-based logo that uses the company's initials. If your business has a long name and your brand is well established, this is a good option.
If your brand is not as recognizable yet, there's the possibility of adding the full name below the initials to tell your audience at first glance who you are. Needless to say, the focus here is on the font you choose.
Wordmark
A wordmark is also very much based on a font style. The focus lies with the typography that you pick to capture the values of your business and create strong brand recognition.
This is a great type of logo design if you want to get your name out there and your company name is short enough.
Pictorial
A pictorial or brand mark is based on an icon or graphic. It's an image that is immediately recognizable and brings to mind the brand it represents. It can be tricky to pin down an image that conveys what your brand is all about.
Particularly, in the early days of a new company, it's a big decision as you're building up brand recognition.
Abstract
An abstract mark is a type of pictorial logo that is made up of a unique combination of various geometric shapes. This is your chance to show what your company does through a symbol without relying on the cultural implications of an image.
Play with colors and shapes until you get the meaning and emotion you're aiming for.
Mascot
Mascot logos are often part of a fun and family-friendly brand with an illustrated character that makes it easy for everyone to recognize. For example, even children, who can't read yet are able to pick out their favorite food brand in the supermarket by spotting the cartoonish character on products.
These are perfect for creating a fun and engaging atmosphere around your business.
Combination
As the name suggests, a combination mark consists of various combinations of wordmarks, letter marks, pictorial marks, abstract marks, or a mascot. It's all about the placement of different elements and what kind of associations you want to spark in your target audience.
For example, if your business is just starting out and you want to go for fun and engaging, a combo of a mascot and your company name is a great option. This merge of text and what is essentially a symbol is easier to trademark than just the image on its own and gives you the flexibility to just use the mascot once your brand is well established.
Emblem
An emblem is a more traditional form of a logo that includes text within an icon. Their classic appearance invokes badges, seals, and crests, so they are often used by schools and organizations.
The design is intricate and might be hard to read when scaled down. This makes emblems less versatile when you want to apply it across your products, web presence, and marketing collateral. If you're aiming for a crest-like logo, try to keep it simple and avoid too many details that are hard to replicate.
Choosing Your Font Style
If you're going for a logo that includes text, you want to make sure you're choosing typography that complements the overall look. Choosing the right font can be tricky, as you're once again looking to convey your brand's story through the loops or edges of letters. Consult your brand identity document and don't be afraid to spend quite some time browsing different styles.
Decide How Many Fonts You Want to Use
If you're thinking about combining fonts, make sure you're not using more than two. Multiple fonts can make a logo look crammed and inconsistent. Ensure that the fonts you choose work well together.
A good combination to consider is to use a unique style for your main brand name and another font for your tagline. You can also experiment with the different versions of the same font like bold, italics, or all caps.
Pick Your Focus
To not get overwhelmed by the millions of fonts out there, you can focus on a particular type of font or font family that takes you in the right direction for your brand. We've put together some sample fonts straight from Design Wizard that work well with logos to give you some inspiration.
Sans Serif
The attributes associated with Sans Serif are simple, sensible, straightforward, and neutral. Use this type for a clean and polished look or pick one of the bolder styles to grab attention.
Serif
Serif fonts have connotations like stable, respectful, timeless, and formal. If you're designing for a traditional brand, this is the type you want to go for.
Script
The Script font family can be seen as feminine, personal, elegant, and pretty. Curves and flourishes dominate here and invoke a creative and personal approach.
Ultra Thin
The flow of Ultra Thin's typography conjures up activity, authority, and logic. These fonts can seem airy and inviting at the same time. Use these to lighten up the mood of your design.
Slab Serif
The Slab Serif font family includes distinct and very noticeable styles. Many are composed of block-like and thick letters that work well on billboards and websites.
Retro
Retro fonts are handy when you're aiming to invoke a certain era. These vintage styles are old school, stylish, and above all nostalgic.
Handwritten
The flows of a Handwritten font create a sense of class and elegance. Choose from delicate and swirly or blocky and bold styles to give your logo a more personal touch.
If you're looking for more inspiration, we've also picked 50 of the best fonts for logos for you to browse through or our top 24 trending fonts in 2021 for you to choose from.
How to Design a Logo in Design Wizard From a Template
Step 1: Select a Template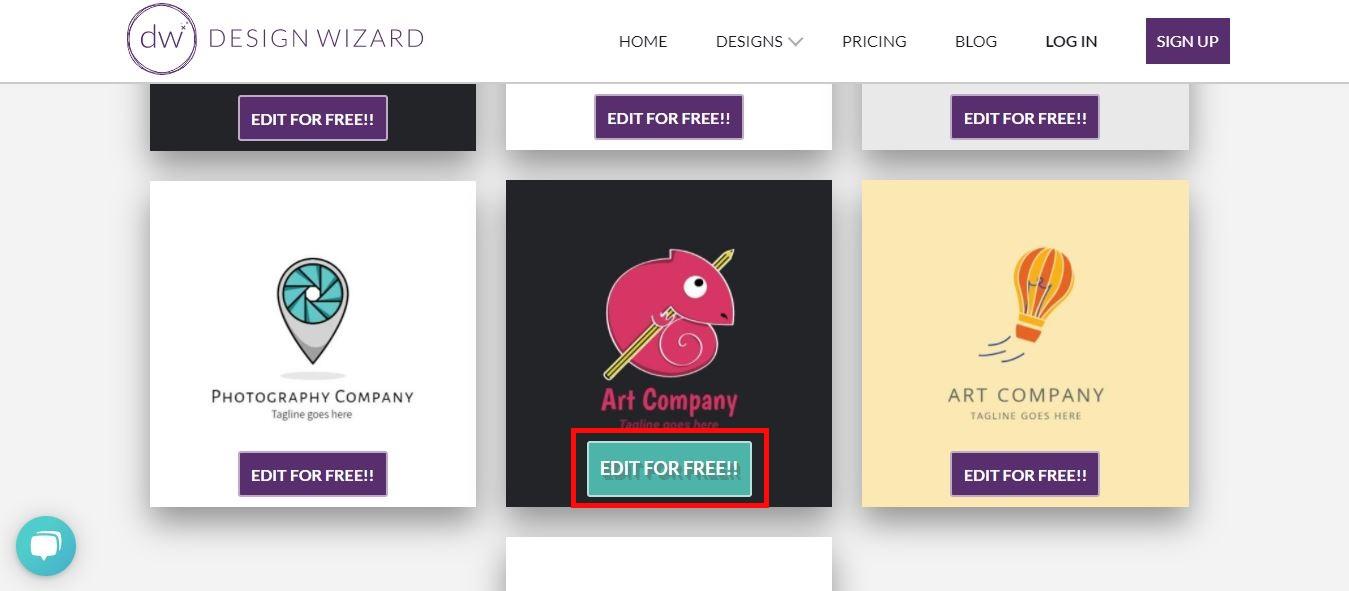 Open Design Wizard and browse our templates. When you spot one that you think will get you in the direction you want to take your brand to, click Edit for Free!! to open the Design Wizard dashboard.
Step 2: Play With Colours

Edit your template by using tools from the menu on the right side like color picker, tints, hue, and saturation. If you've already got your brand colors ready, enter hex values here as needed. To adjust the background color or make it transparent, click the square above your image.
Step 3: Adjust the Text

Click on the text in your chosen logo and select different fonts. It's also possible to upload your own brand fonts. To change the color of the text, use hex values or the color picker tool.
Step 4: Resize Your Logo

Resize your new logo to fit any of your business needs. Design Wizard offers a range of sizes suitable for social media, your website, emails, documents, and much more. You can also enter a custom size here.
Step 5: Download Your New Design

When you're happy with your design, download your logo in .jpg, .png, or .svg format. Don't forget to save your design to come back to it later with any changes.
How to Design a Logo in Design Wizard from Scratch
Step 1: Search for the Logo Style or Icon of Your Choice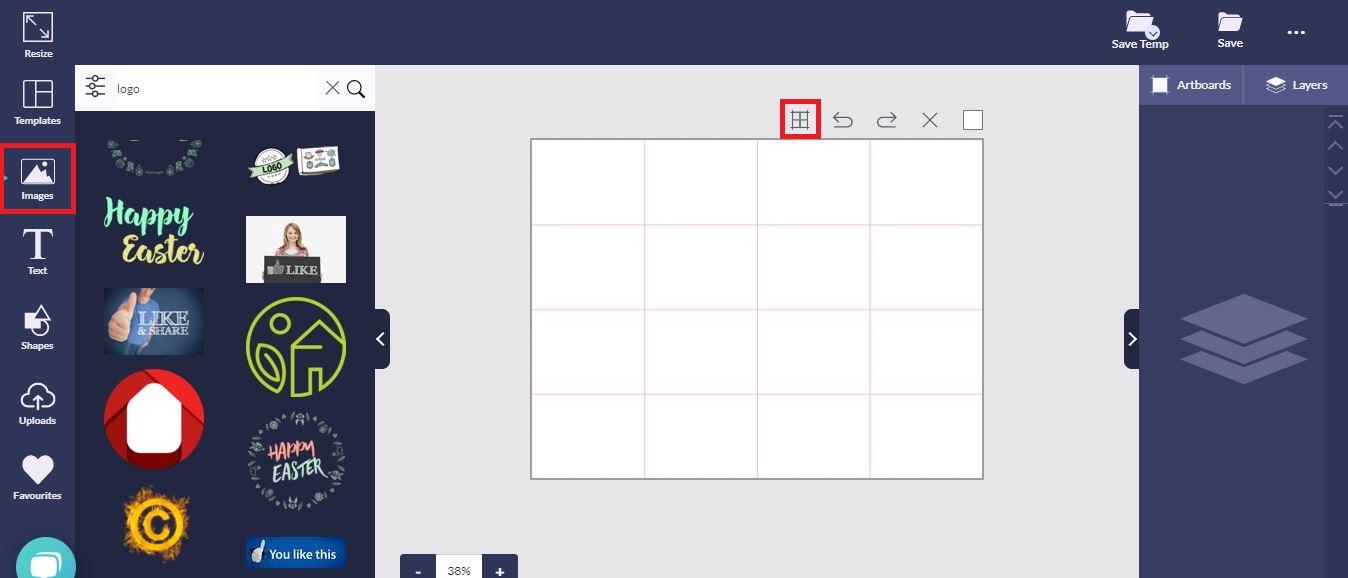 Open a blank canvas on Design Wizard. To help you create a centered design, activate the grid option. When you have an idea of what type of logo you want to go for, search our vast library of images by typing 'logo' in the search bar on the Images tab.
Step 2: Select an Image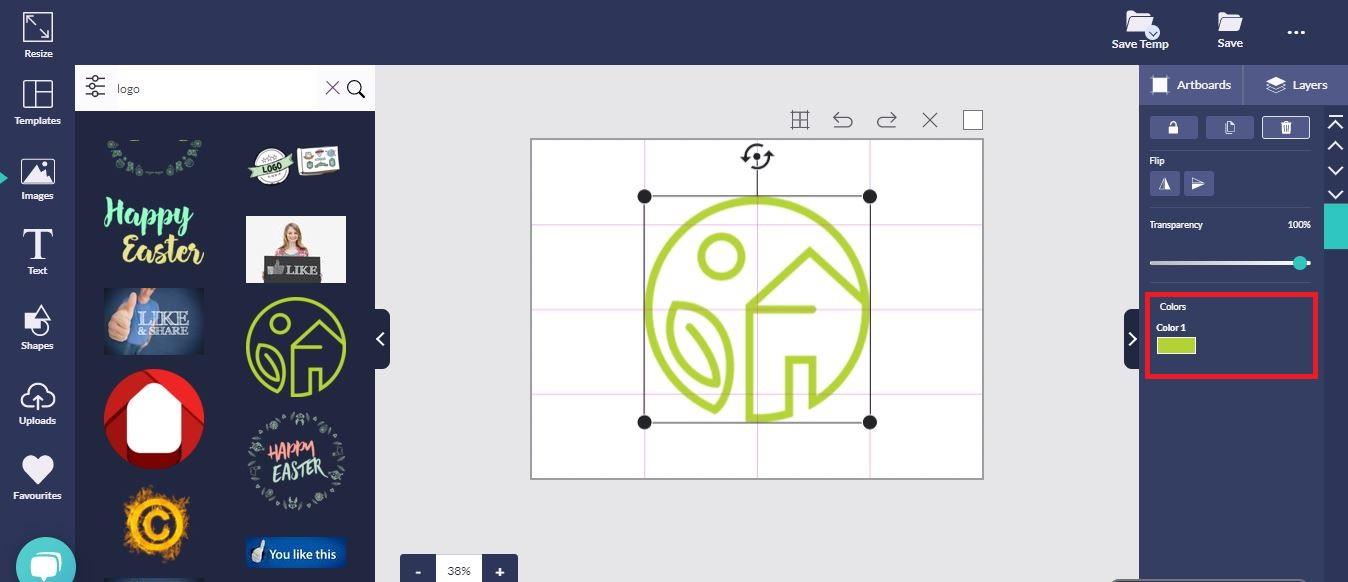 Found what you were looking for? With just one click, your chosen image appears on the canvas automatically.
Step 3: Edit the Colours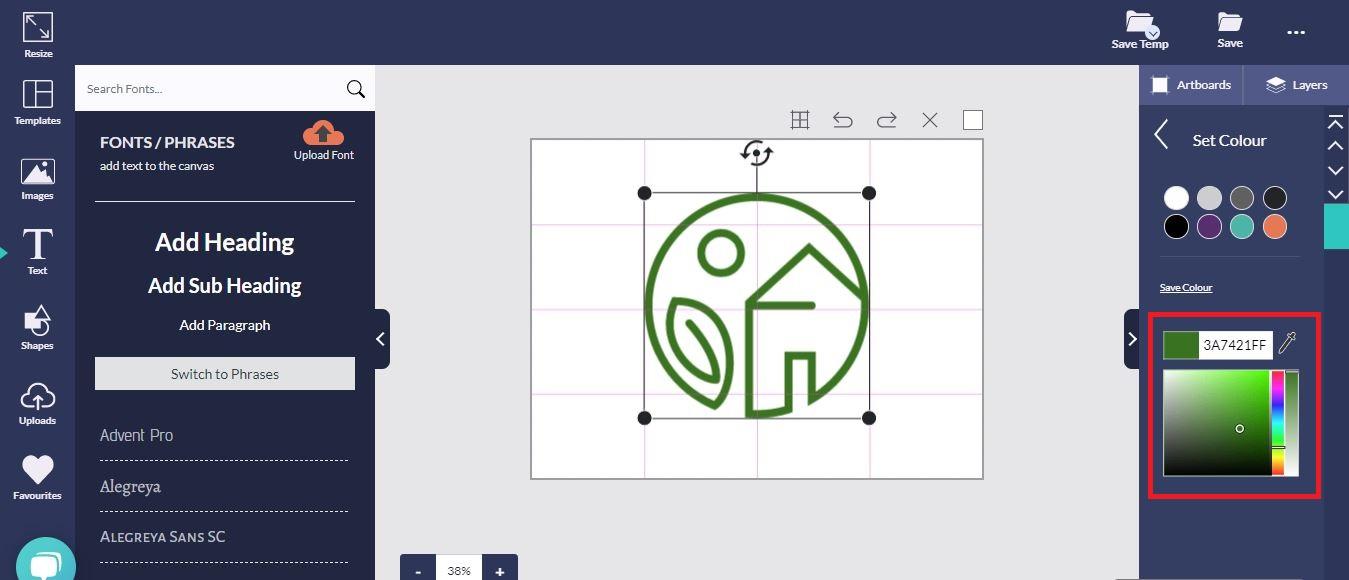 Use the editing tools in the menu on the right side to change colors, add tints, and adjust the hue and saturation. If you have any hex values ready, enter them here. To select different backgrounds, click the square right above your canvas.
Step 4: Add Text to Your Design

Select the Text tab on the left and add a heading or subheading. Browse fonts or use the search bar to look for a specific style. It's also possible to upload your own fonts here.
Step 5: Resize Your New Design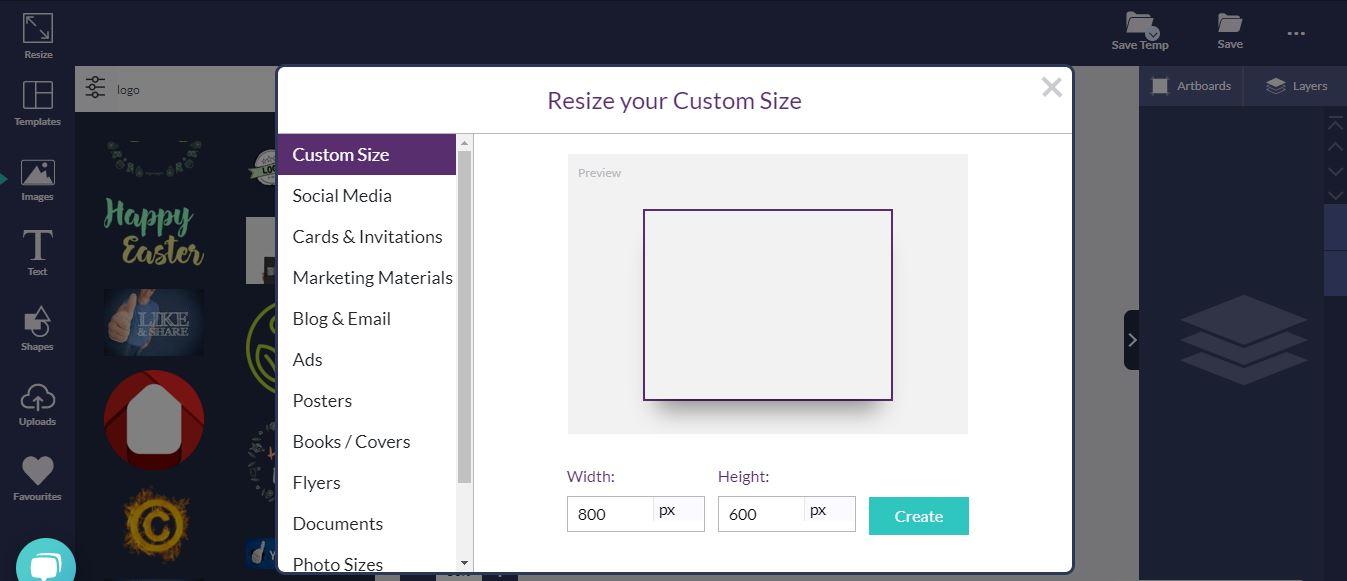 Need your logo in different sizes for your online and offline presence? Use the resize tool on the top left to choose from proven measurements for your website, social channels, or print media. You can also select your own custom size.
Step 6: Download Your Logo

When you've nailed down your design, click the download button on the top right to choose your desired file type. Select from .jpg, .png, or .svg format.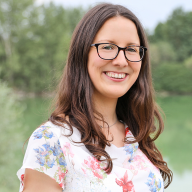 Elisabeth Strasser
​
Lizzie is a professional Content Writer. She's been passionate about SEO and content marketing ever since a life-changing internship at a digital marketing agency while completing her BA in English and American Studies.

Having graduated with a Professional Writing MA with distinction, Lizzie set out to gain her copywriting and digital marketing experience in Cork City.

An Austrian with a love for Ireland, Lizzie loves exploring Irish folklore and storytelling. Her favourite DW tools are:
Youtube Outro Maker
and
Add Logo to Video
tools.
​