The crisis of the pandemic, coupled with big companies wanting to cut down their costs, has led to a vast majority of people choosing to work from home. This revolution involves building a personal brand on the most popular professional social media platform, namely LinkedIn, to get well-paying job opportunities and also build a powerful network.
LinkedIn is a social media platform created to build a community of professionals of different backgrounds to present themselves and help them find job opportunities. LinkedIn also provides a space for professional interaction, networking, and building a personal brand. Studies show that since the onset of the pandemic, the number of users on LinkedIn has reached a whopping high close to 772 million members in October 2020.
​

With so many people striving to use the platform to get jobs and make a living from it, it is imperative to curate a LinkedIn profile that makes a lasting impression on your recruiter and helps you stand out in the sea of numerous business profiles.
In this article, we will aid you in finding out how you can make a strong impression on your future bosses by using the most powerful yet underrated feature of your profile, the LinkedIn background photo.
We will discuss the importance of LinkedIn cover photos, different elements in a LinkedIn profile, how you can make a positive and lasting impression using the background photos, ideas and tips to make the most of this feature, and sources from where you can get top-notch quality background pictures. Read along!
​
Importance of LinkedIn Cover Photo
Your LinkedIn cover image offers the first impression of your brand image and your expertise in your respective field. LinkedIn cover photo, along with your profile photo, are the first two things recruiters notice. Unlike the profile photo, which is usually kept professional and conservative, the LinkedIn background photo lets you showcase more of your personality.
Most people do not put much effort into creating a good quality LinkedIn cover photo and usually obsess over other less important particulars. You can use this to your advantage by choosing a detailed and attention-grabbing cover photo that provides a quick insight into your work and your brand to help the recruiter understand you better and make a lasting impact on their minds.
A well-optimized profile complete with an impactful LinkedIn cover photo helps prove your knack for details to your potential employers and collaborators and gives an impression that you will take advantage of every tool available to get the job done.
​
Ideas for Your LinkedIn Cover Photo
​Choosing a perfect LinkedIn cover photo to achieve a lasting impact on your profile visitor can be an overwhelming task. To help you with this, we have gathered the following list of LinkedIn cover photo ideas for you to choose from. Take a look:​
Use a Photo that Represents Your Field
​Photos that represent your field are the best LinkedIn cover photos. You can write a unique selling point for your offer or curate the picture according to your field and level of expertise. ​

Use a Photo of Your Tools of the Trade
Another idea for showcasing your field is to show tools of your trade in the LinkedIn background photo. For example, Coders can put LinkedIn background images for Programmers to highlight their expertise. Cover photos with numbers and metrics are the best choice for the LinkedIn cover photo for Business Analysts.​
Use a Photo of Your Workspace
​Show a picture of your office or desk at home to offer a glimpse of your workflow and style. A clear picture of your workspace builds an image of an organized employee that knows how to get the job done.​

Use Your Company Logo
​If you are a business owner, the best choice for your LinkedIn cover photo is to put your company logo along with your company tagline. This can help job hunters apply for your company and also help with the personal branding of your company for a stunning first impression.​

Use Something Abstract
​You can add a picture of your city or the skyline to give a glimpse of where you live. You can also add a creative piece of art or abstract that resonates with your brand and company's motto. This practice helps recruiters get an instant idea of your personality that can make a lasting impression and help you tremendously in your work.​

Use Your Favourite Quote
​Let your profile visitor get a glimpse of your personality and thought process by sharing your favourite quote in your LinkedIn cover photo. This can help you attract like-minded individuals and help you build quality connections that prove amazing for your network.​

Use a Photo of an Award or Accomplishment
​Prove your expertise by showcasing your accomplishments and the awards you have received in your LinkedIn cover photo. This adds massive amounts of credibility to your profile and can help you become a well-known figure in your field over time.​

LinkedIn Cover Photo Tips & Hacks
​Now that you got an idea of WHAT to put in your LinkedIn cover photo, it is essential for you to know HOW to put it there. Taking extra care of the minor details while curating a LinkedIn cover photo can give an extra boost to your engagement on the platform, helping you stand out in the crowd:​

Commit to Colour Scheme
​The colours you choose for your LinkedIn background photo should resonate with your brand aesthetics. Choose vibrant colour colour combinations like yellow and blue instead of black and brown, as colour psychology states bright colours help you build trust while dark colours invoke doubt. Choose a combination of contrasting colours to make a smacking LinkedIn cover photo.​

Stay in Shape
​The ideal LinkedIn background banner is rectangular in shape. It is best to only fill your details in a rectangular shape for a neat and cohesive look for your profile.​

Limit Your Text
​Stay away from stuffing your LinkedIn cover photo with all the details of your business or service. Instead, arrange the text on the right side of the image in a clear legible font style that becomes easy to read and understand for your profile visitor.​

Use the Right Dimensions
​It is best to choose a LinkedIn cover with accurate dimensions of 1584x768 pixels. Both bigger and smaller pictures look distorted, offering a clumsy look to your profile that can ruin your first impression on your potential recruiters.​

Use Quality Sources
​You can customize your LinkedIn cover photo using amazing tools like Design Wizard. The platform includes various LinkedIn cover photo template for you to choose from to curate a cover photo best suited to your personal brand.​

LinkedIn Cover Photo Size and Dimensions in 2023
​While we are talking about dimensions, here is a list of the size and dimensions for the various images used on LinkedIn, including the cover photo:
Profile picture

: 400x400 pixels

LinkedIn cover picture

: 1584x768 pixels

LinkedIn posts

: 520x320 pixels
Different Elements of LinkedIn Profile
​Before understanding the value of an impactful LinkedIn Banners and its effects on your profile visitor, let us have a quick rundown of what a well-optimized LinkedIn profile must include and how you can optimize them for your profile. Here we have a discussed the top 10 elements of a well-optimized LinkedIn profile:​

Profile Photo
Your LinkedIn profile photo should exude professionalism from every angle. To achieve this, avoid selfies and goofy shots for your profile picture and go for a smiling face picture, preferably in professional attire, for the best impression. Remove any background from your profile picture and choose solid colours that align and resonate with your personal brand.
LinkedIn Cover Photo
​Also called the LinkedIn background banner, this image immediately grabs the attention of professionals visiting your profile and builds an instant image of your personality in their minds. This makes having a powerful LinkedIn cover photo of utmost importance for all professionals using the platform to make a lasting first impression on the minds of their recruiters. Ensure that your LinkedIn cover photo has a strong message and a solid unique selling point that helps you stand out effortlessly.​

Bio
​The bio is the headline below your profile picture that defines what services you offer on LinkedIn to your target audience within a 220-character limit. The LinkedIn bio should be a short, crystal clear explanation of the services you provide written in a format that easily grabs the attention of your recruiter. Avoid using filler words and go for industry-specific vocabulary to stand out.​

About
With a character limit of 2000 words, including spaces, this section on LinkedIn is mainly used to offer a deeper explanation of the services you provide. Use this section to explain your services and offers. You can also add testimonials in the section to add credibility to your profile, along with your contact information. This section can also be used to add all the awards and accomplishments you have achieved in your field to help you make a strong profile with ease.
Skills and Endorsements
The skills and endorsements section allow the profile visitor to understand the quality of your work and the details of your expertise. According to a study, members showcasing five or more skills are contacted about 33 times more and receive around 17 times more profile views than other profiles. It is recommended to keep upskilling and updating your profile with all your skills for a well-optimized profile. You can also ask your connections to endorse you for specific services by offering quality services and work in return.
Recommendations
Use the recommendation feature from LinkedIn that lets you and your recruiters form trust. Recommendations offer feedback from your previous clients and recruiters that provide a detailed insight into the quality of work delivered by you and your brand. This helps future recruiters and collaborators understand you better and allows them to form an image of what to expect from your work and your brand.
LinkedIn allows users to request professional recommendations easily with a click and a short message, but it is important to seek them strategically. Always ask for recommendations post-completion of a contract or service tenure to add credibility to your LinkedIn profile.
Experience
Include the best and the most recent job experiences in this section. You can also add details of your tenure and the job position you held, along with a list of your responsibilities. It is a great opportunity to let your potential recruiter know as to how you can help them. LinkedIn allows you to include multiple experiences in your profile to help you make a strong and credible profile that is sure to land jobs and opportunities in your bag.
Education
This is the easiest section to write as it includes all the degrees you have and all the places you went to school. Though this section seems simple, it helps add major credibility to your account and is a cherry on the cake for your potential clients to help them decide whether they want to recruit you or not.
It is safe to say that if you own a fancy degree on your name, now is the best time to show it to the world to use it well.
Custom URL
This is an often under-recognized opportunity for customization. LinkedIn allows users to customize the URL of their public profile so they can easily share it with others on websites and emails.
If the desired name is not already used by another member, the URL can be customized by including a degree or certification, a profession, or just about anything. This serves as an excellent branding opportunity by helping you curate an eye-catching URL.
LinkedIn Posts
Experts across the globe know pretty well that consistent posting on social media platforms is crucial for building a personal brand and also helps in landing gigs and showing expertise in your industry.
LinkedIn itself promotes the profiles that have active users who post 3-4 times a week and engage daily with people in the industry.
Where Should You Get Your Photos From?
Unless you are passionate about photography or have a friend who can help you curate top-quality LinkedIn background photos, the question "Where can I get the best photos without any hassle?" will nag you.
To have the best-looking background images use quality sources of stock images while downloading images. You can also use an online banner-making platform like Design Wizard to create a customized LinkedIn cover photo.
The platform offers various LinkedIn background templates that can be easily customized to suit your brand's aesthetics. You can easily create your own LinkedIn cover photos and make an eye-catching profile using this stunning platform.
Choose from hundreds of LinkedIn banner templates available at Design Wizard today and start curating a well-optimized LinkedIn profile that speaks volumes for your personal brand and leaves your potential clients in awe of you.
You can also head over to Design Wizard & PikWizard to create a customised profile background that genuinely represents yourself.
LinkedIn Cover Photos: In a Nutshell
​In the era of working from home and online jobs, it is imperative to make the best use of LinkedIn. This social media platform offers both business recruiters and job hunters massive opportunities and exposure. So, take advantage of the new-age features and curate a well-optimized profile with a captivating LinkedIn cover photo that helps you bag the best deals of your life on the platform.​

FAQs
What is a LinkedIn Cover Photo?
​The linked cover photo is a crucial element of a well-optimized LinkedIn profile which has dimensions of 1584x768 pixels. These simple pictures help you create a strong impact on your potential recruiters and collaborators while showcasing your brand visually for a lasting impact.​

What should my LinkedIn cover photo show?
​Though you can show a variety of objects in your LinkedIn cover photo, it is best to show your recruiters a crystal clear glimpse of your personal brand by highlighting your services and offers, tools of the trade, and your contact information in your banner image.​

Where to find LinkedIn banner templates?
​Design Wizard is one of the best online platforms that offer stunning LinkedIn banner templates for you to choose from suited to your brand voice and style. Pick from thousands of LinkedIn banner templates that support both images and text to curate stunning cover photos for your profile.​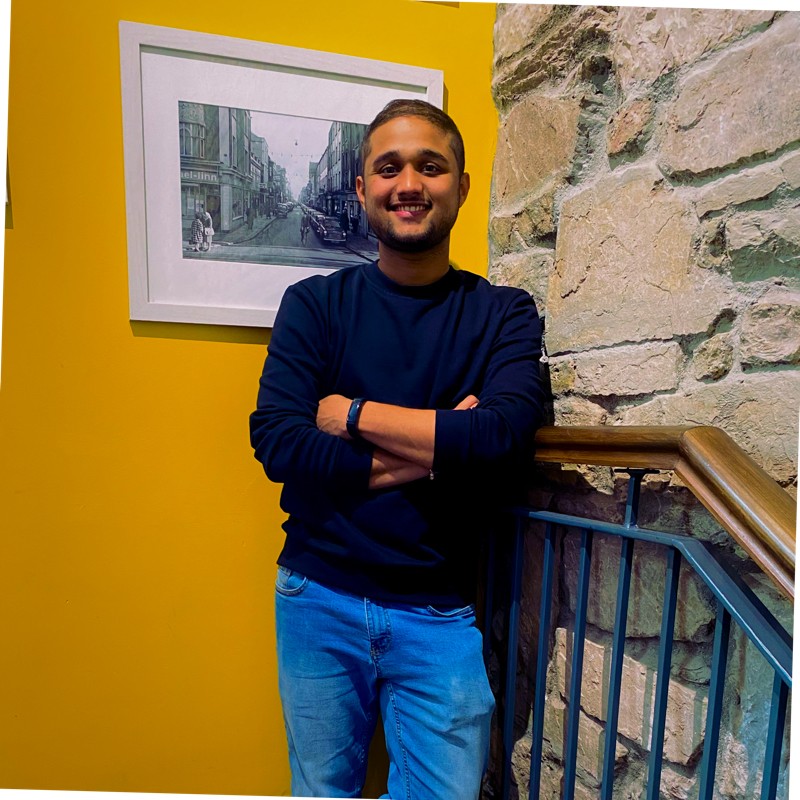 Rahul Shevde
​Coming from India with significant agency experience. Working at Performics India (Publicis Groupe) gave him the opportunity to involve in diverse SEO campaigns from Finance, Graphic Design, E-Comm & Ed-Tech space. Rahul is interested in graphic design software and free graphic design templates. The Design Wizard instruments he uses most of the time are:
Add Text To Image Online
and
Youtube Video Maker
.