Ideas to Market Your Café During Covid
For thousands of cafes across the world, COVID 19 has turned businesses and coffee shops upside down. Now more than ever, innovative and adaptive cafe marketing ideas are needed to help keep things moving.
From larger chain restaurants to the small bistro and family-owned café, all have met with challenge after challenge. A café or restaurant is after all about people coming together and gathering. And gatherings, as we have all seen, are fewer and far between, whether due to mandate or caution.
During the peak of the pandemic, many restaurants and cafes closed. And many sadly, never reopened. When reopening did begin to happen, the food and beverage industry was faced with a whole new set of challenges. They were tasked with having to abide by strict regulations. They were having to attract customers who'd spent months at home. Some even had to deal with significant staffing issues.
Adapting Your Café Marketing Strategy
Now, as we enter this new phase of the COVID-19 pandemic, cafes and restaurants are once again having to figure out how to navigate a new normal. Marketing is different. Social media strategies have evolved. Getting customers to order and come through the door is a whole different ballgame. In this article, we look at some important café marketing ideas and tips such as customer loyalty ideas and more, for coping with a pandemic and post-pandemic environment. It really is about enabling your café to adapt and consequently roll with the changes that are now a
10 Café Marketing Ideas For Your Business During Covid
Marketing during this critical time will be about easing customers' fears and making them comfortable. All café marketing ideas that you implement need to be 100% customer-centric. In other words, what key messages do people need to hear now? What will attract their attention and make them take notice? And most importantly, how can you assure them that your café is capable of dealing with pandemic related issues and ensuring their safety?
This certainly is not an easy task. Your marketing strategy really does have to be a diverse one, anticipating customers' needs, wants, and concerns. You're likely going to have to get creative on some fronts, especially when it comes to social media efforts. Coffee shops and cafes around the world are hurting right now—that is the reality. By integrating new marketing ideas and approaches though, some may at least be able to weather the current storm as they look to a return to normal.
Below are 10 tips for marketing cafes to help boost that bottom line, ramp up business, and get those customers coming back.
1. Ramp Up Your Social Media Game
If you didn't have a robust social media presence before the pandemic, now is the time to start building one. What we saw during the peak of the events of 2020 was that many people, stuck at home, turned to the various social media channels in droves. From Facebook to TikTok, social media platforms saw a notable rise in users. And businesses did not fail to notice.
Social media is how many restaurants, coffee shops, and cafés kept customers updated on their status. Whether they were relegated to food delivery only or had opened their venue to outdoor seating, regularly posting on social media was a key means of communication for many cafes.
To this end, café marketing strategies saw a shift from more traditional and website based approaches to those featured on social media. Some held contests. Some cafes took advantage of user content. The key to many social media marketing campaigns is photos. Photos are everything when it comes to enticing customers with bright and dynamic social media posts.
The Good Batch Instagram Account
Case in point…The Good Batch in Brooklyn, NY. During the worst of the crisis, they upped their social media efforts, and it seems to have paid off. A bakery and café, the Good Batch used their Instagram account in a stunning and creative way. They featured mouth-watering photos of pastries and cookies both in their shop and also as seen around NYC. This particular social media marketing strategy proved to be a success.
2. Keep in Touch with Your Local Community & Customers
Hand in hand with relying on social media to get your message across is the importance of communication in general. As far as café marketing goes, you want to keep customers apprised of what exactly is going on. Let them know how you're handling and addressing issues. And above all, let them know you are still open for business.
Yes, the way in which you do business in your café now may look a bit different, but again this is why you want to communicate regularly. This can be via social media of course, but it can also include something as simple as a text update. How about email? If you have an active subscriber list, sending out a short email just letting people know you care and are taking steps to ensure customer safety can go a long way.
3. Blog About Your Road to Reopening Your Restaurant or Cafe
Blogs are a great way to speak more directly to people. As cafe marketing ideas go during these difficult times, this is a great one. It allows you to step away from the formality of the website properly and say a little bit about what you're up to and what's on your mind. In this way, you more genuinely connect with customers.
So why not use your blog page to consistently provide insight into how your café or restaurant is coping with COVID restrictions. You can actually chronicle your journey—starting with the beginning phases of your reopening prep to where you stand today.
Customers are craving authenticity. Being open and honest about how you and your café staff are handling new requirements and restrictions is a terrific way to reach out to people and let them know you have their best interests at heart.
Stone Creek Coffee: Cafe Blogging During Covid
For example, back in May, Stone Creek Coffee, located in Milwaukee, WI, began posting blog articles about the hurdles they faced in reopening. They even sent out surveys to customers and employees and reported some of their findings. Since May, Stone Creek has posted more articles regarding where they stand and how they're handling the situation.
4. Email & Ads: Market in a Positive Way
While certainly, you will be grappling with challenges, your café/restaurant marketing efforts should confront this in a positive way. And the strategies you implement should also keep things upbeat. Whether that's in the emails you send out to people, the partnerships you form to help fellow entrepreneurs, or the way you're solidifying customer relations, keep it on a more inspirational note.
All you have to do is scroll for a minute or two through any news channel or feed, and you are met with the "bad" that is happening in the world. If your café or coffee shop can instead put out messages of hope and happiness, you'll be a step ahead of the game.
5. Clean Up Your Online Presence
Start with your website. Of course, you want to make sure your social media accounts are updated and doing what they need to do to attract attention, but your site is so important. Many café owners become so immersed in social media marketing, that they lose track of how their website appears online.
For instance, is your website still featuring pre-pandemic promotions or photos? You want to ensure that your website reflects what is happening now. It needs to reflect what your café is offering at the moment in terms of food, coffee, and any other relevant items. Your site content along with social media content—especially during this crucial time—need to represent the current moment.
6. Integrate More Food and Drink Delivery Options
The reality is, people are still hesitant to visit restaurants, bars, cafes, and coffee shops. With the recent resurgence of cases, customers are more inclined to stay home. If your business has been slow to acknowledge this and subsequently expand its food and drink delivery options, you're only hurting yourself.
The rapid rise of food delivery services such as GrubHub and DoorDash indicates how customer behavior is trending. Getting the customer back in your café is a slow process, so in the meantime, you want to make sure you make it easy for people to still order from you.
Revisit your online ordering process. Are you open for just takeout or is there a food delivery option? Many people if they see that you only do takeout will likely scroll to the next café—the one that does deliver. You might even consider getting a bit creative in your approach to food and drink delivery.
Example: Geeky Teas & Games Delivery
Geeky Teas and Games (a café slash board gaming house slash retailer) saw business drop during the pandemic. They switched to a more delivery-centered model. And in doing so, they got creative with it. In some cases, customers could receive their delivery straight from the hands of a Marvel or Disney character. Now that's certainly one way to attract some attention.
7. Create a Broader Menu of Offerings
If traditionally, your café served strictly café fare by way of food and drink, it may be time to mix things up a little. The pandemic has seen numerous hospitality and food and beverage-based businesses expand into other areas.
Have you thought about integrating merchandise? Setting up an eCommerce store on your site and offering t-shirts, caps, even of course something as obvious as coffee mugs could be a great way to make more money and expand your brand.
The other thing that you want to definitely do is offer gift cards on your website and through your social media channels. Especially given that foot traffic may be slow at the moment, offering gift cards for future use is a great way to get some cash flow right now.
8. Host a Virtual Event
As we have all been introduced to the wild and wonderful world of Zoom, video chatting has grown immensely popular this past year. Who says your café or restaurant can't host a virtual event for patrons? There's a wide array of video chatting media available to this end.
You can have customers sign up for a specific day/time. After they pay the fee, you would then send them a specialized kit. The virtual event can consist of a barista masterclass of sorts. There are a ton of different ways you can go with this. You might host a trivia night. Live streaming music events have become all the rage at virtual coffee shops. Think outside the box here and come up with some original ideas.
9. Offer a Loyalty Reward Program
It can't be said enough, people love free stuff. Rewarding customers for being repeat customers is a great way to retain them and also attract new people. After all, if your patrons are happy, they will tell others. Be it on Yelp, Google, Facebook, or any other review site, word of mouth is essential to a café's success.
And during this time of pandemic, when money is so tight for some, offering discounts and freebies by way of a loyalty reward program can truly be a win-win situation.
10. Invest in Getting Found on Google
This means putting some time and energy into a more robust SEO strategy. People tend to go to Google first. When searching for anything, this is the case, and cafes and restaurants are no exception. You may want to perform your own search and see where you come up on Google. This can help reveal what you might need to do moving forward to market your site to Google more effectively.
Make sure too that it's not just your content that is keyword optimized, photos need to be optimized for SEO as well. Photos of food and drink should be tagged and titled with the appropriate keywords. You might also spend some time optimizing Facebook and Instagram posts with relevant keywords.
Yes, this may require a bit more work on your end, but if you want your café to succeed, keyword marketing strategies are essential.
Food and Beverage Templates for Your Cafe
Café marketing doesn't have to cost a fortune. Ready-made, affordable templates can help you get your marketing materials out there faster. You can find professionally designed posters, logos, menu templates, you name it, ready to customize and circulate. A few resources to help market your café and/or restaurant:
Stunning café menus. There are templates available that save you time and money. There's no need to hire an expensive designer to generate a menu. Online menu templates allow you to personalize your café menu while maintaining that professional marketing edge.
Professional café and restaurant logos. An eye-catching logo is a must in order to help build and solidify your brand. Marketing strategically is also about branding smartly, and a logo truly is the centerpiece of that brand strategy.
Coffee posters. A poster is an effective visual element in your overall café marketing approach. Show your customers a little bit more about who you are and what you offer. And do so in a bold and visually appealing way!
Loyalty Cards. As mentioned, loyalty reward programs are a terrific way to keep customers coming back. Use a loyalty card template that's been created by a graphic design expert and add yet another element to your brand image.
Coffee Shop Marketing Ideas Conclusion
Yes, the situation for many cafes is difficult right now. Hopefully, there is a break on the horizon and things get back to normal. Until then, however, marketing strategy and consistency could mean the difference between making it through and shutting your doors. What we're seeing is that with a bit of creativity, the right tools and resources, and a solid game plan moving forward, coffee shops and cafes across the world are managing to survive and in some cases, thrive.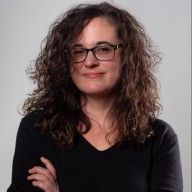 anne carson
​Anne is a former English professor turned content writer. Holding a PhD in Literature, she spent almost a decade in academia putting that degree to use, until finally realizing it wasn't exactly the best fit. A full-time writer, she's learned a great deal about the numerous subjects. She knows a lot about design trends and design templates. A mom of five (two teenagers and three dogs).​